$0.00
If you are already a Laridian customer, log in above and we can tell you if you own this product.
To Purchase This Product
This product is only available for Palm OS.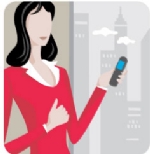 MyBible 5 Program for Palm
Available Platforms
Description
MyBible 5 is powerful yet easy-to-use Bible study software designed for handheld devices running Palm OS® 5.0 or higher. MyBible 5 gives you convenient access to the Bible and related reference books so you can read and study on-the-go. The MyBible program, Bibles and books are each sold separately to allow you to create your own personalized Bible study library. (You need the MyBible program to view the Bibles and books sold at this site).
Features
Easy, intuitive navigation of Bibles and books

Go to any verse in the Bible by choosing book, chapter and verse from a list.
Gesture-based navigation of books - Tap the top of the screen to scroll up, the bottom to scroll down, or use the up and down buttons on your device to move through the text. Stroke right in the Grafitti area to go to the next chapter or left to go to the previous chapter.
Follow cross-references - move Back and Forward through up to 15 previously viewed verses.

Fast word and phrase searching - Can't remember where a verse is? Want to find where else a word or phrase is mentioned in the Bible or in a reference book? Just write (or copy and paste) in the word or phrase and MyBible will find it for you in seconds. Search results include an excerpt containing the word or phrase you searched for -- just tap one to read in context.

AND/OR Searches - Find verses that contain any (i.e. Saul or Paul) or all (i.e. love and obey) the words you're looking for.
Wildcard Searches - Use the wildcard character (*) when you are not sure how to spell a word or want to match multiple word endings (i.e. "bapt*" finds both "baptist" and "baptize")

Bookmark favorite passages - Bookmark favorite verses, and associate each bookmark with a category. Since you specify the categories, you can complete control over the organization of your bookmarks!
Highlight Bible text - make any verse stand out by highlighting with your choice of six vibrant colors.
Add a note to any verse - Record your insights directly in MyBible. A yellow note indicator with the verse shows you where you have notes, so you can review or add to them at any time. Your notes are available with all translations.
Adjust for your reading preferences - change font size, paragraph format, words of Christ in red and more.
Just want to read the Word? Set MyBible's autoscroll speed to match your reading preference, then turn on Autoscroll to let MyBible quietly scroll the text while you read along.
Supports Sony Virtual Graffiti, Graffiti 2, Palm 5-way navigator and Treo 600/650 rocker button.
Supports high resolution screens and landscape orientation such as on Palm Tungsten TX.
Synchronizing Personal Data
MyBible 5 supports synchronization of your personal data, including your notes and bookmarks, with PocketBible for Windows. PocketBible for Windows and additional, free synchronization software is required.
What Others Are Saying
This is undoubtedly the best program I have ever bought for my Palm. It is something that I use almost every day. Searching for specific verses is very simple, the bookmarks make it easy to find favorites, the highlights remind me of important verses and the ability to add my notes is becoming my favorite feature. - Mike C., Washington NC
I love the zoom feature. Not only does it make having multiple resources open much more useful, navigation is virtually effortless — I just zoom in on the resource I want and use the 5-way navigator on my Palm T|X. I've been very happy with every Laridian product I've purchased over the years and MyBible 5 is clearly another success. - Jeffrey S., Rockledge FL
Comparing how different translations treat a particular verse or phrase has never been easier. MyBible 5's Zoom feature enables me to display 3 of my favourite translations full-screen and switch between them with a single click. Time is of the essence in Bible class and sermon prepararion today. I now prefer MB5 over my paper Bible. - Roland R., Whitby, Ontario Canada
Laradian's MyBible version 5 is easily the most comprehensive and powerful Bible software that I've ever found for the Palm Treo and Windows. I am one VERY happy customer!" - Bill Z., Hillsboro MO
MyBible 5's new autoscroll for text, book Zoom tab feature and expanded notes/bookmarks capabilities for bible study and reading make it a winner! - Wayne S., Chino Valley AZ
Upgrading from MyBible 3 or 4?
Simply purchase and install the new MyBible 5 Program.
You don't need to remove or delete your previous version of MyBible before upgrading to MyBible 5. (In fact, if you do delete the prior version of MyBible, you'll probably erase your notes and bookmarks and highlights too.)
You don't need to re-purchase, re-download, or re-install your current Bibles and books. these will work fine with MyBible 5.
You won't lose your notes, highlights or bookmarks when you upgrade to MyBible 5. MyBible 5 will automatically convert your notes and bookmarks to the new format used in MyBible 5.
NEW in Version 5
Zoom - "zoom" your books to be near full-screen and quickly toggle between any of your opened books.
Autoscroll - MyBible can scroll the text of your Bibles and books a line at a time as you read along.
Bookmark Enhancements - now create and use categories for each of your bookmarks!
Note Enhancements - including html format support and improved note navigation.
Personal Data Synchronization with PocketBible for Windows - share your notes and bookmarks with PocketBible for Windows, and from there to other compatible Laridian products.
System Requirements
Requires Palm OS 5.0 or later. Download size: 542.375 KB.
Find us on Facebook

Insider Info

Devoted Laridian fans watch our blog for the latest news, including comments on as-yet-unreleased and unannounced products.

Facebook Fans and our Twitter Followers get notified of all special offers and sometimes get special special offers just for them.

We post short instructional videos on our youtube channel.

There's detailed information about PocketBible for Android on Google+.

We don't keep lists of potential beta testers. Just watch the blog.

The Fine Print

Copyright © 2010-2015 by Laridian, Inc. All Rights Reserved.

Laridian, PocketBible, and MyBible are registered trademarks of Laridian, Inc. DailyReader, Memorize!, PrayerPartner, eTract, BookBuilder, VerseLinker, iPocketBible, DocAnalyzer, Change the way you look at the Bible, and The Bible. Anywhere. are trademarks of Laridian, Inc. Other marks are the property of their respective owners.

Products by Platform

Bible Reader Software

BookBuilder Software

Products by Type

Your Account

You are not logged in.
Your IP Address: 54.163.106.31
Site IP Address: 209.18.65.235

Best Ways to Get Help

You can get the fastest help by helping yourself.

Make sure you obtain the PocketBible or other Bible reader program that is required to read the Bibles or books you bought.
Read the confirmation email we send you when you make a purchase
Read the help that's built into each of our products
Look through our Frequently Asked Questions
Submit a Support Ticket
Email us at support@laridian.com

Laridian Associates Program

Associates Program members earn a referral fee for every sale resulting from their links to our site!

Log Into Your Download Account to Join the Associates Program