$9.99
If you are already a Laridian customer, log in above and we can tell you if you own this product.
To Purchase This Product
Choose your preferred platform from the list below to add the product to your shopping cart.
When you purchase this product you can install it on any plaform on which it is supported, onto any device you personally own or control. (View our "Buy-It-Once" policy.) However, when purchasing you must choose the initial platform on which you'll be installing the product.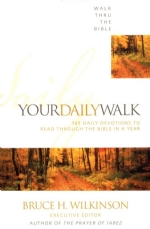 The Daily Walk
Available Platforms
Description
With The Daily Walk you can read through the entire Bible in only one year! And you will find practical answers to the perplexing problems you face each day. More than merely a reading schedule, The Daily Walk will help you get started on a life-changing journey through the realm of God's Word with these features:
Overview reviews the Bible reading for the day and touches on the major themes.
Your Daily Walk encourages you to think carefully about one theme from the day's reading. It shows how to apply principles from God's Word to your own life in the clamor and chaos of today's world.
Insight builds factual knowledge by highlighting a fascinating fact or an historical thought.
The Daily Walk is a fresh new compilation of daily Bible studies from Daily Walk, published monthly by Walk Thru the Bible Ministries.
Sample Text
Ruth: Interlude of Love
Ruth 1-4
Heart of the Passage: Ruth 1, 4
Duty makes us do things, but love makes us do things beautifully.
Overview
The book of Ruth provides a beautiful "interlude of love" in the period of the judges in Israel — an era marked by immorality, idolatry, and war. This heartwarming account of devotion and faithfulness tells the story of Ruth, a Moabite widow who leaves her homeland to live with her widowed Jewish mother-in-law in Bethlehem. God honors her commitment by guiding her to the field of Boaz (a near kinsman), where she gathers grain and eventually finds a husband! The book closes with a brief genealogy in which Boaz's name is prominent as the great-grandfather of King David, and an ancestor of Jesus.
Ruth and Naomi
Ruth's Resolve: "I Will Go" (Ruth 1)
Ruth's Response: "Let Me Glean" (Ruth 2)
Ruth and Boaz
Ruth's Request: "Redeem Me" (Ruth 3)
Ruth's Reward: "A Son... Obed" (Ruth 4)
Your Daily Walk
Love is a many-splendored thing.
Love makes the world go around.
Love... (How many more ways can you think of to complete the sentence?)
Love is difficult to define because it is a quality of life more readily demonstrated than described. Ruth demonstrated the true character of love when she willingly and steadfastly pledged her allegiance and devotion to Naomi. Clearly, by traveling to a foreign country she had more to lose than gain. She was still young and easily could have remarried someone of her own nationality. But her primary concern was not for her own well-being, but rather for the well-being of Naomi. Ruth exemplifies sacrificial love — the kind that Christ portrayed when He "[gave] his life for the sheep" (John 10:11).
How can you give of yourself sacrificially to someone around you — your spouse, roommate, employer, neighbor, or friend? Jot down a name in the margin, a specific act of selfless love you can do for that person, and the date when you will do it. Don't let your love be "Ruthless," or it will soon become useless (1 Corinthians 13:1-3).
Insight: Ruth and Esther — Alike and Yet So Different
Ruth and Esther are the only two books in the Bible named after women. Ruth, a Gentile, lived among Hebrews and married a Hebrew. Esther, a Hebrew, lived among Gentiles and married a Gentile. However, both women were greatly used by God to bring glory to Him.
Selected text from The Daily Walk, copyright © 2002 by by Walk Thru the Bible Ministries Inc. Used by permission.
System Requirements
Installed size (unless otherwise indicated): Approximately 894.625 KB. iPhone, iPad, and iPod touch Requires iPhone, iPod touch, or iPad running iOS 5.0 or later. Download size: 894.625 KB. Android Requires Android OS 2.2 or later. Download size: 894.625 KB. Windows Phone Requires Windows Phone 7.5 or later. Download size: 894.625 KB. Windows Store Download size: 894.625 KB. Windows PC Requires Windows 2000, XP, Vista, Windows 7, or later. Download size: 791.125 KB. Mac OS X Download size: 894.625 KB. Windows Mobile Requires Pocket PC / Windows Mobile version 6.5 or earlier. Download size: 680.875 KB. Palm OS Requires Palm OS 4.0 or later. Download size: 651.125 KB.
Find us on Facebook

Insider Info

Devoted Laridian fans watch our blog for the latest news, including comments on as-yet-unreleased and unannounced products.

Facebook Fans and our Twitter Followers get notified of all special offers and sometimes get special special offers just for them.

We post short instructional videos on our youtube channel.

There's detailed information about PocketBible for Android on Google+.

We don't keep lists of potential beta testers. Just watch the blog.

The Fine Print

Copyright © 2010-2015 by Laridian, Inc. All Rights Reserved.

Laridian, PocketBible, and MyBible are registered trademarks of Laridian, Inc. DailyReader, Memorize!, PrayerPartner, eTract, BookBuilder, VerseLinker, iPocketBible, DocAnalyzer, Change the way you look at the Bible, and The Bible. Anywhere. are trademarks of Laridian, Inc. Other marks are the property of their respective owners.

Products by Platform

Bible Reader Software

BookBuilder Software

Products by Type

Your Account

You are not logged in.
Your IP Address: 54.145.191.30
Site IP Address: 209.18.65.235

Best Ways to Get Help

You can get the fastest help by helping yourself.

Make sure you obtain the PocketBible or other Bible reader program that is required to read the Bibles or books you bought.
Read the confirmation email we send you when you make a purchase
Read the help that's built into each of our products
Look through our Frequently Asked Questions
Submit a Support Ticket
Email us at support@laridian.com

Laridian Associates Program

Associates Program members earn a referral fee for every sale resulting from their links to our site!

Log Into Your Download Account to Join the Associates Program