$1.99
If you are already a Laridian customer, log in above and we can tell you if you own this product.
This product is also available in the following bundles or collections:
To Purchase This Product
Choose your preferred platform from the list below to add the product to your shopping cart.
When you purchase this product you can install it on any plaform on which it is supported, onto any device you personally own or control. (View our "Buy-It-Once" policy.) However, when purchasing you must choose the initial platform on which you'll be installing the product.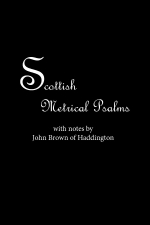 Scottish Metrical Psalms with Notes by John Brown
Available Platforms
Description
Speak to one another with psalms, hymns and spiritual songs. Sing and make music in your heart to the Lord (Eph 5:19)
Scottish Metrical Psalms, also known as The Psalms of David in Metre, was authorized by the Church of Scotland in 1650. The text includes the complete Psalms in meter for singing, speaking or chanting. The notes were added by John Brown, Late Minister of the Gospel at Haddington. His comments are meant for "Exhibiting the Connexion, Explaining the Sense, and for Directing and Animating the Devotion."
From the Introduction
"No part of Christian worship is more plainly warranted by the Oracles of God, than the ordinance of the singing of psalms...The Holy Ghost hath, in the Psalms of David, and other scriptural songs, furnished us with a rich collection of Gospel doctrines and precious promises; an extensive fund of solid experiences; an exhaustless mine of Gospel grace and truth; an endless variety to suit every state or condition, in which either our own soul, or the church of Christ, can be upon earth. These were all framed by Him who searcheth the hearts, and knows the deep things of God; and hence must be better adapted to the case of souls or societies, than any private composition whatever."
Sample Text
Psalm 23

A Psalm of David.

Here is the children's psalm, and which is, in very deed, a noted song of all the children of God. Behold, (1.) New-covenant relation to God, as a full and everlasting security against hurtful wants, ver. 1. (2.) Pleasant experience of God's acting up to his new-covenant character, in disposing of, directing, assisting, feasting and comforting his people, ver. 2-3, 5. (3.) Well-grounded hopes of God's careful and seasonable supplies; of his comfortable presence and help amidst distress and death; of the perpetual and everlasting manifestation of his mercy and grace to us-ward; and of our endless nearness to, and immediate enjoyment of him, ver. 1, 4, 5-6. While I sing, let me think, as before God, whether I have the experimental knowledge of all these things. Let my soul be as a daughter of the horse-leech, crying mightily, Give, give what is good. And let me, in all these forms, taste and see that God is good.

metric: 8,6,8,6
1The Lord's my shepherd, I'll not want.
2He makes me down to lie
In pastures green: he leadeth me
the quiet waters by.

3My soul he doth restore again;
and me to walk doth make
Within the paths of righteousness,
ev'n for his own name's sake.

4Yea, though I walk in death's dark vale,
yet will I fear none ill:
For thou art with me;
and thy rod and staff me comfort still.

5My table thou hast furnished
in presence of my foes;
My head thou dost with oil anoint,
and my cup overflows.

6Goodness and mercy all my life
shall surely follow me:
And in God's house for evermore
my dwelling-place shall be.
System Requirements
Installed size (unless otherwise indicated): Approximately 601.375 KB. iPhone, iPad, and iPod touch Requires iPhone, iPod touch, or iPad running iOS 5.0 or later. Download size: 601.375 KB. Android Requires Android OS 2.2 or later. Download size: 601.375 KB. Windows Phone Requires Windows Phone 7.5 or later. Download size: 601.375 KB. Windows Store Download size: 601.375 KB. Windows PC Requires Windows 2000, XP, Vista, Windows 7, or later. Download size: 1.875 MB. Mac OS X Download size: 601.375 KB. Windows Mobile Requires Pocket PC / Windows Mobile version 6.5 or earlier. Download size: 617.875 KB. Palm OS Requires Palm OS 5.0 or later. Download size: 662.625 KB.
Find us on Facebook

Insider Info

Devoted Laridian fans watch our blog for the latest news, including comments on as-yet-unreleased and unannounced products.

Facebook Fans and our Twitter Followers get notified of all special offers and sometimes get special special offers just for them.

We post short instructional videos on our youtube channel.

There's detailed information about PocketBible for Android on Google+.

We don't keep lists of potential beta testers. Just watch the blog.

The Fine Print

Copyright © 2010-2015 by Laridian, Inc. All Rights Reserved.

Laridian, PocketBible, and MyBible are registered trademarks of Laridian, Inc. DailyReader, Memorize!, PrayerPartner, eTract, BookBuilder, VerseLinker, iPocketBible, DocAnalyzer, Change the way you look at the Bible, and The Bible. Anywhere. are trademarks of Laridian, Inc. Other marks are the property of their respective owners.

Products by Platform

Bible Reader Software

BookBuilder Software

Products by Type

Your Account

You are not logged in.
Your IP Address: 54.91.42.7
Site IP Address: 209.18.65.235

Best Ways to Get Help

You can get the fastest help by helping yourself.

Make sure you obtain the PocketBible or other Bible reader program that is required to read the Bibles or books you bought.
Read the confirmation email we send you when you make a purchase
Read the help that's built into each of our products
Look through our Frequently Asked Questions
Submit a Support Ticket
Email us at support@laridian.com

Laridian Associates Program

Associates Program members earn a referral fee for every sale resulting from their links to our site!

Log Into Your Download Account to Join the Associates Program