$39.99
If you are already a Laridian customer, log in above and we can tell you if you own this product.
This product is also available in the following bundles or collections:
To Purchase This Product
Choose your preferred platform from the list below to add the product to your shopping cart.
When you purchase this product you can install it on any plaform on which it is supported, onto any device you personally own or control. (View our "Buy-It-Once" policy.) However, when purchasing you must choose the initial platform on which you'll be installing the product.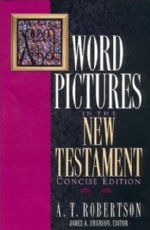 Robertson's Word Pictures in the New Testament
Available Platforms
Description
Robertsonís Word Pictures in the New Testament is a classic word study reference set that takes you verse-by-verse through the entire New Testament. The author, A. T. Robertson, focuses on key words in each verse explaining delicate shades of meaning that are implicit in the Greek text but often lost in translation. Originally published in six volumes from 1930 to 1933, this electronic version provides Robertsonís work in its entirety.
Written forty years after Dr. Marvin R. Vincent wrote his Word Studies in the New Testament, Robertsonís work incorporated new knowledge of his day gained from more scientific methods of language study. Comparative grammar had thrown a flood of light on the real meaning of New Testament forms and idioms. And new original documents had been discovered in Egypt supporting evidence that New Testament Greek was the vernacular of its day.
Robertson wrote these volumes primarily for "...those who know no Greek or comparatively little and yet are anxious to get fresh help from the study of words and phrases in the New Testament." Rather than discussing the entire text of each verse, Robertsonís comments focus on key words important to the passage. His comments vary from lexical to grammatical to archaeological to exegetical, depending on what is most helpful to the reader in understanding the verse.
Features
Covers the entire New Testament
Unabridged version originally published in six volumes
Verse-by-verse commentary explores the meaning of key Greek words and phrases of the New Testament that are sometimes lost in translation.
From the Preface
"I have called these volumes Word Pictures for the obvious reason that language was originally purely pictographic. Words have never gotten wholly away from the picture stage. These old Greek words in the New Testament are rich with meaning. They speak to us out of the past and with lively images to those who have eyes to see. It is impossible to translate all of one language into another. Much can be carried over, but not all. Delicate shades of meaning defy the translator. But some of the very words of Jesus we have still as he said: "The words that I have spoken unto you are spirit and are life" (Joh 6:63). We must never forget that in dealing with the words of Jesus we are dealing with things that have life and breath. That is true of all the New Testament, the most wonderful of all books of all time."
About the Author(s)
A.T. Robertson (1863-1934) served as Professor of New Testament Interpretation at the Southern Baptist Theological Seminary in Louisville, Kentucky.
System Requirements
Installed size (unless otherwise indicated): Approximately 7.875 MB. iPhone, iPad, and iPod touch Requires iPhone, iPod touch, or iPad running iOS 5.0 or later. Download size: 7.875 MB. Android Requires Android OS 2.2 or later. Download size: 7.875 MB. Windows Phone Requires Windows Phone 7.5 or later. Download size: 7.875 MB. Windows Store Download size: 7.875 MB. Windows PC Requires Windows 2000, XP, Vista, Windows 7, or later. Download size: 4.125 MB. Mac OS X Download size: 7.875 MB. Windows Mobile Requires Pocket PC / Windows Mobile version 6.5 or earlier. Download size: 3.375 MB. Palm OS Requires Palm OS 5.0 or later. Download size: 4.875 MB.
Find us on Facebook

Insider Info

Devoted Laridian fans watch our blog for the latest news, including comments on as-yet-unreleased and unannounced products.

Facebook Fans and our Twitter Followers get notified of all special offers and sometimes get special special offers just for them.

We post short instructional videos on our youtube channel.

There's detailed information about PocketBible for Android on Google+.

We don't keep lists of potential beta testers. Just watch the blog.

The Fine Print

Copyright © 2010-2015 by Laridian, Inc. All Rights Reserved.

Laridian, PocketBible, and MyBible are registered trademarks of Laridian, Inc. DailyReader, Memorize!, PrayerPartner, eTract, BookBuilder, VerseLinker, iPocketBible, DocAnalyzer, Change the way you look at the Bible, and The Bible. Anywhere. are trademarks of Laridian, Inc. Other marks are the property of their respective owners.

Products by Platform

Bible Reader Software

BookBuilder Software

Products by Type

Your Account

You are not logged in.
Your IP Address: 54.89.118.108
Site IP Address: 209.18.65.235

Best Ways to Get Help

You can get the fastest help by helping yourself.

Make sure you obtain the PocketBible or other Bible reader program that is required to read the Bibles or books you bought.
Read the confirmation email we send you when you make a purchase
Read the help that's built into each of our products
Look through our Frequently Asked Questions
Submit a Support Ticket
Email us at support@laridian.com

Laridian Associates Program

Associates Program members earn a referral fee for every sale resulting from their links to our site!

Log Into Your Download Account to Join the Associates Program