$4.99
If you are already a Laridian customer, log in above and we can tell you if you own this product.
This product is also available in the following bundles or collections:
To Purchase This Product
Choose your preferred platform from the list below to add the product to your shopping cart.
When you purchase this product you can install it on any plaform on which it is supported, onto any device you personally own or control. (View our "Buy-It-Once" policy.) However, when purchasing you must choose the initial platform on which you'll be installing the product.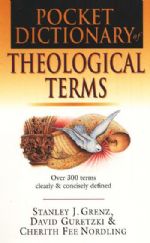 Pocket Dictionary of Theological Terms
Available Platforms
Description
Beginning to study theology is like stepping into a conversation that has been going on for two thousand years.
How do you take part in this conversation--or even make sense of it--if you don't understand the vocabulary or know the contributions made by other participants?
The Pocket Dictionary of Theological Terms is the perfect companion to your theological studies. Among its three hundred-plus definitions are:
English terms, from accomodation to wrath of God
foreign terms, from a posteriori to via media
theological movements and traditions, from the Alexandrian School to Wesleyanism
theologians, from Anselm of Canterbury to Ulrich Zwingli
Here is an affordable and easily accessible resource for your theological readings, lectures and writing assignments. It's a must-have for every beginning theological student!
Features
brief, concise, quick reference
arranged A-to-Z
defines important theological terms
identifies major theologians, organizations and traditions
written by a team of respected theologians and teachers
affordable
About the Author(s)
Stanley J. Grenz (1950-2005) earned a B.A. from the University of Colorado at Boulder in 1973, an M.Div. from Denver Seminary in 1976 and a D.Theol. From the University of Munich (Germany) in 1978, where completed his dissertation under the supervision of Wolfhart Pannenberg. David Guretzki (Ph.D., McGill U.) is Professor of Theology and serves as Dean at Briercrest Seminary in Caronport, Saskatchewan, Canada. His research specialities and interests include patristic and modern Trinitarian theology, the theology of Karl Barth, the filioque debate, and the theology of forgiveness and reconciliation. Cherith Fee Nordling (Ph.D., University of London) is director of spiritual leadership development and adjunct faculty member in the department of religion at Calvin College.
System Requirements
Installed size (unless otherwise indicated): Approximately 338.125 KB. iPhone, iPad, and iPod touch Requires iPhone, iPod touch, or iPad running iOS 5.0 or later. Download size: 338.125 KB. Android Requires Android OS 2.2 or later. Download size: 338.125 KB. Windows Phone Requires Windows Phone 7.5 or later. Download size: 338.125 KB. Windows Store Download size: 338.125 KB. Windows PC Requires Windows 2000, XP, Vista, Windows 7, or later. Download size: 688.375 KB. Mac OS X Download size: 338.125 KB. Windows Mobile Requires Pocket PC / Windows Mobile version 6.5 or earlier. Download size: 376.875 KB.
Find us on Facebook

Insider Info

Devoted Laridian fans watch our blog for the latest news, including comments on as-yet-unreleased and unannounced products.

Facebook Fans and our Twitter Followers get notified of all special offers and sometimes get special special offers just for them.

We post short instructional videos on our youtube channel.

There's detailed information about PocketBible for Android on Google+.

We don't keep lists of potential beta testers. Just watch the blog.

The Fine Print

Copyright © 2010-2015 by Laridian, Inc. All Rights Reserved.

Laridian, PocketBible, and MyBible are registered trademarks of Laridian, Inc. DailyReader, Memorize!, PrayerPartner, eTract, BookBuilder, VerseLinker, iPocketBible, DocAnalyzer, Change the way you look at the Bible, and The Bible. Anywhere. are trademarks of Laridian, Inc. Other marks are the property of their respective owners.

Products by Platform

Bible Reader Software

BookBuilder Software

Products by Type

Your Account

You are not logged in.
Your IP Address: 54.166.122.88
Site IP Address: 209.18.65.235

Best Ways to Get Help

You can get the fastest help by helping yourself.

Make sure you obtain the PocketBible or other Bible reader program that is required to read the Bibles or books you bought.
Read the confirmation email we send you when you make a purchase
Read the help that's built into each of our products
Look through our Frequently Asked Questions
Submit a Support Ticket
Email us at support@laridian.com

Laridian Associates Program

Associates Program members earn a referral fee for every sale resulting from their links to our site!

Log Into Your Download Account to Join the Associates Program