$0.00
If you are already a Laridian customer, log in above and we can tell you if you own this product.
To Purchase This Product
This product is only available for Windows Mobile.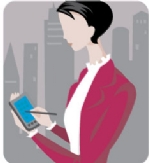 PocketBible 4 for Windows Mobile
Available Platforms
Description
PocketBible for Windows Mobile gives you powerful access to Bibles and Bible reference books (available separately) to enhance your reading, studying and enjoyment of the Scriptures. This program requires at least one Bible translation to use with it but you can add any number of Bibles and Bible reference books you choose. To view a list of Bibles, books and bundles for use with PocketBible 4, click here.
Upgrading?
You don't need to re-purchase, re-download, or re-install your current Bibles and books.
You don't need to un-install your old version before upgrading to PocketBible 4
You will not lose your notes, highlights, bookmarks, or reading progress when you upgrade from PocketBible 3 to 4.
If you have an older Pocket PC you may be running ActiveSync 3.x. You need to download and install ActiveSync 4.5 from Microsoft or visit our support site for manual installation instructions.
New for PocketBible 4
PocketBible 4 is actually two programs. Which one is installed depends on the type of device you have (you don't get to pick). If your Windows Mobile device has a touch screen, it's either a "Classic" or "Professional" device (formerly known as "Pocket PC"). If your device does not have a touch screen, it's a "Standard" device. Once you know your device type you can determine which of the two versions described below you'll be using.
PocketBible 4 for Windows Mobile Professional and Classic is the upgrade from PocketBible 3 for Pocket PC. PocketBible 4 for Windows Mobile Standard is the upgrade from PocketBible for Windows Mobile Smartphone.
New for PocketBible 4 for Windows Mobile Professional and Classic
Maximize Windows - Open multiple windows/books. Maximize any window for full screen reading.
Flick Gestures while Maximized - Swipe across the screen to switch to another open book (commentaries will stay synchronized with the Bible text). Swipe up or down in a book to go to the previous or next page.
Auto-Scroll - Set a book to auto-scroll for easier reading. Increase or decrease the speed of scrolling to match your reading speed. Great for public or devotional reading.
View in All - View a verse in all Bibles. View a reference in all commentaries. View a word in all dictionaries. Parallel study has never been easier!
Enhanced Searching - Keep your last 20 searches and easily perform the search again. Find looks first for the exact word and then for words staring with your search entry. Search for words "near" other words.
Customizable Toolbars - Sixty different functions available to be included on your toolbar. Put the features you use most, literally, at your fingertip. Choose "Large icons" never use the stylus again!
Save/Restore Layouts - Keep different layouts always ready to go. One layout for your devotional reading, one for performing word studies, another for a study Bible. Any number of layouts customized for the ways that work best for you!
Synchronize Notes, Bookmarks and Highlights with PocketBible for Windows (sold separately) - Make a note on the go. Flesh it out on your PC when you're back home or in the office. Highlights and bookmarks keep track of themselves.
New for PocketBible 4 for Windows Mobile Standard
View Commentaries, Dictionaries, Devotionals and Other Titles - More than just Bibles! Now with PocketBible 4 take even more content with you wherever you are. Study passages. Have your quiet time. All from the convenience of your cell phone!
Create and Edit Notes, Bookmarks and Highlights - Take notes on passages. Highlight verses or parts of a devotional. Take your list of bookmarks with you.
Synchronize Notes, Bookmarks and Highlights with PocketBible for Windows (sold separately) - All your notes, bookmarks and highlights can be stored safely on your PC. Quick notes on the go can be enhanced using your desktop and then synchronized back to your phone.
Features
Get around your Bibles and books quickly and easily!
Easily get anywhere you want to in the Bible. Type in a reference, write in a reference* or select from lists. Hit Ok or Done and you're there.
Easily switch between Bibles, commentaries, dictionaries, devotionals or other titles. Commentaries stay synchronized with your Bible passages.
Quickly find exactly what you're looking for!
Searching has never been easier, or more powerful. Find words "near" other words.*
Copy your entire search results to the clipboard to paste in Pocket Word or other text processor.*
Use Boolean operators (AND, OR, NOT, XOR, NEAR) to create powerful searches.
Easily search for phrases, or combine words and phrases in a single search.
Use wildcards to search for prefixes or suffixes (bapt*), match beginning and end (un*ness), or match single characters (?aul).
Highlight a word or phrase on screen and tap Find to search for that word or phrase.*
Easily create notes, highlights and bookmarks
Create your own notes on passages and paragraphs. Notes can include character formatting, tables and lists. Create quick notes on your Windows Mobile device and then enhance the note from your PC (requires PocketBible for Windows, sold separately).
Highlight verses in different styles and colors.
Search specifically highlighted verses.*
Add bookmarks to selected verses. Categorize your bookmarks to create topical studies.
All user created data can be synchronized with PocketBible for Windows on your PC (sold separately)
View maps, look up places
View maps of locations around the Bible
Tap and hold a place name and choose "Lookup" with the map window open you'll see the map with that location or a list of maps having that location.*
Choose Lookup and type in a place name to have the Bible atlas take you to a map or a list of maps for that location (Bible Maps required, purchase separately)
Tap a place name on a map for a dictionary entry on that location.* You can choose which dictionary you use!
Trying to read through the Bible in a year or maintain consistency in your quiet time?
Keep your favorite devotional with you all the time. Waiting for your kids to finish karate? Great time to grab some encouragement from the Word!
Keep track of how far along you are in your reading. Easily jump to the next reading, even if you're not always on track.
Keep a screen layout with specific titles for your devotions, one for word studies and one for a study Bible. Configure any number of layouts for whatever types of reading and study you do.*
Change books and View All
Easily open other titles to expand your study.
Commentaries automatically synchronize to where you're reading in the Bible.
Open multiple windows to view books together.*
Tap and hold a verse reference and choose View in All Bibles for a parallel view of that verse across all your Bibles.*
Tap and hold a verse reference and choose View in All Commentaries to see commentary from all your commentaries for that reference.*
Tap and hold a word and choose Lookup in All Dictionaries to see entries from all your dictionaries for that word.*
Fully Customizable
Set up PocketBible to work the way you do.
Change fonts. Turn on or off the words of Christ in red.
Set navigation buttons to change by line or page or chapter.
Set your preferred Bible, Dictionary or Devotional.
Choose from 60 different functions to create your own toolbars. Put the functions you use most right at your finger tips. Choose large buttons to run the program with your finger.*
Here's what people are saying about PocketBible 4
From my perspective you've hit the ball out of the park with PB4. (Ken H., Beersheba Springs, TN)
Without a doubt, PocketBible 4 for Windows Mobile along with the entire suite of PocketBible applications is the most advanced and complete bible reader available today. (Kevin H., Houston, TX)
With the release of PocketBible 4 Laridian has pulled out all the stops, making PocketBible the ultimate "pocket Bible." (Darryl T., Silver Spring, MD)
a worthwhile upgrade (Kirby V., Champaign IL)
PocketBible actually has earned a spot on my Home screen as the right soft key so it is always and easily accessible whenever I pick up my phone. (Matt M., Seattle, WA)
well worth the upgrade (Jeremy F., Stuttgart, Germany)
Pocket Bible is the first thing installed on my new PocketPCs. (Kevin W., College Station, TX)
Seriously, PocketBible 4 really is the best yet. (Erik J., Bothell, WA)
a great win for PocketBible users (Peter S., Roanoke, TX)
PocketBible is an invaluable tool for personal devotion and bible reading and PocketBible 4 is the best yet. (Kevin J., Bloomington, IN)
I love the auto-scroll feature and the maximized windows. (David R., Clovis, NM)
The addition of syncing to a desktop application expands its flexibility and portability (Dave P., St Louis, MO)
PocketBible 4 is a fantastic upgrade! The best just keeps getting better! (Greg G., Wildwood, NJ)
*This feature is supported by PocketBible for Windows Mobile Professional and Windows Mobile Classic only. Windows Mobile Professional devices have a touch screen, they may or may not have a keyboard and they are a phone. Windows Mobile Classic are the same as Professional with the exception that they are not a phone. Windows Mobile Standard devices do not have a touch screen, may or may not have a keyboard and are phones.
System Requirements
Requires Pocket PC / Windows Mobile version 6.5 or earlier. Download size: 5.375 MB.
Find us on Facebook

Insider Info

Devoted Laridian fans watch our blog for the latest news, including comments on as-yet-unreleased and unannounced products.

Facebook Fans and our Twitter Followers get notified of all special offers and sometimes get special special offers just for them.

We post short instructional videos on our youtube channel.

There's detailed information about PocketBible for Android on Google+.

We don't keep lists of potential beta testers. Just watch the blog.

The Fine Print

Copyright © 2010-2015 by Laridian, Inc. All Rights Reserved.

Laridian, PocketBible, and MyBible are registered trademarks of Laridian, Inc. DailyReader, Memorize!, PrayerPartner, eTract, BookBuilder, VerseLinker, iPocketBible, DocAnalyzer, Change the way you look at the Bible, and The Bible. Anywhere. are trademarks of Laridian, Inc. Other marks are the property of their respective owners.

Products by Platform

Bible Reader Software

BookBuilder Software

Products by Type

Your Account

You are not logged in.
Your IP Address: 54.163.158.99
Site IP Address: 209.18.65.235

Best Ways to Get Help

You can get the fastest help by helping yourself.

Make sure you obtain the PocketBible or other Bible reader program that is required to read the Bibles or books you bought.
Read the confirmation email we send you when you make a purchase
Read the help that's built into each of our products
Look through our Frequently Asked Questions
Submit a Support Ticket
Email us at support@laridian.com

Laridian Associates Program

Associates Program members earn a referral fee for every sale resulting from their links to our site!

Log Into Your Download Account to Join the Associates Program