$14.99
If you are already a Laridian customer, log in above and we can tell you if you own this product.
To Purchase This Product
Choose your preferred platform from the list below to add the product to your shopping cart.
When you purchase this product you can install it on any plaform on which it is supported, onto any device you personally own or control. (View our "Buy-It-Once" policy.) However, when purchasing you must choose the initial platform on which you'll be installing the product.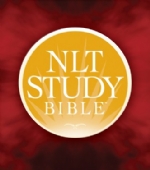 NLT Study Bible Notes
Available Platforms
Description
Personal Devotion or Serious Study? Yes.
The NLT Study Bible has the tools you need to draw closer to God by understanding His Word better: over 25,900 study notes, person profiles, over 300 Bible themes, section and book introductions, charts, maps and more.
The product of over forty Bible scholars and seven years' work, it is the most comprehensive study Bible ever created. The notes focus on bringing out the full meaning of the text.
Note: The NLT Study Bible Notes does not include the NLT Bible text which is available separately.
---
What Others Are Saying
"The NLT Study Bible is an essential tool for the student of the Bible. As no carpentry bench is complete without a hammer, no study desk is complete without this valuable study Bible." --Max Lucado, Best-selling author
"The NLT Study Bible is an exciting new tool for serious Bible readers who want a better understanding of God & His Word. I found the cultural & historical perspective, background commentary, and explanation of Biblical characters – all tucked right alongside the Bible passage itself – very useful." --Dr. Myra Perrine, Adjunct professor, Azusa Pacific University
"I am very impressed with the NLT Study Bible. Of all of the remarkable helps that are included I find the study notes to be of supreme benefit. As a pastor I have not found a Study Bible with such helpful notes to date. Not only do they not shy away from the more difficult passages, but the insight and relevance that they offer are of supreme assistance. I highly recommend this Study Bible." -- Dr. Stephen Leston, Pastor Teacher, Kishwaukee Bible Church
Features
Over 25,900 study notes explain the full meaning of the Bible text
In-line Maps, charts, illustrations help you visualize the events and places mentioned in the text of Scripture.
10 section introductions provide an overview of the literature and history of each section of the Bible, showing how the books are related to each other and to the rest of Scripture.
Theme articles and personality profiles (406 total) highlight recurring ideas and describe the lives of those who inhabit the pages of scripture.
Further reading is recommended at the end of each book and section introduction.
Notes are based on the New Living Translation (NLT) Bible text (not included) but can be used alongside any Bible in PocketBible.
System Requirements
Installed size (unless otherwise indicated): Approximately 33.375 MB. iPhone, iPad, and iPod touch Requires iPhone, iPod touch, or iPad running iOS 5.0 or later. Download size: 33.375 MB. Android Requires Android OS 2.2 or later. Download size: 33.375 MB. Windows Phone Requires Windows Phone 7.5 or later. Download size: 33.375 MB. Windows Store Download size: 33.375 MB. Windows PC Requires Windows 2000, XP, Vista, Windows 7, or later. Download size: 25.875 MB. Mac OS X Download size: 33.375 MB. Windows Mobile Requires Pocket PC / Windows Mobile version 6.5 or earlier. Download size: 25.625 MB. Palm OS Requires Palm OS 5.0 or later. Download size: 25.625 MB.
Find us on Facebook

Insider Info

Devoted Laridian fans watch our blog for the latest news, including comments on as-yet-unreleased and unannounced products.

Facebook Fans and our Twitter Followers get notified of all special offers and sometimes get special special offers just for them.

We post short instructional videos on our youtube channel.

There's detailed information about PocketBible for Android on Google+.

We don't keep lists of potential beta testers. Just watch the blog.

The Fine Print

Copyright © 2010-2015 by Laridian, Inc. All Rights Reserved.

Laridian, PocketBible, and MyBible are registered trademarks of Laridian, Inc. DailyReader, Memorize!, PrayerPartner, eTract, BookBuilder, VerseLinker, iPocketBible, DocAnalyzer, Change the way you look at the Bible, and The Bible. Anywhere. are trademarks of Laridian, Inc. Other marks are the property of their respective owners.

Products by Platform

Bible Reader Software

BookBuilder Software

Products by Type

Your Account

You are not logged in.
Your IP Address: 54.167.176.58
Site IP Address: 209.18.65.235

Best Ways to Get Help

You can get the fastest help by helping yourself.

Make sure you obtain the PocketBible or other Bible reader program that is required to read the Bibles or books you bought.
Read the confirmation email we send you when you make a purchase
Read the help that's built into each of our products
Look through our Frequently Asked Questions
Submit a Support Ticket
Email us at support@laridian.com

Laridian Associates Program

Associates Program members earn a referral fee for every sale resulting from their links to our site!

Log Into Your Download Account to Join the Associates Program