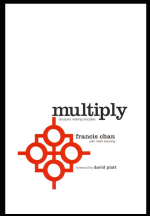 Multiply: Disciples Making Disciples
Available Platforms
Description
Jesus gave his followers a command: "Follow me." And a promise: "And I will equip you to find others to follow me." We were made to make disciples.
Designed for use in discipleship relationships and other focused settings, Multiply will equip you to carry out Jesus's ministry. Each of the twenty-four sessions in the book corresponds with an online video at www.multiplymovement.com, where New York Times bestselling author David Platt joins Francis in guiding you through each part of Multiply.
One plus one plus one. Every copy of Multiply is designed to do what Jesus did: make disciples who make disciples who make disciples... Until the world knows the truth of Jesus Christ.
Table of Contents
How to Use This Material
Part I: Living as a Disciple Maker
Part II: Living as the Church
Part III: How to Study the Bible
Part IV: Understanding the Old Testament
Part V: Understanding the New Testament
About the Author(s)
Francis Chan is the best-selling author of Crazy Love and Forgotten God and the host of theBASIC.series. He has also written the children's books Halfway Herbert, The Big Red Tractor and the Little Village and Ronnie Wilson's Gift. Francis is the founding pastor of Cornerstone Church in Simi Valley, California, and is the founder of Eternity Bible College. He also sits on the board of directors of Children's Hunger Fund and World Impact. Francis lives in California with his wife, Lisa, and their four children.
Mark Beuving is a professor at Eternity Bible College in Southern California, where he lives with his wife and daughters.
System Requirements
Installed size (unless otherwise indicated): Approximately 349.125 KB. iPhone, iPad, and iPod touch Requires iPhone, iPod touch, or iPad running iOS 5.0 or later. Download size: 349.125 KB. Android Requires Android OS 2.2 or later. Download size: 349.125 KB. Windows Phone Requires Windows Phone 7.5 or later. Download size: 349.125 KB. Windows Store Download size: 349.125 KB. Windows PC Requires Windows 2000, XP, Vista, Windows 7, or later. Download size: 1.125 MB. Mac OS X Download size: 349.125 KB. Windows Mobile Requires Pocket PC / Windows Mobile version 6.5 or earlier. Download size: 453.375 KB. Palm OS Requires Palm OS 5.0 or later. Download size: 483.125 KB.
Find us on Facebook

Insider Info

Devoted Laridian fans watch our blog for the latest news, including comments on as-yet-unreleased and unannounced products.

Facebook Fans and our Twitter Followers get notified of all special offers and sometimes get special special offers just for them.

We post short instructional videos on our youtube channel.

There's detailed information about PocketBible for Android on Google+.

We don't keep lists of potential beta testers. Just watch the blog.

The Fine Print

Copyright © 2010-2015 by Laridian, Inc. All Rights Reserved.

Laridian, PocketBible, and MyBible are registered trademarks of Laridian, Inc. DailyReader, Memorize!, PrayerPartner, eTract, BookBuilder, VerseLinker, iPocketBible, DocAnalyzer, Change the way you look at the Bible, and The Bible. Anywhere. are trademarks of Laridian, Inc. Other marks are the property of their respective owners.

Products by Platform

Bible Reader Software

BookBuilder Software

Products by Type

Your Account

You are not logged in.
Your IP Address: 54.89.36.189
Site IP Address: 209.18.65.235

Best Ways to Get Help

You can get the fastest help by helping yourself.

Make sure you obtain the PocketBible or other Bible reader program that is required to read the Bibles or books you bought.
Read the confirmation email we send you when you make a purchase
Read the help that's built into each of our products
Look through our Frequently Asked Questions
Submit a Support Ticket
Email us at support@laridian.com

Laridian Associates Program

Associates Program members earn a referral fee for every sale resulting from their links to our site!

Log Into Your Download Account to Join the Associates Program