$14.99
If you are already a Laridian customer, log in above and we can tell you if you own this product.
To Purchase This Product
Choose your preferred platform from the list below to add the product to your shopping cart.
When you purchase this product you can install it on any plaform on which it is supported, onto any device you personally own or control. (View our "Buy-It-Once" policy.) However, when purchasing you must choose the initial platform on which you'll be installing the product.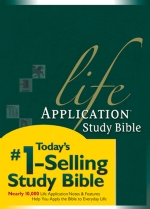 Life Application Study Bible Notes
Available Platforms
Description
The Life Application Study Bible Notes are taken from today's #1 selling study Bible, the Life Application Study Bible. You'll enjoy easy access to over 10,000 in-depth notes that explain God's Word and challenge you to apply the truth of Scripture to your life. Also included are these valuable study materials:
Book Overviews provide vital statistics, introductions, outlines and themes for every book of the Bible.
100 Personality Profiles highlight important Bible characters and explain key lessons from their lives.
250 Charts explain important concepts and relationships such as Why did Israel want to worship idols?, Salvation through Faith, and Six Ways to Think like Christ.
TouchPoints provide a topical guide to what the Bible says on over 200 life-related issues including ambition, divorce, self-esteem and worry.
Timeline of the Bible and world events
Cross-references to related verses
250 events in the life of Christ (A Harmony of the Gospels)
As with most study Bible notes, the Life Application notes help you understand:
The context of a passage
Important background and historical information
Difficult words and phrases
The interrelationships within Scripture.
But that's not all!
Over 75 percent of the Life Application Study Bible Notes are application-oriented. They take you deeper into God's Word, helping you discover the timeless truth being communicated. Consult them as you read the Bible and you'll find it easier to see how Scripture relates to your life and to make a personal application of what you read.
For example, Numbers 5:11-31 lays out the way to handle adultery. A suspicious husband and his accused wife must visit a priest, who among other things will ask the wife to drink bitter water that brings a curse to those who are guilty. If she is not guilty, no harm will come to her. Although we might be inclined to pass over this verse as not applicable to us today, the Life Application note explains that this ritual is a metaphor for building trust. "Today priests and pastors help restore marriages by counseling couples who have lost faith in each other. Whether justified or not, suspicion must be removed for a marriage to survive and trust to be restored."
System Requirements
Installed size (unless otherwise indicated): Approximately 7.375 MB. iPhone, iPad, and iPod touch Requires iPhone, iPod touch, or iPad running iOS 5.0 or later. Download size: 7.375 MB. Android Requires Android OS 2.2 or later. Download size: 7.375 MB. Windows Phone Requires Windows Phone 7.5 or later. Download size: 7.375 MB. Windows Store Download size: 7.375 MB. Windows PC Requires Windows 2000, XP, Vista, Windows 7, or later. Download size: 5.375 MB. Mac OS X Download size: 7.375 MB. Windows Mobile Requires Pocket PC / Windows Mobile version 6.5 or earlier. Download size: 5.125 MB. Palm OS Requires Palm OS 5.0 or later. Download size: 5.375 MB.
Find us on Facebook

Insider Info

Devoted Laridian fans watch our blog for the latest news, including comments on as-yet-unreleased and unannounced products.

Facebook Fans and our Twitter Followers get notified of all special offers and sometimes get special special offers just for them.

We post short instructional videos on our youtube channel.

There's detailed information about PocketBible for Android on Google+.

We don't keep lists of potential beta testers. Just watch the blog.

The Fine Print

Copyright © 2010-2015 by Laridian, Inc. All Rights Reserved.

Laridian, PocketBible, and MyBible are registered trademarks of Laridian, Inc. DailyReader, Memorize!, PrayerPartner, eTract, BookBuilder, VerseLinker, iPocketBible, DocAnalyzer, Change the way you look at the Bible, and The Bible. Anywhere. are trademarks of Laridian, Inc. Other marks are the property of their respective owners.

Products by Platform

Bible Reader Software

BookBuilder Software

Products by Type

Your Account

You are not logged in.
Your IP Address: 54.161.236.195
Site IP Address: 209.18.65.235

Best Ways to Get Help

You can get the fastest help by helping yourself.

Make sure you obtain the PocketBible or other Bible reader program that is required to read the Bibles or books you bought.
Read the confirmation email we send you when you make a purchase
Read the help that's built into each of our products
Look through our Frequently Asked Questions
Submit a Support Ticket
Email us at support@laridian.com

Laridian Associates Program

Associates Program members earn a referral fee for every sale resulting from their links to our site!

Log Into Your Download Account to Join the Associates Program