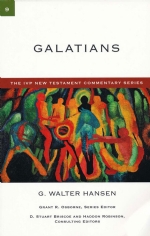 IVP New Testament Commentary: Galatians
$8.99
Available Platforms
About this Series
Pastors with a passion for sound exposition and scholars with a heart for pastoral leadership have joined forces to produce this exciting commentary series.
Each volume, informed by the best of up-to-date evangelical scholarship, presents passage-by-passage commentary based on the NIV along with background information on authorship, setting, theme and various interpretive issues. Seldom have such readable commentary and reliable research helps been available together! Preachers, teachers, students and other individuals who want to dig deep into the heart of the New Testament will find an indispensable companion in the IVP New Testament Commentary Series.
About this Volume
This one-volume commentary on Galatians can also be purchased as part of a multi-volume set.
"Wherever ethnic rivalries are destroying societies, the book of Galatians calls Christians to express the truth of the gospel in communities where there are no ethnic or social or gender divisions." With this strong admonition, Walter Hansen introduces his IVP New Testament Commentary on Galatians.
Unlike many other commentaries, Hansen's volume highlights not only the individual dimensions of justification by faith but also its social implications. But like all the volumes in the IVP New Testament Commentary Series, it seeks to explicate the Scriptures with historical accuracy and textual faithfulness, providing helpful explanatory notes and a passage-by-passage commentary in a user-friendly format.
But Hansen strives to do even more. With a pastor's conviction and concern, he aims to move from the text itself to its contemporary relevance and application. His bold, careful interpretation challenges students and teachers of this important Pauline letter to move beyond merely the question "How can I, a sinner, be right before a just and holy God?" and to find in Galatians a healing word addressed to the ongoing tensions of race, class and gender;a word worked out in the life of the whole church.
"If a church does not defend in practice the equality and unity of all in Christ," writes Hansen, "It implicitly communicates that justification is not by faith but by race, social status or some other standard. Faith must not be defined in individualistic terms; faith as Paul defines it . . . is 'faith working through love.'"
Features
Passage-by-passage exposition of Galatians
Based on the NIV Bible
Includes background information and discussion of critical issues
Focuses on the relevance of Galatians for Christians today
Describes different views on interpreting Galatians
Notes on exegetical issues separated from textual commentary
About the Author(s)
G. Walter Hansen is a lecturer at Trinity College in Singapore. The author of Abraham in Galatians, he has served on the adjunct faculty of Fuller Theological Seminary in Pasadena, California, and as a pastor in Cleveland, Ohio.
System Requirements
Installed size (unless otherwise indicated): Approximately 409.625 KB. iPhone, iPad, and iPod touch Requires iPhone, iPod touch, or iPad running iOS 5.0 or later. Download size: 409.625 KB. Android Requires Android OS 2.2 or later. Download size: 409.625 KB. Windows Phone Requires Windows Phone 7.5 or later. Download size: 409.625 KB. Windows Store Download size: 409.625 KB. Windows PC Requires Windows 2000, XP, Vista, Windows 7, or later. Download size: 518.375 KB. Mac OS X Requires Mac OS X 10.7 or later. Download size: 409.625 KB. Windows Mobile Requires Pocket PC / Windows Mobile version 6.5 or earlier. Download size: 319.875 KB. Palm OS Requires Palm OS 5.0 or later. Download size: 462.875 KB.
Find us on Facebook

Insider Info

Devoted Laridian fans watch our blog for the latest news, including comments on as-yet-unreleased and unannounced products.

Facebook Fans and our Twitter Followers get notified of all special offers and sometimes get special special offers just for them.

We post short instructional videos on our youtube channel.

There's detailed information about PocketBible for Android on Google+.

We don't keep lists of potential beta testers. Just watch the blog.

The Fine Print

Copyright © 2010-2015 by Laridian, Inc. All Rights Reserved.

Laridian, PocketBible, and MyBible are registered trademarks of Laridian, Inc. DailyReader, Memorize!, PrayerPartner, eTract, BookBuilder, VerseLinker, iPocketBible, DocAnalyzer, Change the way you look at the Bible, and The Bible. Anywhere. are trademarks of Laridian, Inc. Other marks are the property of their respective owners.

Products by Platform

Bible Reader Software

BookBuilder Software

Products by Type

Your Account

You are not logged in.
Your IP Address: 54.145.145.2
Site IP Address: 209.18.65.235

Best Ways to Get Help

You can get the fastest help by helping yourself.

Make sure you obtain the PocketBible or other Bible reader program that is required to read the Bibles or books you bought.
Read the confirmation email we send you when you make a purchase
Read the help that's built into each of our products
Look through our Frequently Asked Questions
Submit a Support Ticket
Email us at support@laridian.com

Laridian Associates Program

Associates Program members earn a referral fee for every sale resulting from their links to our site!

Log Into Your Download Account to Join the Associates Program