$0.00
If you are already a Laridian customer, log in above and we can tell you if you own this product.
This product is also available in the following bundles or collections:
To Purchase This Product
Choose your preferred platform from the list below to add the product to your shopping cart.
When you purchase this product you can install it on any plaform on which it is supported, onto any device you personally own or control. (View our "Buy-It-Once" policy.) However, when purchasing you must choose the initial platform on which you'll be installing the product.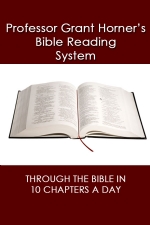 Professor Horner's Bible Reading System
Available Platforms
Description
Professor Grant Horner's Bible Reading System is a unique Bible reading plan. Each day you will read one chapter from each of ten lists for a total of ten chapters per day from the Bible. The PocketBible version of the plan gives you 365 days of reading the Bible using this system.
On day one, you read Matthew 1, Genesis 1, Romans 1, and so forth. On day 2, read Matthew 2, Genesis 2, etc. On day 29, you will have just finished Matthew, so you'll go to Mark 1 on the Gospel list; you'll also be almost to the end of 2nd Corinthians and Proverbs, you'll be reading Psalm 29 and Genesis 29, and so forth. When you reach the last chapter of the last book in a list – you'll start over again. You will be rotating all the way through all the Scriptures constantly.
Since the lists vary in length, the readings begin interweaving in constantly changing ways. You will NEVER read the same set of ten chapters together again! Throughout the year you'll read through all the Gospels four times, the Pentateuch twice, Paul's letters 4-5 times each, the OT wisdom literature six times, all the Psalms at least twice, all the Proverbs as well as Acts a dozen times, and all the way through the OT History and Prophetic books about 1.5 times. Since the interweaving is constantly changing, you will experience the Bible commenting on itself in constantly changing ways -- the Reformer's principle of 'scriptura interpretans scripturam' -- 'scripture interpreting scripture' in action!
After you've read any particular book once or twice, your speed in that book usually doubles or triples because you're familiar with it and can move quickly and confidently -- because you are no longer merely decoding the text but thinking it through in the context of all of the scripture. Even an 'average' reader, if focusing on moving through the text, rather than trying to figure everything out, can usually do this in about an hour a day (5-6 minutes per chapter). Many people report moving confidently through the ten chapters in 35-40 minutes. If it is taking you longer, then you are reading wrong – stay relaxed, focus, and just keep it moving. Moderate but consistent speed is the key. This is "gross anatomy" -- looking at the whole body; you're not closely studying organs or systems or tissues or cells -- it is not microbiology. BUT -- microbiology and the study or organs makes more sense when you know what the whole structure of the human body is like, and how all the parts, large and small, relate in perfect interdependence.
After just a few days the reading gets much easier; in a month it will be a habit, and in six months you'll wonder how you ever survived before on such a slim diet of the WORD.
Features
Your daily reading will include a chapter from each of 10 lists:
The Gospels (89 days)
Pentateuch (187 days)
New Testament Set 1: Romans, 1 and 2 Cor, Gal, Eph, Phil, Col, Hebrews (78 Days)
New Testament Set 2: 1 and 2 Thess, 1 and 2 Tim, Titus, Philemon, James, 1 and 2 Peter, 1, 2 and 3 John, Jude, Revelation (65 days)
Wisdom Books (62 days)
Psalms (150 days)
Proverbs (31 days)
Historical Books (249 days)
Prophets (250 days)
Acts (28 days)
This PocketBible book includes a link to your 10 chapters for reading each day for 365 days and will keep track of your progress through the plan. You can use it with any PocketBible Bible translation and it is recommended that you pick one translation of the Bible and stick with it throughout.
Secrets to Success
Read quickly (without "speed-reading") in order to get the overall sense. Read as fast as you comfortably can with moderate retention. You're not studying deeply or memorizing; shoot for 5-6 minutes per chapter. At the end of a chapter, move immediately to the next list.
GET THROUGH THE TEXT – no dawdling, back reading, looking up cross-references!
There are different 'kinds' of reading: super-quick skimming, careful moderate-paced, studying the text, deep meditation. You should be between the first and second kind.
Don't look up anything you 'don't get' – real understanding will come through contextualizing by reading a LOT of scripture over time.
If you are wondering why you should read Acts (or Proverbs) all the way through every single month, then -- you've just shown that you NEED to read them that often!
The goal of this system is simple, and twofold: To know scripture, and to love and obey God more!
About the Author(s)
Professor Grant Horner's academic specialty is the literature, theology and philosophy of the Renaissance and Reformation, with primary concentration in Milton, Shakespeare, Erasmus, Luther, Calvin and late sixteenth and seventeenth century poetry and prose. He is an Associate Professor at The Master's College north of Los Angeles, and is also Chair of Humanities at Trinity Classical Academy.
System Requirements
Installed size (unless otherwise indicated): Approximately 131.625 KB. iPhone, iPad, and iPod touch Requires iPhone, iPod touch, or iPad running iOS 5.0 or later. Download size: 131.625 KB. Android Requires Android OS 2.2 or later. Download size: 131.625 KB. Windows Phone Requires Windows Phone 7.5 or later. Download size: 131.625 KB. Windows Store Download size: 131.625 KB. Windows PC Requires Windows 2000, XP, Vista, Windows 7, or later. Download size: 1.875 MB. Mac OS X Download size: 131.625 KB. Windows Mobile Requires Pocket PC / Windows Mobile version 6.5 or earlier. Download size: 277.375 KB. Palm OS Requires Palm OS 5.0 or later. Download size: 264.875 KB.
Find us on Facebook

Insider Info

Devoted Laridian fans watch our blog for the latest news, including comments on as-yet-unreleased and unannounced products.

Facebook Fans and our Twitter Followers get notified of all special offers and sometimes get special special offers just for them.

We post short instructional videos on our youtube channel.

There's detailed information about PocketBible for Android on Google+.

We don't keep lists of potential beta testers. Just watch the blog.

The Fine Print

Copyright © 2010-2015 by Laridian, Inc. All Rights Reserved.

Laridian, PocketBible, and MyBible are registered trademarks of Laridian, Inc. DailyReader, Memorize!, PrayerPartner, eTract, BookBuilder, VerseLinker, iPocketBible, DocAnalyzer, Change the way you look at the Bible, and The Bible. Anywhere. are trademarks of Laridian, Inc. Other marks are the property of their respective owners.

Products by Platform

Bible Reader Software

BookBuilder Software

Products by Type

Your Account

You are not logged in.
Your IP Address: 54.146.178.218
Site IP Address: 209.18.65.235

Best Ways to Get Help

You can get the fastest help by helping yourself.

Make sure you obtain the PocketBible or other Bible reader program that is required to read the Bibles or books you bought.
Read the confirmation email we send you when you make a purchase
Read the help that's built into each of our products
Look through our Frequently Asked Questions
Submit a Support Ticket
Email us at support@laridian.com

Laridian Associates Program

Associates Program members earn a referral fee for every sale resulting from their links to our site!

Log Into Your Download Account to Join the Associates Program