$14.99
If you are already a Laridian customer, log in above and we can tell you if you own this product.
To Purchase This Product
Choose your preferred platform from the list below to add the product to your shopping cart.
When you purchase this product you can install it on any plaform on which it is supported, onto any device you personally own or control. (View our "Buy-It-Once" policy.) However, when purchasing you must choose the initial platform on which you'll be installing the product.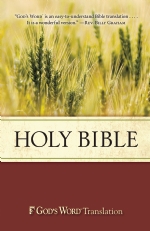 God's Word Translation (GW)
Available Platforms
Description
Now you can read, understand and live God's Word like never before. GOD'S WORD® Translation is the full, accurate meaning of the original Bible writers in everyday language—beautifully expressed in words you hear and use in your everyday life. Discover for yourself why GOD'S WORD is considered by many to be today's most readable and accurate translation.
"GOD'S WORD is an easy-to-understand Bible translation... it is a wonderful version to give someone who is a new believer or is not yet a believer." Rev. Billy Graham, Billy Graham Evangelistic Association
"Even if the rather prolific output of modern translations, paraphrases, and versions of Scripture should increase, this particular linguistic achievement, GOD'S WORD, will rank among the top contenders with the Bible-reading public." Dr. D. James Kennedy, Senior Minister, Coral Ridge Presbyterian Church
"After extensive study, I am convinced that the GOD'S WORD Translation is, without exception, the most accurate, easy-to-read version of the Bible available on the face of the earth." Evangelist Tim Todd, Tim Todd Ministries.
*Based on the Bible and Translation chart, CBA Marketplace, official publication of the Christian Booksellers Association.
Sample Text
Psalm 1:1
Blessed is the person who does not
follow the advice of wicked people,
take the path of sinners,
or join the company of mockers.
John 3:16
God loved the world this way: He gave his only Son so that everyone who believes in him will not die but will have eternal life.
2 Timothy 3:16-17
Every Scripture passage is inspired by God. All of them are useful for teaching, pointing out errors, correcting people, and training them for a life that has God's approval. They equip God's servants so that they are completely prepared to do good things.
Revelation 10:10
I took the small scroll from the angel's hand and ate it. It was as sweet as honey in my mouth, but when I had eaten it, it was bitter in my stomach.
System Requirements
Installed size (unless otherwise indicated): Approximately 4.125 MB. iPhone, iPad, and iPod touch Requires iPhone, iPod touch, or iPad running iOS 5.0 or later. Download size: 4.125 MB. Android Requires Android OS 2.2 or later. Download size: 4.125 MB. Windows Phone Requires Windows Phone 7.5 or later. Download size: 4.125 MB. Windows Store Download size: 4.125 MB. Windows PC Requires Windows 2000, XP, Vista, Windows 7, or later. Download size: 4.875 MB. Mac OS X Download size: 4.125 MB. Windows Mobile Requires Pocket PC / Windows Mobile version 6.5 or earlier. Download size: 3.125 MB. webOS Requires webOS 1.4.5 or later. Download/Installed size: 4.875 MB.
Find us on Facebook

Insider Info

Devoted Laridian fans watch our blog for the latest news, including comments on as-yet-unreleased and unannounced products.

Facebook Fans and our Twitter Followers get notified of all special offers and sometimes get special special offers just for them.

We post short instructional videos on our youtube channel.

There's detailed information about PocketBible for Android on Google+.

We don't keep lists of potential beta testers. Just watch the blog.

The Fine Print

Copyright © 2010-2015 by Laridian, Inc. All Rights Reserved.

Laridian, PocketBible, and MyBible are registered trademarks of Laridian, Inc. DailyReader, Memorize!, PrayerPartner, eTract, BookBuilder, VerseLinker, iPocketBible, DocAnalyzer, Change the way you look at the Bible, and The Bible. Anywhere. are trademarks of Laridian, Inc. Other marks are the property of their respective owners.

Products by Platform

Bible Reader Software

BookBuilder Software

Products by Type

Your Account

You are not logged in.
Your IP Address: 54.90.251.197
Site IP Address: 209.18.65.235

Best Ways to Get Help

You can get the fastest help by helping yourself.

Make sure you obtain the PocketBible or other Bible reader program that is required to read the Bibles or books you bought.
Read the confirmation email we send you when you make a purchase
Read the help that's built into each of our products
Look through our Frequently Asked Questions
Submit a Support Ticket
Email us at support@laridian.com

Laridian Associates Program

Associates Program members earn a referral fee for every sale resulting from their links to our site!

Log Into Your Download Account to Join the Associates Program