New! $7.99
If you are already a Laridian customer, log in above and we can tell you if you own this product.
This product is also available in the following bundles or collections:
To Purchase This Product
Choose your preferred platform from the list below to add the product to your shopping cart.
When you purchase this product you can install it on any plaform on which it is supported, onto any device you personally own or control. (View our "Buy-It-Once" policy.) However, when purchasing you must choose the initial platform on which you'll be installing the product.
Reviews on Amazon.com

Learn more about this product: Search Amazon.com for print editions.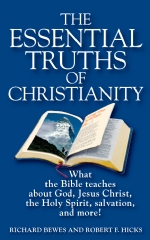 Essential Truths of Christianity
Available Platforms
Description
The Essential Truths of Christianity will help you open your Bible so that you can discover what it says, understand its truths, and apply its message.
These sixty studies are deceptively short, simple, and clear. Each one can be read quickly, but if you really delve into them - checking the Scriptures (easy to do in PocketBible!), working through the Bible studies, thinking through the reflection questions - you will find a rich study resource.
There are six studies each on ten essential areas of Christian teaching: the Bible, God, Jesus Christ, the Holy Spirit, humanity, Godís messengers, salvation, the Christian, the church, and the last things.
You can use this for personal Bible study or for group study. If one section is studied each week, all of this material will be covered in just over a year.
Table of Contents
Introduction
The Bible

Its Main Sections
Its Inspiration
Its Interpretation
Its Application
Its Central Theme
Its Content

God

The Trinity
The Creator
God's Being
God's Character
The Fatherhood of God
God's Revelation

Jesus Christ

His Incarnation
Main Events in the Gospels
Main Aspects of His Ministry
His Names
His Atoning Death
His Triumphant Resurrection

The Holy Spirit

His Person
His Names and Descriptions
His Work
His Activity in The Christian
His Fruit
His Gifts

Humanity

Our Uniqueness
Our Diversity
Our Rebellion and Fall
Our Rebellion and Condemnation
Our Quest and Dilemma
Our Enemies

God's Messengers

Angels
Patriarchs
Priests
Prophets
Apostles
Evangelists

Salvation

God's Plan for Humanity
Humanity's Need of Salvation
The Way of Salvation
Acceptance
Sanctification
In the Letter to the Romans

The Christian

Described
The Christian and the Bible
The Christian and Prayer
The Christian and Witness
The Christian and The World
The Christian Life

The Church

Its Characteristics
Its Main Descriptions
Its Relationship to Christ
Its Authority and Missions
Its Ordinances
Its Ministry and Order

The Last Things

The Hope of the Christian
The Prelude to Christ's Return
The Return of Christ
The Judgement
The Resurrection
The New Order

Bible Themes
About the Author(s)
Richard Bewes was the rector of All Souls, Langham Place in the center of London for many years. He is an experienced broadcaster, conference speaker and the author of more than twenty books.
Robert F. Hicks
System Requirements
Installed size (unless otherwise indicated): Approximately 574.375 KB. iPhone, iPad, and iPod touch Requires iPhone, iPod touch, or iPad running iOS 5.0 or later. Download size: 574.375 KB. Android Requires Android OS 2.2 or later. Download size: 574.375 KB. Windows Phone Requires Windows Phone 7.5 or later. Download size: 574.375 KB. Windows Store Download size: 574.375 KB. Windows PC Requires Windows 2000, XP, Vista, Windows 7, or later. Download size: 1.125 MB. Mac OS X Download size: 574.375 KB. Windows Mobile Requires Pocket PC / Windows Mobile version 6.5 or earlier. Download size: 613.375 KB. Palm OS Requires Palm OS 5.0 or later. Download size: 653.625 KB.
Find us on Facebook

Insider Info

Devoted Laridian fans watch our blog for the latest news, including comments on as-yet-unreleased and unannounced products.

Facebook Fans and our Twitter Followers get notified of all special offers and sometimes get special special offers just for them.

We post short instructional videos on our youtube channel.

There's detailed information about PocketBible for Android on Google+.

We don't keep lists of potential beta testers. Just watch the blog.

The Fine Print

Copyright © 2010-2015 by Laridian, Inc. All Rights Reserved.

Laridian, PocketBible, and MyBible are registered trademarks of Laridian, Inc. DailyReader, Memorize!, PrayerPartner, eTract, BookBuilder, VerseLinker, iPocketBible, DocAnalyzer, Change the way you look at the Bible, and The Bible. Anywhere. are trademarks of Laridian, Inc. Other marks are the property of their respective owners.

Products by Platform

Bible Reader Software

BookBuilder Software

Products by Type

Your Account

You are not logged in.
Your IP Address: 54.83.224.15
Site IP Address: 209.18.65.235

Best Ways to Get Help

You can get the fastest help by helping yourself.

Make sure you obtain the PocketBible or other Bible reader program that is required to read the Bibles or books you bought.
Read the confirmation email we send you when you make a purchase
Read the help that's built into each of our products
Look through our Frequently Asked Questions
Submit a Support Ticket
Email us at support@laridian.com

Laridian Associates Program

Associates Program members earn a referral fee for every sale resulting from their links to our site!

Log Into Your Download Account to Join the Associates Program