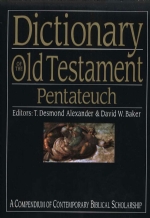 IVP Dictionary of the OT: Pentateuch
Available Platforms
Description
The Dictionary of the Old Testament: Pentateuch is the first in a four-volume series covering the text of the Old Testament. Following in the tradition of the four award-winning IVP dictionaries focused on the New Testament and its background, this encyclopedic work is characterized by close attention to the text of the Old Testament and the ongoing conversation of contemporary scholarship. Editors T. Desmond Alexander and David W. Baker, with an international and expert group of scholars, explore the major themes and contours of the Pentateuch, examine and weigh historical issues while posing possible solutions, and offer both appreciative panoramas as well as close-up assessments of literary developments and their methods. A 2003 LOGOS Book Award Winner and an ECPA 2003 Gold Medallion Finalist.
About this Volume
What others are saying:
"The Dictionary of the Old Testament: Pentateuch contains a wealth of important information for all students of this foundational portion of Scripture. The articles are all written by leading scholars in the field under the guidance of two preeminent Old Testament interpreters well known for their own work on the Pentateuch. This dictionary is not only informative but also readable. I highly recommend it." —Tremper Longman III, Robert H. Gundry Professor of Biblical Studies, Westmont College
"By focusing on a single main section of Scripture, the Dictionary of the Old Testament: Pentateuch allows for greater scope and in-depth handling of individual topics. Well researched and comprehensive in treatment, it will be a good addition to the library of students, pastors, scholars and laypeople." —Christopher R. Seitz, Professor of Biblical Interpretation, Wycliffe College
Features
In-depth encyclopedia-length coverage of major themes and issues of the Pentateuch
First in a four-volume series covering the text of the Old Testament
Follows in the tradition of IVP's dictionaries of the New Testament and its background
Focuses on both the biblical text and the conversation among contemporary scholars
Informs and challenges with authoritative overviews, detailed examinations and new insights from the world of the ancient Near East
All articles are written exclusively for this dictionary
Does not duplicate the material presented in even multi-volume Bible dictionaries
Includes hundreds of cross-references, extensive bibliographies, subject and Scripture indexes
Represents the best of evangelical scholarship today
A Gold Medallion Award Finalist (Evangelical Christian Publishing Association, 2003) Logos Book Award Winner (Association of Logos Bookstores, 2003)
About the Editor(s)
T. Desmond Alexander is senior lecturer in biblical studies and director of postgraduate studies at Union Theological College in Belfast, Northern Ireland. From 1980 to 1999, he was lecturer in Semitic studies at the Queen's University of Belfast. His main field of research is the Pentateuch, about which he has written extensively in academic journals and books. Alexander also has a special interest in the relationship between the Old and New Testaments. He is the author of From Paradise to the Promised Land: An Introduction to the Main Themes of the Pentateuch and Abraham in the Negev, and he is a co-editor (with Brian S. Rosner) of the New Dictionary of Biblical Theology.
David W. Baker (A.B., M.C.S., M.Phil., Ph.D.) is professor of Old Testament and Semitic languages at Ashland Theological Seminary in Ashland, Ohio. He serves as editor for the Evangelical Theological Society Dissertation and Evangelical Theological Society Studies series as well as for Sources for Biblical and Theological Studies (Eisenbrauns, Winona Lake). He is coauthor (with Bill T. Arnold) of The Face of Old Testament Studies: A Survey of Contemporary Approaches. In addition, he has written many articles, essays and commentaries.
System Requirements
Installed size (unless otherwise indicated): Approximately 7.625 MB. iPhone, iPad, and iPod touch Requires iPhone, iPod touch, or iPad running iOS 5.0 or later. Download size: 7.625 MB. Android Requires Android OS 2.2 or later. Download size: 7.625 MB. Windows Phone Requires Windows Phone 7.5 or later. Download size: 7.625 MB. Windows Store Download size: 7.625 MB. Windows PC Requires Windows 2000, XP, Vista, Windows 7, or later. Download size: 4.875 MB. Mac OS X Download size: 7.625 MB. Windows Mobile Requires Pocket PC / Windows Mobile version 6.5 or earlier. Download size: 3.625 MB. Palm OS Requires Palm OS 5.0 or later. Download size: 3.125 MB.
Find us on Facebook

Insider Info

Devoted Laridian fans watch our blog for the latest news, including comments on as-yet-unreleased and unannounced products.

Facebook Fans and our Twitter Followers get notified of all special offers and sometimes get special special offers just for them.

We post short instructional videos on our youtube channel.

There's detailed information about PocketBible for Android on Google+.

We don't keep lists of potential beta testers. Just watch the blog.

The Fine Print

Copyright © 2010-2015 by Laridian, Inc. All Rights Reserved.

Laridian, PocketBible, and MyBible are registered trademarks of Laridian, Inc. DailyReader, Memorize!, PrayerPartner, eTract, BookBuilder, VerseLinker, iPocketBible, DocAnalyzer, Change the way you look at the Bible, and The Bible. Anywhere. are trademarks of Laridian, Inc. Other marks are the property of their respective owners.

Products by Platform

Bible Reader Software

BookBuilder Software

Products by Type

Your Account

You are not logged in.
Your IP Address: 54.159.136.47
Site IP Address: 209.18.65.235

Best Ways to Get Help

You can get the fastest help by helping yourself.

Make sure you obtain the PocketBible or other Bible reader program that is required to read the Bibles or books you bought.
Read the confirmation email we send you when you make a purchase
Read the help that's built into each of our products
Look through our Frequently Asked Questions
Submit a Support Ticket
Email us at support@laridian.com

Laridian Associates Program

Associates Program members earn a referral fee for every sale resulting from their links to our site!

Log Into Your Download Account to Join the Associates Program