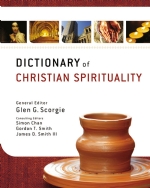 Dictionary of Christian Spirituality
$31.99
Available Platforms
Description
The 2012 Christian Book Award Winner, Dictionary of Christian Spirituality, provides readers with a global, biographical, historical, topical, and biblical understanding of the origins, development, and contemporary expressions of Christian spirituality. This volume offers a unique and valuable resource for pastors, church and ministry leaders, mentors, counselors, teachers and scholars.
In recent decades, Christian spirituality, spiritual formation and spiritual theology have become important concepts in the global evangelical community. Consequently, an accessible and reliable academic resource is needed on these topics---one that will offer a discerning orientation to the wealth of ecumenical resources available while still highlighting the distinct heritage and affirming the core grace-centered values of classic evangelical spirituality.
The Dictionary of Christian Spirituality reflects an overarching interpretive framework for evangelical spiritual formation: a holistic and grace-filled spirituality that encompasses relational (connecting), transformational (becoming), and vocational (doing) dynamics. At the same time, contributors respectfully acknowledge the differences between Reformed, Holiness, and Pentecostal paradigms of the spiritual life. And, by bringing together writers from around the world who share a common orthodoxy, this reference work is truly global and international in both its topical scope and contributors.
Entries give appropriate attention to concepts, concerns, and formative figures in the evangelical tradition of spirituality that other reference works neglect. They offer a discerning orientation to the wealth of ecumenical resources available, exploring the similarities and differences between Christianity and alternate spiritualties. This dictionary is different from other dictionaries because of its focus on spirituality. For example, the major interpretive article on Jesus is not about every detail of Jesus' life but about how his spirituality is the essence of Christian Spirituality and what that looks like.
Praise for the Dictionary of Christian Spirituality
"A well-researched, comprehensive study of Christian Spirituality from a broad evangelical perspective. I give it my highest recommendation." Richard J. Foster, author of Celebration of Discipline
"The combination of substantial reflective essays on major themes in Christian spirituality and sharply focused articles on major figures and topics provides a rich mixture of insight, information, and inspiration. 'Spirituality' can be a subject that wafts into ether, but in this broadly ecumenical and very well-balanced work, it is presented with real substance and genuine edification." Mark A. Noll, Francis A. McAnaney Professor of History, University of Notre Dame
"I highly recommend this dictionary for all Christians, especially those who want to grow in their active practice of various spiritual disciplines, their devoted love for God and neighbor, and their fervent thanksgiving for global saints and the myriad ways God works in the world." Marva J. Dawn, Teaching Fellow in Spiritual Theology at Regent College, Vancouver, BC
The Dictionary of Christian Spirituality is a 2012 Christian Book Award Winner in the Bible Reference category. Presented annually to the finest in Christian publishing since 1978, the Christian Book Awards honor the highest quality titles in Bibles, Bible Reference, Non-Fiction, Fiction, Children, Inspiration, and New Author.
Features
An accessible and reliable academic resource on Christian spiritual theology, spirituality, and spiritual formation with focus on being:
Biblically engaged
Accessible and relevant to contemporary Christian practitioners
Generous in its regard for the full range of Christian traditions of spirituality
Attentive to otherwise neglected topics, concerns, and formative figures in the evangelical tradition of spirituality
Global and international in both topical scope and contributors
Reflective of interdisciplinary engagement with related fields of inquiry
The volume has two main divisions:
34 larger "integrative perspective" essays
Nearly 700 smaller alphabetized entries of varying lengths.
Each of the integrative perspective essays has been written with an awareness of the other briefer but related articles included. These shorter articles provide more details on particular topics than was possible to include in the integrative essays themselves. Topics are covered that are important to Christian Spirituality and articles are written to inform on how topics pertain to that subject.
Table of Contents
PART ONE: INTEGRATIVE PERSPECTIVES
Overview of Christian Spirituality
Approaches to the Study of Christian Spirituality
Old Testament Foundations of Christian Spirituality
New Testament Foundations of Christian Spirituality
Spiritual Theology
Jesus
The Holy Spirit
Human Personhood
Spirituality in Community
Education and Spiritual Formation
Eschatology and Hope
Survey of the History of Christian Spirituality
Ancient Christian Spirituality (AD 100-600)
Byzantium and the East (AD 600-1700)
The Medieval West (AD 600 - 1450)
European Reformation and Colonial Expansion (1450 - 1700)
Europe and North American (1700 - Present)
Global Christianity (1700 - Present)
A Comparison of Major Christian Traditions
Contours of Evangelical Spirituality
Pathways to Reform and Renewal
Liturgical Spirituality
Prayer
Experience
Mysticism
Music and the Arts
Spirituality in Relationship to Psychology and Therapy
Spirituality in Relation to Creation
Contextual Spirituality
Christian Spirituality in Interfaith Encounter
Spirituality and Transformation
Grace and Spiritual Disciplines
Mission and Ministry
The Future of Christian Spirituality
PART TWO: DICTIONARY ENTRIES
Nearly seven hundred shorter length articles on historical Christian movements, biographical profiles, and other concepts and topics pertinent to the study of Christian spirituality.
About the Editor(s)
Glen G. Scorgie (Ph.D., St. Andrews) is professor of theology at Bethel Seminary San Diego since 1996. Previously he was academic vice-president of North American Baptist College in Edmonton, Alberta, Canada, and is a past president of the Canadian Evangelical Theological Association. For the past decade he has also been involved in the ministries of Chinese Bible Church of San Diego, and lectures regularly in Asia. His writings include A Little Guide to Christian Spirituality (2007).
Simon Chan (PhD, Cambridge) is Earnest Lau Professor of Systematic Theology at Trinity Theological College in Singapore. He is the author of Man and Sin, Pentecostal Theology and the Christian Spiritual Tradition, Spiritual Theology; A Systematic Study of the Christian Life and Liturgical Theology: The Church as Worshiping Community. He is also the associate editor of the Global Dictionary of Theology and the Dictionary of Mission Theology.
Gordon T. Smith (PhD, Loyola House, Ateneo de Manila) is the president of reSource Leadership International and formerly dean of Regent College, Vancouver. His publications include A Holy Meal: the Lord's Supper in the Life of the Church and The Voice of Jesus: Discernment, Prayer and the Witness of the Spirit.
James D. Smith III (ThD, Harvard) is associate professor of Church History at Bethel Seminary – San Diego, as well an adjunct professor of religion at the University of San Diego. A member of the Baptist General Conference, he is a former teaching assistant to Henri Nouwen at Harvard, and lectures frequently on Nouwen's spirituality and related topics.
System Requirements
Installed size (unless otherwise indicated): Approximately 2.375 MB. iPhone, iPad, and iPod touch Requires iPhone, iPod touch, or iPad running iOS 5.0 or later. Download size: 2.375 MB. Android Requires Android OS 2.2 or later. Download size: 2.375 MB. Windows Phone Requires Windows Phone 7.5 or later. Download size: 2.375 MB. Windows Store Download size: 2.375 MB. Windows PC Requires Windows 2000, XP, Vista, Windows 7, or later. Download size: 2.625 MB. Mac OS X Requires Mac OS X 10.7 or later. Download size: 2.375 MB. Windows Mobile Requires Pocket PC / Windows Mobile version 6.5 or earlier. Download size: 2.625 MB. Palm OS Requires Palm OS 5.0 or later. Download size: 2.625 MB.
Find us on Facebook

Insider Info

Devoted Laridian fans watch our blog for the latest news, including comments on as-yet-unreleased and unannounced products.

Facebook Fans and our Twitter Followers get notified of all special offers and sometimes get special special offers just for them.

We post short instructional videos on our youtube channel.

There's detailed information about PocketBible for Android on Google+.

We don't keep lists of potential beta testers. Just watch the blog.

The Fine Print

Copyright © 2010-2015 by Laridian, Inc. All Rights Reserved.

Laridian, PocketBible, and MyBible are registered trademarks of Laridian, Inc. DailyReader, Memorize!, PrayerPartner, eTract, BookBuilder, VerseLinker, iPocketBible, DocAnalyzer, Change the way you look at the Bible, and The Bible. Anywhere. are trademarks of Laridian, Inc. Other marks are the property of their respective owners.

Products by Platform

Bible Reader Software

BookBuilder Software

Products by Type

Your Account

You are not logged in.
Your IP Address: 54.204.185.245
Site IP Address: 209.18.65.235

Best Ways to Get Help

You can get the fastest help by helping yourself.

Make sure you obtain the PocketBible or other Bible reader program that is required to read the Bibles or books you bought.
Read the confirmation email we send you when you make a purchase
Read the help that's built into each of our products
Look through our Frequently Asked Questions
Submit a Support Ticket
Email us at support@laridian.com

Laridian Associates Program

Associates Program members earn a referral fee for every sale resulting from their links to our site!

Log Into Your Download Account to Join the Associates Program