$19.99
If you are already a Laridian customer, log in above and we can tell you if you own this product.
Reviews on Amazon.com

Learn more about this product: Search Amazon.com for print editions.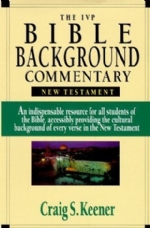 IVP Bible Background Commentary New Testament
Description
This commentary can also be purchased as part of a two-volume set.
To understand and apply the Bible well, you need two crucial sources of information. One is the Bible itself. The other is an understanding of the cultural background of the passage you're reading. Only with the background can you grasp the author's original concerns and purposes.
This unique commentary provides, in verse-by-verse format, the crucial cultural background you need for responsible and richer Bible study. It includes a glossary of cultural terms and important historical figures, up-to-date bibliographies, and introductory essays about cultural background information for each book of the New Testament.
Based on ten years of in-depth study, this accessible and bestselling commentary is valuable for pastors in sermon preparation, for Sunday-school and other church teachers as they build lessons, for missionaries concerned not to import their own cultural biases into the Bible, for college and seminary students in classroom assignments, and for every reader of the New Testament seeking to deepen and enhance their study of Scripture.
Features
Cultural background for the entire New Testament arranged in a verse-by-verse format
A glossary of cultural terms and important historical figures
An up-to-date bibliography of commentaries and other resources for each book of the New Testament
Introductory essays on the importance of cultural background and the uses of this unique commentary
From the Introduction
"Cultural context makes a difference in how we read the New Testament. For instance, since there were plenty of exorcists in the ancient world, ancient readers would not have been surprised that Jesus cast out demons, but since most exorcists employed magic spells or pain compliance techniques to seek to expel demons, Jesus' driving them out "by his word" was impressive. Viewing the conflict concerning head coverings in 1 Corinthians 11 in the broader context of tensions over head coverings between well-to-do and less well-to-do women in first-century Corinth clarifies Paul's teaching in that passage. Understanding ancient views on slavery demonstrates that Paul's teaching, far from supporting that institution, undermines it. Recognizing what Jewish people meant by "resurrection" answers the objections of many skeptics today concerning the character of Jesus' resurrection. And so forth.
The sole purpose of this commentary (unlike most commentaries) is to make available the most relevant cultural, social and historical background for reading the New Testament the way its first readers would have read it..."
About the Author(s)
Craig S. Keener is professor of New Testament at Eastern Seminary, Philadelphia, and an ordained minister in the National Baptist Convention, USA. He is the author of numerous books, including ...and Marries Another: Divorce and Remarriage in the Teaching of the New Testament, two commentaries on Matthew, and with Glenn Usry, Black Man's Religion and Defending Black Faith. Over a decade of full-time research in the original Greek, Roman and Jewish documents of the New Testament era has gone into this commentary.
Find us on Facebook

Insider Info

Devoted Laridian fans watch our blog for the latest news, including comments on as-yet-unreleased and unannounced products.

Facebook Fans and our Twitter Followers get notified of all special offers and sometimes get special special offers just for them.

We post short instructional videos on our youtube channel.

There's detailed information about PocketBible for Android on Google+.

We don't keep lists of potential beta testers. Just watch the blog.

The Fine Print

Copyright © 2010-2015 by Laridian, Inc. All Rights Reserved.

Laridian, PocketBible, and MyBible are registered trademarks of Laridian, Inc. DailyReader, Memorize!, PrayerPartner, eTract, BookBuilder, VerseLinker, iPocketBible, DocAnalyzer, Change the way you look at the Bible, and The Bible. Anywhere. are trademarks of Laridian, Inc. Other marks are the property of their respective owners.

Products by Platform

Bible Reader Software

BookBuilder Software

Products by Type

Your Account

You are not logged in.
Your IP Address: 54.163.190.170
Site IP Address: 209.18.65.235

Best Ways to Get Help

You can get the fastest help by helping yourself.

Make sure you obtain the PocketBible or other Bible reader program that is required to read the Bibles or books you bought.
Read the confirmation email we send you when you make a purchase
Read the help that's built into each of our products
Look through our Frequently Asked Questions
Submit a Support Ticket
Email us at support@laridian.com

Laridian Associates Program

Associates Program members earn a referral fee for every sale resulting from their links to our site!

Log Into Your Download Account to Join the Associates Program