Get it on the App Store
This product can only be purchased or downloaded from the App Store.
Click to find PocketBible on the App Store.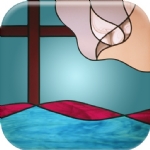 $0.00
PocketBible 2 for iPhone and iPad
Description
PocketBible is more than just the Bible on your phone. It is the gateway to a library of Bible reference materials and devotional books. It is the repository for your notes, highlights, and bookmarks. It is your motivation for daily reading of the Bible.
PocketBible is FREE. However, you can enable its Advanced Feature Set for a nominal fee to take advantage of additional features.
This version of PocketBible comes with the following Bibles and reference books:
Nine Bibles
American Standard Version
Bible in Basic English
Darby's New Translation
Geneva Bible (New Testament)
King James Version
Webster's Bible
Weymouth Bible
World English Bible
Young's Literal Translation
Four Bible Commentaries
Commentary Critical and Explanatory on the Whole Bible by Jamieson, Fausset, and Brown
Concise Commentary on the Whole Bible by Matthew Henry
Reference Notes by Scofield
Treasury of Scripture Knowledge
Five Topical References
Easton's Bible Dictionary
Nave's Topical Bible
Hitchcock's Dictionary of Bible Names
Torrey's Topical Textbook
Condensed Bible Cyclopedia
Nine Devotional Reading Books
Seven "Through the Bible" Reading Plans
Morning and Evening Devotionals by Spurgeon
Daily Light on the Daily Path
Twelve Other Bible Reference Books
Works of Josephus (5 Volumes)
Works of Augustine (5 Volumes)
Imitation of Christ
Foxe's Book of Martyrs
Features
PocketBible is full-featured software designed to help you read and study the Bible on your iPhone, iPad, or iPod touch. The free version has the following features. Additional advanced features are available for a nominal upgrade price.
Read and study the Bible anywhere. Unlike other Bible apps for your iPhone, no Internet connection is required once you've downloaded your Bibles and books onto your device.
Quickly find any passage using one of three different book/chapter/verse choosing mechanisms depending on your preferences.
Search for words, phrases, combinations of words using AND/OR and other operations.
Keep track of what you learn by taking notes, highlighting passages, and setting bookmarks. Bible references in your notes are automatically linked to the Bible. Bookmarks can be categorized into any number of user-defined categories.
Easily send Bible verses to email and SMS recipients.
Copy verses to the clipboard and from there to other applications or your PocketBible notes.
Add more Bibles and reference books from the built-in bookstore or by purchasing them from our website.
Easily switch between any number of open Bibles and books.
View multiple books at the same time.
Track your daily reading progress as you read devotionals and through-the-Bible reading plans.
Synchronize your notes, highlights, bookmarks, and daily reading progress with our server, and from there to your Windows PC or your other iPhone, iPad and iPod touch devices.
As downloaded from the App Store, PocketBible will come with one Bible. Additional Bibles and reference books included in this product are downloaded from our server from within the application once you've installed it.
System Requirements
PocketBible is compatible with the iPhone, iPad, and iPod touch running iOS 3.0 or later. The program comes with the KJV Bible. An Internet connection is required to download the program from the App Store and the additional Bibles and reference books from our server after installation.
Find us on Facebook

Insider Info

Devoted Laridian fans watch our blog for the latest news, including comments on as-yet-unreleased and unannounced products.

Facebook Fans and our Twitter Followers get notified of all special offers and sometimes get special special offers just for them.

We post short instructional videos on our youtube channel.

There's detailed information about PocketBible for Android on Google+.

We don't keep lists of potential beta testers. Just watch the blog.

The Fine Print

Copyright © 2010-2015 by Laridian, Inc. All Rights Reserved.

Laridian, PocketBible, and MyBible are registered trademarks of Laridian, Inc. DailyReader, Memorize!, PrayerPartner, eTract, BookBuilder, VerseLinker, iPocketBible, DocAnalyzer, Change the way you look at the Bible, and The Bible. Anywhere. are trademarks of Laridian, Inc. Other marks are the property of their respective owners.

Products by Platform

Bible Reader Software

BookBuilder Software

Products by Type

Your Account

You are not logged in.
Your IP Address: 54.227.215.139
Site IP Address: 209.18.65.235

Best Ways to Get Help

You can get the fastest help by helping yourself.

Make sure you obtain the PocketBible or other Bible reader program that is required to read the Bibles or books you bought.
Read the confirmation email we send you when you make a purchase
Read the help that's built into each of our products
Look through our Frequently Asked Questions
Submit a Support Ticket
Email us at support@laridian.com

Laridian Associates Program

Associates Program members earn a referral fee for every sale resulting from their links to our site!

Log Into Your Download Account to Join the Associates Program