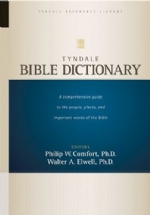 Tyndale Bible Dictionary
$14.99
Available Platforms
Description
Whether you are preparing a Sunday sermon, planning a weekly Bible Study, or looking for some context to enhance your personal Bible reading, the Tyndale Bible Dictionary is designed to make the Bible more meaningful and understandable. It is your comprehensive guide to the people, places and important words of the Bible.
A Straight Forward Reference Tool
The Tyndale Bible Dictionary is organized alphabetically and provides thousands of cross-references to related articles and Bible passages that are only one click away in PocketBible.
Evangelical Biblical Scholarship
The Tyndale Bible Dictionary features the work of 139 Bible scholars in more than 1,000 informative articles. Comprehensive articles include everything from an overview of 1 and 2 Kings to a look at the concept of the Kingdom of God, from the biblical concept of Law to the Lawless One, from the profile of Malchus to that of Moses. Furthermore, thousands of cross-references allow you to find additional information and details about the topics that are most important to you.
Features
The Tyndale Bible Dictionary includes background information, comprehensive articles and thorough coverage of the following topics and more:
Significant people, places, and terms in the Bible
Books of the Bible
Translations of the Bible, manuscripts of the Bible, and the canon of Scripture (including articles on apocryphal and pseudepigraphal books)
Life and times of various nations that existed during Bible times
Plants, animals, musical instruments, clothing and other everyday objects of Bible times
Key Bible themes and concepts such as redemption, justification, holiness and righteousness
Difficult-to-understand subjects such as "New Heavens and New Earth" are covered
The Tyndale Bible Dictionary can be used with any Bible translation.
About the Author(s)
General Editors are Philip W. Comfort, Ph.D and Walter A. Elwell, Ph.D. Coordinating Editor is Jeremy P. Tayler. Over 100 additional contributors wrote or edited articles including John Piper, Grant Osborne, J.D. Douglas and Manfred T. Brauch. First published in print in 2001.
System Requirements
Installed size (unless otherwise indicated): Approximately 7.625 MB. iPhone, iPad, and iPod touch Requires iPhone, iPod touch, or iPad running iOS 5.0 or later. Download size: 7.625 MB. Android Requires Android OS 2.2 or later. Download size: 7.625 MB. Windows Phone Requires Windows Phone 7.5 or later. Download size: 7.625 MB. Windows Store Download size: 7.625 MB. Windows PC Requires Windows 2000, XP, Vista, Windows 7, or later. Download size: 6.375 MB. Mac OS X Requires Mac OS X 10.7 or later. Download size: 7.625 MB. Windows Mobile Requires Pocket PC / Windows Mobile version 6.5 or earlier. Download size: 6.125 MB. Palm OS Requires Palm OS 5.0 or later. Download size: 6.625 MB.
Find us on Facebook

Insider Info

Devoted Laridian fans watch our blog for the latest news, including comments on as-yet-unreleased and unannounced products.

Facebook Fans and our Twitter Followers get notified of all special offers and sometimes get special special offers just for them.

We post short instructional videos on our youtube channel.

There's detailed information about PocketBible for Android on Google+.

We don't keep lists of potential beta testers. Just watch the blog.

The Fine Print

Copyright © 2010-2015 by Laridian, Inc. All Rights Reserved.

Laridian, PocketBible, and MyBible are registered trademarks of Laridian, Inc. DailyReader, Memorize!, PrayerPartner, eTract, BookBuilder, VerseLinker, iPocketBible, DocAnalyzer, Change the way you look at the Bible, and The Bible. Anywhere. are trademarks of Laridian, Inc. Other marks are the property of their respective owners.

Products by Platform

Bible Reader Software

BookBuilder Software

Products by Type

Your Account

You are not logged in.
Your IP Address: 54.166.12.41
Site IP Address: 209.18.65.235

Best Ways to Get Help

You can get the fastest help by helping yourself.

Make sure you obtain the PocketBible or other Bible reader program that is required to read the Bibles or books you bought.
Read the confirmation email we send you when you make a purchase
Read the help that's built into each of our products
Look through our Frequently Asked Questions
Submit a Support Ticket
Email us at support@laridian.com

Laridian Associates Program

Associates Program members earn a referral fee for every sale resulting from their links to our site!

Log Into Your Download Account to Join the Associates Program