$0.00
If you are already a Laridian customer, log in above and we can tell you if you own this product.
This product is also available in the following bundles or collections:
To Purchase This Product
Choose your preferred platform from the list below to add the product to your shopping cart.
When you purchase this product you can install it on any plaform on which it is supported, onto any device you personally own or control. (View our "Buy-It-Once" policy.) However, when purchasing you must choose the initial platform on which you'll be installing the product.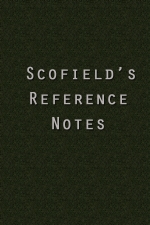 Scofield's Reference Notes (1917)
Available Platforms
Description
Originally published in 1909 and revised in 1917, the Scofield Reference Bible has sold millions of copies and promoted dispensationalism to a wider audience. The book received attention at its publication by including the annotations within the King James Bible text (not included in this electronic version). Also included are clear and simple introductions for every book of the Bible.
"The Bible, incomparably the most widely circulated of books, at once provokes and baffles study. Even the non-believer in its authority rightly feels that it is unintelligent to remain in almost total ignorance of the most famous and ancient of books. And yet most, even of sincere believers, soon retire from any serious effort to master the content of the sacred writings. The reason is not far to seek. It is found in the fact that no particular portion of Scripture is to be intelligently comprehended apart from some conception of its place in the whole. For the Bible story and message is like a picture wrought out in mosaics: each book, chapter, verse, and even word forms a necessary part, and has its own appointed place. It is, therefore, indispensable to any interesting and fruitful study of the Bible that a general knowledge of it be gained." from the Introduction to the Scofield Study Bible
Features
Concise study notes
Introductions for every book of the Bible
Cross-reference system ties related verses together and allows you to follow biblical themes from one chapter and book to another
Based on the King James Version Bible but can be used with any translation
About the Author(s)
Cyrus Ingerson Scofield (1843-1921) was born in Michigan but moved to Tennessee at a young age. He served in the Confederate Army and took up law after the war. He entered politics and served as the U.S. Attorney for Kansas, appointed there by Pres. Grant. He became a Christian in 1879 and was ordained a Congregational Minister in 1882 and pastored a church in Dallas, Texas. His first book, Rightly Dividing the Word of Truth, was published in 1888. In 1890, he started the Scofield Correspondence Course, which was turned over to Moody Bible Institute in 1914. He accepted a call to pastor the Trinitarian Congregational Church in Northfield, Massachusetts (Dwight L. Moody's home church) in 1896 and stayed there until 1903 when he returned to Dallas hoping to have more time to work on his Reference Bible which was finally published in 1909 and revised by Scofield in 1917.
System Requirements
Installed size (unless otherwise indicated): Approximately 1.125 MB. iPhone, iPad, and iPod touch Requires iPhone, iPod touch, or iPad running iOS 5.0 or later. Download size: 1.125 MB. Windows Phone Requires Windows Phone 7.5 or later. Download size: 1.125 MB. Windows Store Download size: 1.125 MB. Windows PC Requires Windows 2000, XP, Vista, Windows 7, or later. Download size: 1.375 MB. Mac OS X Download size: 1.125 MB. Windows Mobile Requires Pocket PC / Windows Mobile version 6.5 or earlier. Download size: 1.625 MB. Palm OS Requires Palm OS 5.0 or later. Download size: 972.875 KB.
Find us on Facebook

Insider Info

Devoted Laridian fans watch our blog for the latest news, including comments on as-yet-unreleased and unannounced products.

Facebook Fans and our Twitter Followers get notified of all special offers and sometimes get special special offers just for them.

We post short instructional videos on our youtube channel.

There's detailed information about PocketBible for Android on Google+.

We don't keep lists of potential beta testers. Just watch the blog.

The Fine Print

Copyright © 2010-2015 by Laridian, Inc. All Rights Reserved.

Laridian, PocketBible, and MyBible are registered trademarks of Laridian, Inc. DailyReader, Memorize!, PrayerPartner, eTract, BookBuilder, VerseLinker, iPocketBible, DocAnalyzer, Change the way you look at the Bible, and The Bible. Anywhere. are trademarks of Laridian, Inc. Other marks are the property of their respective owners.

Products by Platform

Bible Reader Software

BookBuilder Software

Products by Type

Your Account

You are not logged in.
Your IP Address: 50.16.40.195
Site IP Address: 209.18.65.235

Best Ways to Get Help

You can get the fastest help by helping yourself.

Make sure you obtain the PocketBible or other Bible reader program that is required to read the Bibles or books you bought.
Read the confirmation email we send you when you make a purchase
Read the help that's built into each of our products
Look through our Frequently Asked Questions
Submit a Support Ticket
Email us at support@laridian.com

Laridian Associates Program

Associates Program members earn a referral fee for every sale resulting from their links to our site!

Log Into Your Download Account to Join the Associates Program