$14.99
If you are already a Laridian customer, log in above and we can tell you if you own this product.
To Purchase This Product
Choose your preferred platform from the list below to add the product to your shopping cart.
When you purchase this product you can install it on any plaform on which it is supported, onto any device you personally own or control. (View our "Buy-It-Once" policy.) However, when purchasing you must choose the initial platform on which you'll be installing the product.
Reviews on Amazon.com

Learn more about this product: Search Amazon.com for print editions.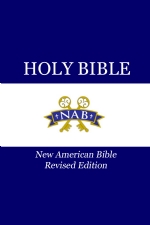 New American Bible (NABRE)
Available Platforms
Description
The New American Bible is a Catholic version of the Bible in English, along with illustrations and explanations that facilitate the understanding of the text.
This is the first major update to the New American Bible (NAB) text in 20 years (published 2011). The NABRE accomplishes three major goals in Biblical scholarship: First, a more accurate translation aided by modern archeological and historical discoveries; second, a more consistent rendering of the Greek and Hebrew to more closely express the meaning of the original text; and third, revisions in the NABRE reflect changes in modern English usage of particular words (ex. burnt offering substituted for holocaust ).
In 1943, His Holiness Pope Pius XII issued his now famous Encyclical Divino afflante Spiritu prescribing that "up-to-date and appropriate translations be made in various languages, by preference from the original texts of the sacred books." In response to this, the members of The Catholic Biblical Association of America began work on a translation of the sacred scriptures with a goal of presenting the sense of the biblical text in as correct a form as possible. Approximately twenty-five years later, the New American Bible was published. Revisions were made along the way and this Revised Edition was first published in 2011.
The text of the books contained in the New American Bible is a completely new translation throughout. Translated from the original and the oldest available texts of the sacred books, it aims to convey as directly as possible the thought and individual style of the inspired writers.
Features
Includes:

73 books covering the Old Testament and Revised Psalms (Published 2011) with Revised New Testament (Published 1986)

The Old Testament includes the deuterocanonical books of Tobit, Judith, 1 and 2 Maccabees, Wisdom, Sirach and Baruch

Book introductions
Explanatory and translator footnotes with cross-references

Translated from the original languages with critical use of all the ancient sources
Authorized by the Board of Trustees of the Confraternity of Christian Doctrine and approved by the Administrative Committee/Board of the National Conference of Catholic Bishops and the United States Catholic Conference
Not just for Catholics! This translation was the achievement of some fifty biblical scholars, the greater number of whom, though not all, are Catholics. The collaboration of scholars who are not Catholic fulfills the directive of the Second Vatican Council, not only that "correct translations be made into different languages especially from the original texts of the sacred books," but that, "with the approval of the church authority, these translations be produced in cooperation with separated brothers" so that "all Christians may be able to use them."
Synchronizes with other Bibles by "content" rather than "verse number." The New American Bible includes a unique numbering system in some areas of the Bible and PocketBible accounts for that so you can easily use it with other PocketBible Bibles.
Sample Text
Psalm 1:1

Blessed is the man who does not walk
in the counsel of the wicked,
Nor stand in the way of sinners,
nor sit in company with scoffers.
John 3:16

For God so loved the world that he gave his only Son, so that everyone who believes in him might not perish but might have eternal life.
2 Timothy 3:16-17

All scripture is inspired by God and is useful for teaching, for refutation, for correction, and for training in righteousness, so that one who belongs to God may be competent, equipped for every good work.
Revelation 10:10

I took the small scroll from the angel's hand and swallowed it. In my mouth it was like sweet honey, but when I had eaten it, my stomach turned sour.
System Requirements
Installed size (unless otherwise indicated): Approximately 7.125 MB. iPhone, iPad, and iPod touch Requires iPhone, iPod touch, or iPad running iOS 5.0 or later. Download size: 7.125 MB. Android Requires Android OS 2.2 or later. Download size: 7.125 MB. Windows Phone Requires Windows Phone 7.5 or later. Download size: 7.125 MB. Windows Store Download size: 7.125 MB. Windows PC Requires Windows 2000, XP, Vista, Windows 7, or later. Download size: 6.375 MB. Mac OS X Download size: 7.125 MB.
Find us on Facebook

Insider Info

Devoted Laridian fans watch our blog for the latest news, including comments on as-yet-unreleased and unannounced products.

Facebook Fans and our Twitter Followers get notified of all special offers and sometimes get special special offers just for them.

We post short instructional videos on our youtube channel.

There's detailed information about PocketBible for Android on Google+.

We don't keep lists of potential beta testers. Just watch the blog.

The Fine Print

Copyright © 2010-2015 by Laridian, Inc. All Rights Reserved.

Laridian, PocketBible, and MyBible are registered trademarks of Laridian, Inc. DailyReader, Memorize!, PrayerPartner, eTract, BookBuilder, VerseLinker, iPocketBible, DocAnalyzer, Change the way you look at the Bible, and The Bible. Anywhere. are trademarks of Laridian, Inc. Other marks are the property of their respective owners.

Products by Platform

Bible Reader Software

BookBuilder Software

Products by Type

Your Account

You are not logged in.
Your IP Address: 54.145.165.174
Site IP Address: 209.18.65.235

Best Ways to Get Help

You can get the fastest help by helping yourself.

Make sure you obtain the PocketBible or other Bible reader program that is required to read the Bibles or books you bought.
Read the confirmation email we send you when you make a purchase
Read the help that's built into each of our products
Look through our Frequently Asked Questions
Submit a Support Ticket
Email us at support@laridian.com

Laridian Associates Program

Associates Program members earn a referral fee for every sale resulting from their links to our site!

Log Into Your Download Account to Join the Associates Program