$29.99
If you are already a Laridian customer, log in above and we can tell you if you own this product.
This product is also available in the following bundles or collections:
To Purchase This Product
Choose your preferred platform from the list below to add the product to your shopping cart.
When you purchase this product you can install it on any plaform on which it is supported, onto any device you personally own or control. (View our "Buy-It-Once" policy.) However, when purchasing you must choose the initial platform on which you'll be installing the product.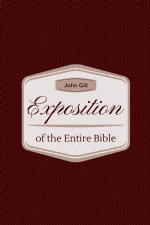 John Gill's Exposition of the Entire Bible
$29.99
Available Platforms
Description
John Gill's Exposition of the Entire Bible provides verse by verse comments for the entire Bible. The eminent Baptist pastor and learned Rabbinical scholar, John Gill, originally published his work in nine volumes. This PocketBible version includes the unabridged comments along with chapter and book summaries.
Gill's work is praised by Charles H. Spurgeon who said, "...For good, sound, massive, sober sense in commenting, who can excel Gill?" Gill is known for insights into the historical and cultural aspects of the Bible as well as a commitment to letting Scripture interpret Scripture.
"(Gill) likewise published a voluminous "COMMENTARY ON THE HOLY SCRIPTURES" in nine volumes folio, remarkable for the copiousness of its glossary, the brilliance of its argument, his apprehension of prophecy, and the richness of his Hebrew scholarship." --C. H. Spurgeon
"...(Gill's) labors were indefatigable, his life exemplary, and his death comfortable if any one can be supposed to have trod the whole circle of human learning, it was this great and eminent person. His attainments, both in abstruse and polite literature, were equally extensive and profound, and so far as the distinguishing doctrines of grace are concerned, he never besieged an error which he did not force from its stronghold, nor ever encountered an adversary whom he did not baffle and subdue." --Rev. Augustus Montague Toplady
Features
Verse by verse exposition on the entire Bible filled with historical insight and cultural gems
Originally published in nine volumes, this is the unabridged exposition of Gill
Includes a summary for each book, summary for each chapter and then comments on each individual verse in the chapter.
Gill's expertise as a Hebrew scholar especially make his insights on the Old Testament unparalleled.
Sample Commentary (links to pdf file).
About the Author(s)
John Gill (1697-1771, D.D. University of Aberdeen) - Eminent Baptist pastor and learned Rabbinical scholar. He married Elizabeth Megus in 1718. Converted at age twelve, Gill became pastor in Horsleydown, near London, in 1719, ministering there for 52 years. The church later moved to become Carter Lane Baptist Church in 1757 (and would eventually become the Metropolitan Tabernacle pastored by Charles Spurgeon). He was a hyper-Calvinist scholar and theologian. His most important work was his Exposition of the Old and New Testament (9 vols., pub. 1746–66). His writings range from The Doctrine of the Trinity (1731) to A Body of Practical Divinity (1770). (From Reese Encyclopedia of Christian Biographies)
John Gill attended Kettering Grammar school in Kettering, England until age 11. There he studied and became proficient with English grammar, read the Latin classics and an understanding of the Greek language. After he left grammar school, he continued his language studies learning Hebrew on his own. He particularly loved reading the Old Testament in the original language. He was baptized at age 19 and started his preaching/ministerial career thereafter. In 1748 he received the D.D. from the University of Aberdeen. His sermons and biblical studies were published by popular demand and the culmination of his work was his exposition of the entire Bible. His label as a hyper-Calvinism is still a subject of debate but most would concede his thinking was at least a precursor to that theology.
System Requirements
Installed size (unless otherwise indicated): Approximately 33.875 MB. iPhone, iPad, and iPod touch Requires iPhone, iPod touch, or iPad running iOS 5.0 or later. Download size: 33.875 MB. Android Requires Android OS 2.2 or later. Download size: 33.875 MB. Windows Phone Requires Windows Phone 7.5 or later. Download size: 33.875 MB. Windows Store Download size: 33.875 MB. Windows PC Requires Windows 2000, XP, Vista, Windows 7, or later. Download size: 24.375 MB. Mac OS X Requires Mac OS X 10.7 or later. Download size: 33.875 MB. Windows Mobile Requires Pocket PC / Windows Mobile version 6.5 or earlier. Download size: 23.625 MB. Palm OS Requires Palm OS 5.0 or later. Download size: 23.375 MB.
Find us on Facebook

Insider Info

Devoted Laridian fans watch our blog for the latest news, including comments on as-yet-unreleased and unannounced products.

Facebook Fans and our Twitter Followers get notified of all special offers and sometimes get special special offers just for them.

We post short instructional videos on our youtube channel.

There's detailed information about PocketBible for Android on Google+.

We don't keep lists of potential beta testers. Just watch the blog.

The Fine Print

Copyright © 2010-2015 by Laridian, Inc. All Rights Reserved.

Laridian, PocketBible, and MyBible are registered trademarks of Laridian, Inc. DailyReader, Memorize!, PrayerPartner, eTract, BookBuilder, VerseLinker, iPocketBible, DocAnalyzer, Change the way you look at the Bible, and The Bible. Anywhere. are trademarks of Laridian, Inc. Other marks are the property of their respective owners.

Products by Platform

Bible Reader Software

BookBuilder Software

Products by Type

Your Account

You are not logged in.
Your IP Address: 54.80.69.152
Site IP Address: 209.18.65.235

Best Ways to Get Help

You can get the fastest help by helping yourself.

Make sure you obtain the PocketBible or other Bible reader program that is required to read the Bibles or books you bought.
Read the confirmation email we send you when you make a purchase
Read the help that's built into each of our products
Look through our Frequently Asked Questions
Submit a Support Ticket
Email us at support@laridian.com

Laridian Associates Program

Associates Program members earn a referral fee for every sale resulting from their links to our site!

Log Into Your Download Account to Join the Associates Program