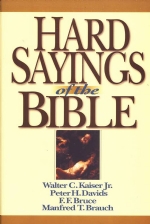 Hard Sayings of the Bible
New! $19.99
Available Platforms
Description
Are you grappling with a difficult verse in the Bible? And are you looking for a short, easy-to-read answer that really makes sense without explaining away the verse?
Hard Sayings of the Bible is the handy reference book you need. Here you will find explanations of over 500 of the most troubling verses to test the minds and hearts of Bible readers. Four seasoned scholars, all with a notable gift for communicating with people in the pew, take you behind the scenes to find succinct solutions to a wide variety of Bible difficulties, ranging from discrepancies about numbers to questions about God's justice.
Historical, cultural and linguistic backgrounds shed light on these passages and not only help explain what they meant in biblical times but also show how they are relevant today.
Now carefully cross-referenced with over 100 new verses explained, as well as a dozen new introductory articles on chronology, miracles, archaeology, prophecy and more, Hard Sayings of the Bible offers the combined resources of five previous volumes that have over 250,000 copies in print.
Features
Explanations of over 500 tough Bible passages
Verse-by-verse arrangement
Easy to read
Extensive cross-references
Subject and Scripture indexes
Combines the content of 5 popular Hard Sayings Series books with commentary on 100 passages not previously covered
12 introductory articles on miracles, the reliability of Scripture, God's character, geneologies, differences among Gospel accounts and more
Offers historical, cultural, linguistic and just plain common-sense perspective on difficult passages
helps readers discover the relevance of the Bible teaching for today
From the Preface
With over a quarter million copies in print, the Hard Sayings series has proved itself among readers as a helpful guide to Bible difficulties. The series was launched with the publication of F. F. Bruce's The Hard Sayings of Jesus in 1983, with subsequent volumes appearing in 1988, 1989, 1991 and 1992. Those volumes included Hard Sayings of the Old Testament and More Hard Sayings of the Old Testament, by Walter C. Kaiser Jr., and Hard Sayings of Paul and More Hard Sayings of the New Testament, by Manfred T. Brauch and Peter H. Davids, respectively. This edition combines the five earlier versions with new material from Walter Kaiser and Peter Davids. Over one hundred new verses have been added to the list of texts explained, as well as a dozen introductory articles addressing common questions that recur throughout the Bible. The result is that all of the Old Testament texts have been addressed by Walter Kaiser; F. F. Bruce's work is confined to the Synoptic Gospels, with one addition to the Gospel of John; Manfred Brauch's work is confined to Paul's epistles; and Peter Davids's contribution ranges throughout the whole of the New Testament. The general introduction that follows distills the key introductory remarks from the various authors of the separate pieces.
The authors share the conviction that the Bible is God's inspired and authoritative word to the church, but careful readers will observe that they do not all agree on the best solutions to certain Bible difficulties. This is as it should be. If everyone agreed on the best solutions to these questions, they wouldn't be hard sayings.
What F. F. Bruce wrote in his introduction to The Hard Sayings of Jesus can likely be said of nearly all the difficult texts in this collection: they may be hard for two different reasons. First are those that, because of differences in culture and time, are hard to understand without having their social and historical backgrounds explained. Second are those that are all too easily understood but that challenge the ways we think and act...
This volume is published with the hope that the former kinds of difficulties may have some helpful light shined on them. We hope, however, in the name of explanation, never to blunt the force of latter kinds of difficulties, where God's Word confronts us to change and conform us into the image of Jesus Christ.
About the Author(s)
Walter C. Kaiser is Colman M. Mockler Distinguished Professor Emeritus of Old Testament and president emeritus of Gordon-Conwell Theological Seminary in South Hamilton, Massachusetts. For many years he served as professor of Old Testament and as dean and vice president for education at Trinity Evangelical Divinity School.
Peter H. Davids is a professor of Christianity at Houston Baptist University and part-time professor at Houston Graduate School of Theology. He has taught biblical studies at Regent College (Vancouver, British Columbia) and Canadian Theological Seminary (Regina, Saskatchewan), and he continues to teach in theological schools in Europe. He is the author of commentaries on James and 1 Peter.
F. F. Bruce (1910-1990) was Rylands Professor of Biblical Criticism and Exegesis at the University of Manchester in England. During his distinguished career, he wrote more than forty bestselling commentaries and books, including A Mind for What Matters and Paul, Apostle of the Heart Set Free. He also served as general editor of The New International Commentary on the New Testament.
Manfred T. Brauch (Ph.D., McMaster University) is retired professor of biblical theology and past president of Palmer Theological Seminary of Eastern University in Philadelphia, Pennsylvania. He is the author of Set Free to Be: A Study in Romans, and Hard Sayings of Paul, and a contributor to Hard Sayings of the Bible. Since 2004, Brauch and his wife have done long-term volunteer work in medical missions and theological education in Chile, Russia and Cameroon, West Africa.
System Requirements
Installed size (unless otherwise indicated): Approximately 2.875 MB. iPhone, iPad, and iPod touch Requires iPhone, iPod touch, or iPad running iOS 5.0 or later. Download size: 2.875 MB. Android Requires Android OS 2.2 or later. Download size: 2.875 MB. Windows Phone Requires Windows Phone 7.5 or later. Download size: 2.875 MB. Windows Store Download size: 2.875 MB. Windows PC Requires Windows 2000, XP, Vista, Windows 7, or later. Download size: 2.625 MB. Mac OS X Requires Mac OS X 10.7 or later. Download size: 2.875 MB. Windows Mobile Requires Pocket PC / Windows Mobile version 6.5 or earlier. Download size: 2.625 MB. Palm OS Requires Palm OS 5.0 or later. Download size: 2.875 MB.
Find us on Facebook

Insider Info

Devoted Laridian fans watch our blog for the latest news, including comments on as-yet-unreleased and unannounced products.

Facebook Fans and our Twitter Followers get notified of all special offers and sometimes get special special offers just for them.

We post short instructional videos on our youtube channel.

There's detailed information about PocketBible for Android on Google+.

We don't keep lists of potential beta testers. Just watch the blog.

The Fine Print

Copyright © 2010-2015 by Laridian, Inc. All Rights Reserved.

Laridian, PocketBible, and MyBible are registered trademarks of Laridian, Inc. DailyReader, Memorize!, PrayerPartner, eTract, BookBuilder, VerseLinker, iPocketBible, DocAnalyzer, Change the way you look at the Bible, and The Bible. Anywhere. are trademarks of Laridian, Inc. Other marks are the property of their respective owners.

Products by Platform

Bible Reader Software

BookBuilder Software

Products by Type

Your Account

You are not logged in.
Your IP Address: 54.159.218.151
Site IP Address: 209.18.65.235

Best Ways to Get Help

You can get the fastest help by helping yourself.

Make sure you obtain the PocketBible or other Bible reader program that is required to read the Bibles or books you bought.
Read the confirmation email we send you when you make a purchase
Read the help that's built into each of our products
Look through our Frequently Asked Questions
Submit a Support Ticket
Email us at support@laridian.com

Laridian Associates Program

Associates Program members earn a referral fee for every sale resulting from their links to our site!

Log Into Your Download Account to Join the Associates Program