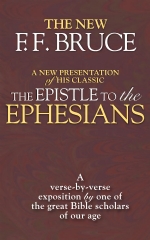 The Epistle to the Ephesians
Available Platforms
Description
F. F. BRUCE was one of the great Christian scholars of the 20th century and his contribution to evangelical scholarship is immense. He was fearless in proclaiming the Bible as being God's guide for our life. He was able to use his great knowledge to explain and expound the biblical text simply and clearly - this ability shines through his verse-by-verse exposition of the epistle to the Ephesians.
This book is intended for the general Christian reader who is interested in serious Bible study, not for the professional or specialist student. Therefore Bruce deals only lightly with textual, linguistic and other critical questions. His main aim is to bring out the meaning and message of Paul's Epistle.
Features
Introduction including discussion of Authorship, Time and place of writing, Recipients, Occasion and theme, Analysis and suggestions for further study
Verse by verse comments on the entire book of Ephesians
Comments are aimed at bringing out the meaning and message of the Epistle.
Sample Text
Comment on Ephesians 2:8:
". . . for by grace have ye been saved through faith; and that not of yourselves: it is the gift of God."

This is one of the great evangelical summaries of the New Testament. Our salvation springs solely from God's grace and is appropriated by us through faith alone. Not that our faith merits the salvation in any way; it is simply the faculty by which we accept the salvation that God's free grace has procured for us. Here is the basis for the watchword of Reformation theology: sola gratia, sola fide, soli Deo gloria ("by grace alone, through faith alone, to God alone be glory"). Commentators are not agreed about the exact reference of the words "and that not of yourselves: it is the gift of God." Do they refer expressly to faith, or more generally to salvation? It is true, in either case, that we could never exercise saving faith did not the Holy Spirit "persuade and enable us to embrace Jesus Christ, freely offered to us in the gospel" (to quote the Westminster Shorter Catechism). But the fact that the demonstrative pronoun "that" is neuter in Greek (touto), whereas "faith" is a feminine noun (pistis), combines with other considerations to suggest that it is the whole concept of salvation by grace through faith that is described as the gift of God. This, incidentally, was Calvin's interpretation, although many of his followers have preferred to take faith itself as the gift of God here.
About the Author(s)
F. F. Bruce (1910-1990) was Rylands Professor of Biblical Criticism and Exegesis at the University of Manchester in England. During his distinguished career, he wrote more than forty bestselling commentaries and books, including The Hard Sayings of Jesus, A Mind for What Matters and Paul, Apostle of the Heart Set Free. He also served as general editor of The New International Commentary on the New Testament.
System Requirements
Installed size (unless otherwise indicated): Approximately 282.625 KB. iPhone, iPad, and iPod touch Requires iPhone, iPod touch, or iPad running iOS 5.0 or later. Download size: 282.625 KB. Android Requires Android OS 2.2 or later. Download size: 282.625 KB. Windows Phone Requires Windows Phone 7.5 or later. Download size: 282.625 KB. Windows Store Download size: 282.625 KB. Windows PC Requires Windows 2000, XP, Vista, Windows 7, or later. Download size: 1.875 MB. Mac OS X Download size: 282.625 KB. Windows Mobile Requires Pocket PC / Windows Mobile version 6.5 or earlier. Download size: 409.375 KB. Palm OS Requires Palm OS 5.0 or later. Download size: 439.625 KB.
Find us on Facebook

Insider Info

Devoted Laridian fans watch our blog for the latest news, including comments on as-yet-unreleased and unannounced products.

Facebook Fans and our Twitter Followers get notified of all special offers and sometimes get special special offers just for them.

We post short instructional videos on our youtube channel.

There's detailed information about PocketBible for Android on Google+.

We don't keep lists of potential beta testers. Just watch the blog.

The Fine Print

Copyright © 2010-2015 by Laridian, Inc. All Rights Reserved.

Laridian, PocketBible, and MyBible are registered trademarks of Laridian, Inc. DailyReader, Memorize!, PrayerPartner, eTract, BookBuilder, VerseLinker, iPocketBible, DocAnalyzer, Change the way you look at the Bible, and The Bible. Anywhere. are trademarks of Laridian, Inc. Other marks are the property of their respective owners.

Products by Platform

Bible Reader Software

BookBuilder Software

Products by Type

Your Account

You are not logged in.
Your IP Address: 54.166.122.88
Site IP Address: 209.18.65.235

Best Ways to Get Help

You can get the fastest help by helping yourself.

Make sure you obtain the PocketBible or other Bible reader program that is required to read the Bibles or books you bought.
Read the confirmation email we send you when you make a purchase
Read the help that's built into each of our products
Look through our Frequently Asked Questions
Submit a Support Ticket
Email us at support@laridian.com

Laridian Associates Program

Associates Program members earn a referral fee for every sale resulting from their links to our site!

Log Into Your Download Account to Join the Associates Program