$19.99
If you are already a Laridian customer, log in above and we can tell you if you own this product.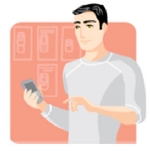 Noah Bible Study Viewer 4 for BlackBerry
Description
Noah Bible Study Viewer v.4.0 by BEIKS, LLC gives you convenient access to the Bible on your BlackBerry device. Use it to enhance your reading, studying and enjoyment of the Scriptures while on-the-go.
Features
King James Version Bible included - the full text (Old Testament and New Testament) of the King James Version Bible is included with the reader.
Access multiple Bible translations - install multiple Bible translations and switch easily between translations (additional translations sold separately).
Easy navigation of the Bible

Go-to verse - choose Book | Chapter | Verse from a list to move quickly around the Bible.
Improved in V4 .0 - Page History Navigation - When jumping back and forth between books, chapters and verses, you can now conveniently navigate through your selections with the "Back" and "Forward" menu commands, much like you do in your favorite Internet browser. Now much faster!

Auto Scrolling - text scrolls up or down automatically for you as you read.
Search the Bible by word and phrase - now indexed for faster results!
Improved in V4.0 - Set bookmarks - Add a bookmark to any verse for quick return to your favorite passages. Now you can categorize your bookmarks.
Take notes- add your own comments to any verse.
Copy and paste - highlight any Bible text and copy and paste to your notes or another application.
View footnotes - Easily view translator footnotes where they are available with the Bible translation you have chosen.
Adjust for your reading preferences - change font size; choose bold/normal font; show/hide verse numbers or footnotes, optionally view one verse per line and save position on exit.
New to V4.0 - Support for media cards
NOTE: Not compatible with BlackBerry Playbook or Z10.
Find us on Facebook

Insider Info

Devoted Laridian fans watch our blog for the latest news, including comments on as-yet-unreleased and unannounced products.

Facebook Fans and our Twitter Followers get notified of all special offers and sometimes get special special offers just for them.

We post short instructional videos on our youtube channel.

There's detailed information about PocketBible for Android on Google+.

We don't keep lists of potential beta testers. Just watch the blog.

The Fine Print

Copyright © 2010-2015 by Laridian, Inc. All Rights Reserved.

Laridian, PocketBible, and MyBible are registered trademarks of Laridian, Inc. DailyReader, Memorize!, PrayerPartner, eTract, BookBuilder, VerseLinker, iPocketBible, DocAnalyzer, Change the way you look at the Bible, and The Bible. Anywhere. are trademarks of Laridian, Inc. Other marks are the property of their respective owners.

Products by Platform

Bible Reader Software

BookBuilder Software

Products by Type

Your Account

You are not logged in.
Your IP Address: 54.158.164.47
Site IP Address: 209.18.65.235

Best Ways to Get Help

You can get the fastest help by helping yourself.

Make sure you obtain the PocketBible or other Bible reader program that is required to read the Bibles or books you bought.
Read the confirmation email we send you when you make a purchase
Read the help that's built into each of our products
Look through our Frequently Asked Questions
Submit a Support Ticket
Email us at support@laridian.com

Laridian Associates Program

Associates Program members earn a referral fee for every sale resulting from their links to our site!

Log Into Your Download Account to Join the Associates Program