Returning customer? Log in above then choose your platform below. New to Laridian? Follow the steps below.
Download PocketBible FREE

Take your Bible study resources with you on your smartphone, tablet, PC or Mac. Download PocketBible to get started - it's FREE!
Start by choosing the type of device you'll be using PocketBible on:
Register PocketBible & Get Free Books

You'll need some Bibles and books to use with PocketBible! If you are new to PocketBible, simply register the first time you open the app and you'll have access to your choice of over 40 free Bibles and Bible reference books to download. If you are a Laridian customer already, register with your existing account information to get access to your previously purchased Bibles and books (no charge for this ever!).
Grow Your Library

When you are ready to expand your PocketBible library, use the in-app option or visit us here to purchase additional Bibles or books at any time. We offer popular Bible translations such as NIV, ESV, NLT, and NKJV. And popular books such as Life Application Study Bible, MacArthur Study Bible, NIV Study Bible, Bible Knowledge Commentary, Vine's Expository Dictionary, Bible Maps, My Utmost for His Highest, and many more.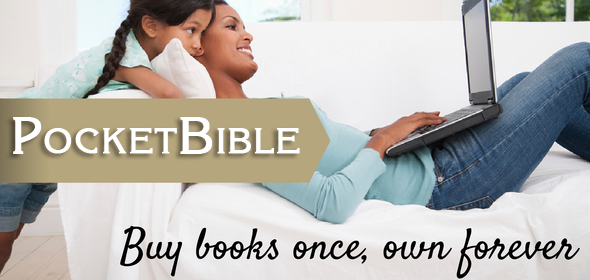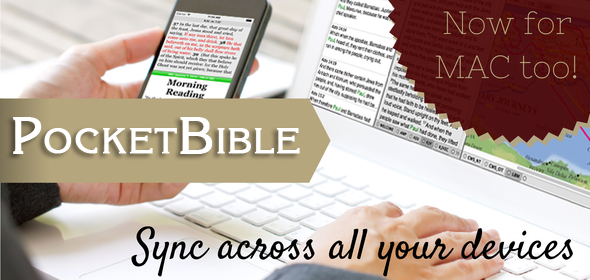 Welcome to Laridian
We've been changing the way you look at the Bible since 1998. Here you'll find PocketBible Bible software for your iPad, iPhone, Android smartphone or tablet, Windows Phone, tablet or PC, Mac and more. Our unique features include:
Buy it Once and own it forever. Once you purchase a Bible or book from us for one device, your license allows you to install it onto any supported device you own or control. If you bought a Bible for your Windows CE Handheld PC in 1998, you can download it to your iPad or Android smartphone today at no additional cost. It's still in your download account.
Synchronize across all your devices. Add notes, highlights and bookmarks on your iPhone, synchronize them with our server, and view them on your iPad or Mac. Sync with your Windows PC and view them in PocketBible for Windows. Move your notes from your old Windows phone to your new iPhone.
Create Your Own PocketBible Books with our BookBuilder program. Use the same tools we use in-house to create your own commentaries, dictionaries, devotionals, and other reference titles. Install them into PocketBible on your compatible device.

No-risk, no-questions-asked, 30-day money-back guarantee. It's simple: Try it and if you don't like it, delete it from your device and contact technical support for a no-hassle refund.
What our Customers are Saying...
"Awesome is a word that should be used exclusively for God. Since PocketBible is the Word of God, I have to say that it is Awesome! I have been using this software since I had my first PocketPC and Laridian was the only group with software for the Bible that really worked. Thank You for your many years of service and Ministry!!!" — Van G
"I have been using another well known electronic bible on my MacBook...I did not know your product was what I was waiting for. The other product has now left the building and Pocket Bible has a permanent presence on my tool bar. Your Pocket Bible is the best and by far the most eloquent. AND the price is right--FREE!" — David S
"I started with PocketBible on my desktop. Then, when I got a laptop I put it on it, and then on my next laptop and on my current laptop. When I got an iphone, I put it on it. Now I have a Surface RT and have it on it...Thank you so much for such an outstanding and useful product." — Dan E
"I have used PocketBible for many years now & it is simply fantastic. I take my PocketBible everywhere enabling me to access the Bible for private use, preparing sermons, in church meetings & so on." — DAVID S
"I love this Bible app. I use it all the time when I go to church. It is very user friendly. I love that it gives you the ability to allow other resources (e.g. daily devotionals, dictionaries) for study. My favorite is the note section. While in church listening to a sermon or at a lecture offsite, I am able to type notes and save for future reference." — Acquinetta L
"I totally appreciate your new version of PocketBible for the Mac. It is very well conceived, easy to use, and very productive. I had no idea how useful the big screen could be." — Dennis G
"Absolutely the best Bible software on any platform. Iíve used PocketBible since I had a Pocket PC, and have been a faithful and satisfied customer since then. Whenever someone gets a new device - smartphone, tablet, or PC - this is the Bible software I recommend." — David O
"I have used Laridian Bibles for many years on my old Palm OS phones, coming back and adding new versions from time to time, and now that I'm moving to a more modern iPhone, I thank you very much for your policy of the customer not having to repurchase for the new platform." — MICHAEL C
"Having this application on my Surface is so useful. I love the ease with which I can search for passages, can follow links to others passages for further clarification." — Lynne V
"I love PocketBible. Makes it easy for me to study the bible. Very user friendly to look for specifics. All for free. Plus great app additions to purchase to get deeper into studying God's Word." — Angel D
Find us on Facebook

Insider Info

Devoted Laridian fans watch our blog for the latest news, including comments on as-yet-unreleased and unannounced products.

Facebook Fans and our Twitter Followers get notified of all special offers and sometimes get special special offers just for them.

We post short instructional videos on our youtube channel.

There's detailed information about PocketBible for Android on Google+.

We don't keep lists of potential beta testers. Just watch the blog.

The Fine Print

Copyright © 2010-2015 by Laridian, Inc. All Rights Reserved.

Laridian, PocketBible, and MyBible are registered trademarks of Laridian, Inc. DailyReader, Memorize!, PrayerPartner, eTract, BookBuilder, VerseLinker, iPocketBible, DocAnalyzer, Change the way you look at the Bible, and The Bible. Anywhere. are trademarks of Laridian, Inc. Other marks are the property of their respective owners.

Products by Platform

Bible Reader Software

BookBuilder Software

Products by Type

Your Account

You are not logged in.
Your IP Address: 54.145.145.2
Site IP Address: 209.18.65.235

Best Ways to Get Help

You can get the fastest help by helping yourself.

Make sure you obtain the PocketBible or other Bible reader program that is required to read the Bibles or books you bought.
Read the confirmation email we send you when you make a purchase
Read the help that's built into each of our products
Look through our Frequently Asked Questions
Submit a Support Ticket
Email us at support@laridian.com

Laridian Associates Program

Associates Program members earn a referral fee for every sale resulting from their links to our site!

Log Into Your Download Account to Join the Associates Program