$0.00
If you are already a Laridian customer, log in above and we can tell you if you own this product.
This product is also available in the following bundles or collections:
To Purchase This Product
Choose your preferred platform from the list below to add the product to your shopping cart.
When you purchase this product you can install it on any plaform on which it is supported, onto any device you personally own or control. (View our "Buy-It-Once" policy.) However, when purchasing you must choose the initial platform on which you'll be installing the product.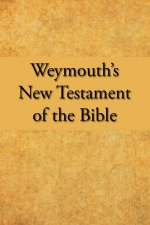 Weymouth New Testament (WEY)
Available Platforms
Description
The Weymouth New Testament (WEY), also known as The Modern Speech New Testament, is an idiomatic translation into everyday English from the text of "The Resultant Greek Testament" by Richard Francis Weymouth M.A., D. Lit. edited and partly revised by Ernest Hampden-Cook, M.A. The goal of the translation was now "to supplant the Versions already in general use, to which their intrinsic merit or long familiarity or both have caused all Christian minds so lovingly to cling." But rather "to furnish a succinct and compressed running commentary (not doctrinal) to be used side by side with its elder compeers." From the Preface of the First Edition:


"The Translation of the New Testament here offered to English-speaking Christians is a bona fide translation made directly from the Greek, and is in no sense a revision. The plan adopted has been the following.

An earnest endeavour has been made (based upon more than sixty years' study of both the Greek and English languages, besides much further familiarity gained by continual teaching) to ascertain the exact meaning of every passage not only by the light that Classical Greek throws on the language used, but also by that which the Septuagint and the Hebrew Scriptures afford; aid being sought too from Versions and Commentators ancient and modern, and from the ample et cetera of apparatus grammaticus and theological and Classical reviews and magazines - or rather, by means of occasional excursions into this vast prairie.

The sense thus seeming to have been ascertained, the next step has been to consider how it could be most accurately and naturally exhibited in the English of the present day; in other words, how we can with some approach to probability suppose that the inspired writer himself would have expressed his thoughts, had he been writing in our age and country.

Lastly it has been evidently desirable to compare the results thus attained with the renderings of other scholars, especially of course with the Authorized and Revised Versions. But alas, the great majority of even "new translations," so called, are, in reality, only Tyndale's immortal work a little - often very little - modernized!"
Sample Text
John 3:16

For so greatly did God love the world that He gave His only Son, that every one who trusts in Him may not perish but may have the Life of Ages.
2 Timothy 3:16-17

Every Scripture is inspired by God and is useful for teaching, for convincing, for correction of error, and for instruction in right doing; so that the man of God may himself be complete and may be perfectly equipped for every good work.
Revelation 10:10

So I took the roll out of the angel's hand and ate the whole of it; and in my mouth it was as sweet as honey, but when I had eaten it I found it very bitter.
System Requirements
Installed size (unless otherwise indicated): Approximately 784.125 KB. iPhone, iPad, and iPod touch Requires iPhone, iPod touch, or iPad running iOS 5.0 or later. Download size: 784.125 KB. Android Requires Android OS 2.2 or later. Download size: 784.125 KB. Windows Phone Requires Windows Phone 7.5 or later. Download size: 784.125 KB. Windows Store Download size: 784.125 KB. Windows PC Requires Windows 2000, XP, Vista, Windows 7, or later. Download size: 859.375 KB. Mac OS X Download size: 784.125 KB. Windows Mobile Requires Pocket PC / Windows Mobile version 6.5 or earlier. Download size: 748.125 KB. webOS Requires webOS 1.4.5 or later. Download/Installed size: 1010.875 KB.
Find us on Facebook

Insider Info

Devoted Laridian fans watch our blog for the latest news, including comments on as-yet-unreleased and unannounced products.

Facebook Fans and our Twitter Followers get notified of all special offers and sometimes get special special offers just for them.

We post short instructional videos on our youtube channel.

There's detailed information about PocketBible for Android on Google+.

We don't keep lists of potential beta testers. Just watch the blog.

The Fine Print

Copyright © 2010-2015 by Laridian, Inc. All Rights Reserved.

Laridian, PocketBible, and MyBible are registered trademarks of Laridian, Inc. DailyReader, Memorize!, PrayerPartner, eTract, BookBuilder, VerseLinker, iPocketBible, DocAnalyzer, Change the way you look at the Bible, and The Bible. Anywhere. are trademarks of Laridian, Inc. Other marks are the property of their respective owners.

Products by Platform

Bible Reader Software

BookBuilder Software

Products by Type

Your Account

You are not logged in.
Your IP Address: 54.166.122.88
Site IP Address: 209.18.65.235

Best Ways to Get Help

You can get the fastest help by helping yourself.

Make sure you obtain the PocketBible or other Bible reader program that is required to read the Bibles or books you bought.
Read the confirmation email we send you when you make a purchase
Read the help that's built into each of our products
Look through our Frequently Asked Questions
Submit a Support Ticket
Email us at support@laridian.com

Laridian Associates Program

Associates Program members earn a referral fee for every sale resulting from their links to our site!

Log Into Your Download Account to Join the Associates Program