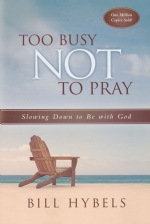 Too Busy Not To Pray
$9.99
Available Platforms
Description
For the past twenty years Too Busy Not to Pray has stood as a classic on prayer, helping Christians all over the world slow down to draw near to God.
During those years, the world certainly hasn't slowed down. If anything, the pace, intensity and number of distractions have only increased. Brokenness and pain seem to have increased as well, with news of civil war, poverty, broken families and sex-trafficking touching us daily. The urgent need for prayer is clear, but busyness still keeps many of us from finding time to pray.
Two truths haven't changed in twenty years:
God is the same powerful, just, holy God he's always been
True prayer--prayer that changes us and allows us to participate in God's work in the world--can't happen on the fly.
So Bill Hybels once again offers us his practical, time-tested ideas on slowing down to pray. Revised throughout and including a new introduction and new chapter on prayer and compassion for the world, this twentieth-anniversary edition of Too Busy Not to Pray calls both young and old to make prayer a priority, and broadens our vision for what our eternal, powerful God does when his people slow down to pray.
Features
Twentieth anniversary edition of a contemporary classic
One million copies sold (all editions)
Revised and expanded, with a new introduction and a new chapter on prayer and justice
Provides practical insights from a well-known Christian leader
Uses the "ACTS" formula of prayer: adoration, confession, thanksgiving, supplication
Offers advice for journaling and listening to God
Includes questions for reflection and discussion
Includes a guide for private and group prayer
From the Preface
Twenty years ago I reached a breaking point. I'd been a Christ-follower for more than a decade, Willow Creek was growing like a weed and in many regards the future looked bright-divinely bright even. But despite all the inspiring dynamics unfolding around me, my prayer life was gasping for breath. I knew the importance of prayer. I knew how to pray. And I even wanted to pray. I just didn't pray, at least with the frequency and intensity I knew I should.
Determined to improve my own prayer disciplines, I delivered a sermon series on the subject. (Figured I'd drag as many folks from Willow as possible along with me on the journey.) The series was well received and was eventually made into the book you are holding. I had no idea at the time that God would let this material hang around for so long, but I'm grateful for the run it continues to have. I'm sure part of the reason is that many of the big ideas God initially gave me for Too Busy Not to Pray are classic concepts, immune from the effects of time.
Although I hope I've matured in my prayer life since then, I still find myself returning to the simple practices of maintaining a consistent time and place to pray (chapter five); organizing my prayers according to tried-and-true frameworks, such as ACTS (chapter six); and listening for the Spirit's promptings in my day-to-day quest for direction and wisdom (chapter fourteen). Not only has shoring up my prayer life improved my relationship with God, but as solid prayer practices have taken root, I've noticed my personal relationships reaching new levels of effectiveness as well...
I often wonder what would transpire if every Christ-follower got serious about installing solid prayer practices into their lives. What kind of kingdom gains do you suppose would be made if each of us made pressing into God through prayer a nonnegotiable part of our everyday experience?
I believe hearts would soften. Habits would shift. Faith would expand. Love for the poor would increase. Positive, purposeful legacies would be built. And a ravenous hunger would rumble through us all to get usable and to get used in significant ways by the one true God.
We can make this happen in our lifetime, friend. And it all starts with learning, and loving, to pray.
Table of Contents
Introduction to the Twentieth Anniversary Edition

God Calls Us Into His Presence
1. God of Peace, God of Power
2. God Is Willing
3. God Is Able

God Invites Us to Talk With Him
4. Heart-Building Habits
5. Praying Like Jesus
6. A Pattern for Prayer
7. Mountain-Moving Prayer

God Breaks Down the Barriers Between Us
8. The Hurt of Unanswered Prayer
9. Prayer Busters
10. Cooling Off on Prayer

God Speaks to our Hearts
11. Slowing Down to Pray
12. The Importance of Listening
13. How to Hear Godís Promptings

God Prompts Us To Action
14. What to Do with Promptings
15. Living in God's Presence
16. The Needs Around Us

Questions for Reflection and Discussion

A Guide for Private or Group Prayer


About the Author(s)
Bill Hybels is founding and senior pastor of Willow Creek Community Church in the Chicago suburbs, where over 15,000 attend each weekend. He has written a number of books, including Honest to God, Becoming a Contagious Christian, Making Life Work, Too Busy Not to Pray, Just Walk Across the Room, Holy Discontent, Courageous Leadership and Who You Are When No One's Looking.
System Requirements
Installed size (unless otherwise indicated): Approximately 311.625 KB. iPhone, iPad, and iPod touch Requires iPhone, iPod touch, or iPad running iOS 5.0 or later. Download size: 311.625 KB. Android Requires Android OS 2.2 or later. Download size: 311.625 KB. Windows Phone Requires Windows Phone 7.5 or later. Download size: 311.625 KB. Windows Store Download size: 311.625 KB. Windows PC Requires Windows 2000, XP, Vista, Windows 7, or later. Download size: 1.625 MB. Mac OS X Requires Mac OS X 10.7 or later. Download size: 311.625 KB. Windows Mobile Requires Pocket PC / Windows Mobile version 6.5 or earlier. Download size: 441.375 KB. Palm OS Requires Palm OS 5.0 or later.
Find us on Facebook

Insider Info

Devoted Laridian fans watch our blog for the latest news, including comments on as-yet-unreleased and unannounced products.

Facebook Fans and our Twitter Followers get notified of all special offers and sometimes get special special offers just for them.

We post short instructional videos on our youtube channel.

There's detailed information about PocketBible for Android on Google+.

We don't keep lists of potential beta testers. Just watch the blog.

The Fine Print

Copyright © 2010-2015 by Laridian, Inc. All Rights Reserved.

Laridian, PocketBible, and MyBible are registered trademarks of Laridian, Inc. DailyReader, Memorize!, PrayerPartner, eTract, BookBuilder, VerseLinker, iPocketBible, DocAnalyzer, Change the way you look at the Bible, and The Bible. Anywhere. are trademarks of Laridian, Inc. Other marks are the property of their respective owners.

Products by Platform

Bible Reader Software

BookBuilder Software

Products by Type

Your Account

You are not logged in.
Your IP Address: 54.205.7.148
Site IP Address: 209.18.65.235

Best Ways to Get Help

You can get the fastest help by helping yourself.

Make sure you obtain the PocketBible or other Bible reader program that is required to read the Bibles or books you bought.
Read the confirmation email we send you when you make a purchase
Read the help that's built into each of our products
Look through our Frequently Asked Questions
Submit a Support Ticket
Email us at support@laridian.com

Laridian Associates Program

Associates Program members earn a referral fee for every sale resulting from their links to our site!

Log Into Your Download Account to Join the Associates Program