$19.99
If you are already a Laridian customer, log in above and we can tell you if you own this product.
To Purchase This Product
Choose your preferred platform from the list below to add the product to your shopping cart.
When you purchase this product you can install it on any plaform on which it is supported, onto any device you personally own or control. (View our "Buy-It-Once" policy.) However, when purchasing you must choose the initial platform on which you'll be installing the product.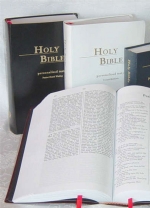 Your Personalized Bible - World English Bible
Available Platforms
Description
Now you can experience the reality of God's love and promises in a way you never thought possible. Your Personalized Bible (WEB) will include your first name, last name and spouse's name (if married) personalized in over 7,000 places throughout the complete Old and New Testaments.
Your Personalized Bible is a tremendous tool for personal spiritual growth, to invest in for yourself or as a gift for a friend or a family member -- saved or unsaved!
The World English Bible is a Modern English translation of the Holy Bible, based on the American Standard Version (1901), the Biblia Hebraica Stutgartensa Old Testament, and the Greek Majority Text New Testament.
Personalization includes: your first name, last name and spouse (if married)
NOTE: This item is not an immediate download. Please allow up to two business days for personalization. We will notify you by email when your download is available. ALSO REQUIRED: Please download the appropriate version of our FREE PocketBible app for the device you plan to use this Bible on.
Features
Holds true to God's Word - The only "changes" to the text are to put your name in the places where Scripture uses pronouns like: you, us, we, etc. or similar locations and grammatical changes so the name reads correctly.
Changes to the text (your name, he/she, brother/sister, etc) will appear in bold, italized print. Minor grammatical changes are not highlighted.
Your Personalized Bible does not add to the Scriptures but rather clarifies the meaning of the Scriptures in a personal way.
Sample Text
Personalization with First Name
By which He has granted to John His precious and exceedingly great promises; that through these John may become a partaker of the divine nature, having escaped from the corruption that is in the world by lust. (2 Pet. 1:4)
But Mary received Him, and to Mary He gave the right to become God's daughter, because Mary believes in His name. (John 1:12)
Don't you know that Sam is a temple of God, and that God's Spirit lives in him? (1 Corinthians 3:16)
Personalization with Last Name
The Good News for John Smith According to Matthew
Paul, an apostle of Christ Jesus through the will of God, to John Smith and to the saints who are at Ephesus, and the faithful in Christ Jesus. (Eph 1:1)
Personalization with Spouse's Name
John, love Mary, even as Christ loved the church, and gave Himself up for her. (Eph. 5:25)
When John found Mary, he found a good thing, And John received favor from the Lord. (Proverbs 18:22)
System Requirements
iPhone, iPad, and iPod touch Requires iPhone, iPod touch, or iPad running iOS 5.0 or later. Download size: 0.000 KB. Android Requires Android OS 2.2 or later. Download size: 0.000 KB. Windows Phone Requires Windows Phone 7.5 or later. Download size: 0.000 KB. Windows Store Download size: 0.000 KB. Windows PC Requires Windows 2000, XP, Vista, Windows 7, or later. Download size: 0.000 KB. Mac OS X Download size: 0.000 KB. Windows Mobile Requires Pocket PC / Windows Mobile version 6.5 or earlier. Download size: 0.000 KB.
Find us on Facebook

Insider Info

Devoted Laridian fans watch our blog for the latest news, including comments on as-yet-unreleased and unannounced products.

Facebook Fans and our Twitter Followers get notified of all special offers and sometimes get special special offers just for them.

We post short instructional videos on our youtube channel.

There's detailed information about PocketBible for Android on Google+.

We don't keep lists of potential beta testers. Just watch the blog.

The Fine Print

Copyright © 2010-2015 by Laridian, Inc. All Rights Reserved.

Laridian, PocketBible, and MyBible are registered trademarks of Laridian, Inc. DailyReader, Memorize!, PrayerPartner, eTract, BookBuilder, VerseLinker, iPocketBible, DocAnalyzer, Change the way you look at the Bible, and The Bible. Anywhere. are trademarks of Laridian, Inc. Other marks are the property of their respective owners.

Products by Platform

Bible Reader Software

BookBuilder Software

Products by Type

Your Account

You are not logged in.
Your IP Address: 54.167.176.58
Site IP Address: 209.18.65.235

Best Ways to Get Help

You can get the fastest help by helping yourself.

Make sure you obtain the PocketBible or other Bible reader program that is required to read the Bibles or books you bought.
Read the confirmation email we send you when you make a purchase
Read the help that's built into each of our products
Look through our Frequently Asked Questions
Submit a Support Ticket
Email us at support@laridian.com

Laridian Associates Program

Associates Program members earn a referral fee for every sale resulting from their links to our site!

Log Into Your Download Account to Join the Associates Program