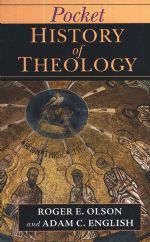 Pocket History of Theology
$4.99
Available Platforms
Description
"The story of Christian theology does not begin at the beginning. . . .Theology is the church's reflection on the salvation brought by Christ and on the gospel of that salvation proclaimed and explained by the first-century apostles."
Here is a concise and informative guide to the history of Christian theology. This condensation of Roger Olson's widely acclaimed The Story of Christian Theology surveys the events, teachings and challenges to the Christian faith down through the ages. In five acts we are ushered from the second to the twenty-first century following all the twists and turns, wrinkles and rivalries that lay along that wonderful and humble way of Christian faith seeking understanding, articulation and explanation.
Crafted for students, pastors and other busy people, this pocket history of theology provides a clear and informed guide to the central tenets of Christian faith and the internal threats and external challenges it has faced and continues to confront even today.
About the Author(s)
Roger E. Olson (Ph.D., Rice University) is professor of theology at George W. Truett Theological Seminary of Baylor University in Waco, Texas. He is the author of The Story of Christian Theology: Twenty Centuries of Tradition and Reform and The Mosaic of Christian Belief: Twenty Centuries of Unity and Diversity.
Adam C. English (Ph.D., Baylor University) is an associate professor in the department of religion and philosophy at Campbell University in Buies Creek, North Carolina. He has published articles and book reviews in Christian Ethics Today, Perspectives in Religious Studies and the Journal of Church and State.
System Requirements
Installed size (unless otherwise indicated): Approximately 213.375 KB. iPhone, iPad, and iPod touch Requires iPhone, iPod touch, or iPad running iOS 5.0 or later. Download size: 213.375 KB. Android Requires Android OS 2.2 or later. Download size: 213.375 KB. Windows Phone Requires Windows Phone 7.5 or later. Download size: 213.375 KB. Windows Store Download size: 213.375 KB. Windows PC Requires Windows 2000, XP, Vista, Windows 7, or later. Download size: 785.625 KB. Mac OS X Requires Mac OS X 10.7 or later. Download size: 213.375 KB. Windows Mobile Requires Pocket PC / Windows Mobile version 6.5 or earlier. Download size: 357.875 KB. Palm OS Requires Palm OS 5.0 or later. Download size: 384.875 KB.
Find us on Facebook

Insider Info

Devoted Laridian fans watch our blog for the latest news, including comments on as-yet-unreleased and unannounced products.

Facebook Fans and our Twitter Followers get notified of all special offers and sometimes get special special offers just for them.

We post short instructional videos on our youtube channel.

There's detailed information about PocketBible for Android on Google+.

We don't keep lists of potential beta testers. Just watch the blog.

The Fine Print

Copyright © 2010-2015 by Laridian, Inc. All Rights Reserved.

Laridian, PocketBible, and MyBible are registered trademarks of Laridian, Inc. DailyReader, Memorize!, PrayerPartner, eTract, BookBuilder, VerseLinker, iPocketBible, DocAnalyzer, Change the way you look at the Bible, and The Bible. Anywhere. are trademarks of Laridian, Inc. Other marks are the property of their respective owners.

Products by Platform

Bible Reader Software

BookBuilder Software

Products by Type

Your Account

You are not logged in.
Your IP Address: 54.80.69.152
Site IP Address: 209.18.65.235

Best Ways to Get Help

You can get the fastest help by helping yourself.

Make sure you obtain the PocketBible or other Bible reader program that is required to read the Bibles or books you bought.
Read the confirmation email we send you when you make a purchase
Read the help that's built into each of our products
Look through our Frequently Asked Questions
Submit a Support Ticket
Email us at support@laridian.com

Laridian Associates Program

Associates Program members earn a referral fee for every sale resulting from their links to our site!

Log Into Your Download Account to Join the Associates Program