$4.99
If you are already a Laridian customer, log in above and we can tell you if you own this product.
This product is also available in the following bundles or collections:
To Purchase This Product
Choose your preferred platform from the list below to add the product to your shopping cart.
When you purchase this product you can install it on any plaform on which it is supported, onto any device you personally own or control. (View our "Buy-It-Once" policy.) However, when purchasing you must choose the initial platform on which you'll be installing the product.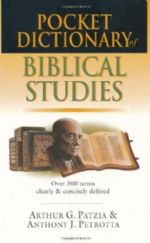 Pocket Dictionary of Biblical Studies
Available Platforms
Description
So many words about the Word. The study of anything seems to generate its own special vocabulary, and biblical studies is no different. What's more, it's got nearly a two-thousand-year lead on you! How can you catch up? Here is the answer!
If you are puzzled by parataxis or rankled by recensions, the Pocket Dictionary of Biblical Studies is the companion you need. Whether you are studying Old Testament or New Testament or both at once, this little book is your private tutor, your ever-ready guide to over three hundred biblical-studies terms. Here's your glossary for reading course textbooks, your decoder for listening to lectures, your review sheet for cramming for finals and your "help" key for writing research papers.
Among the more than 300 terms defined you'll discover
types of biblical criticism, from genre criticism to tradition criticism
Greek and Latin terms, from agrapha to vaticinium ex eventu
German terms, from Frühkatholizismus to Wissenschaft
ancient texts, from Aleppo Codex to Zadokite Document
literary features, from acrostic to woe oracle
theories, from the Augustinian hypothesis to the Yahwist source
textual criticism terms, from codex to Western text
Features
more than 300 entries
helpful study aid for students of the Old and New Testaments
valuable guide for anyone using commentaries or other Bible reference resources
easy-to-read
clear, concise definitions
compact and comprehensive
About the Author(s)
Arthur G. Patzia (Ph.D., McMaster University) is senior professor of New Testament at Fuller Theological Seminary of Northern California. He is also the author of Ephesians, Colossians, Philemon in the New International Bible Commentary series. Anthony J. Petrotta (Ph.D., University of Sheffield) teaches Old Testament at Fuller Seminary, Northern California. He is an Episcopal priest and since 2005 has served as Rector of St. Francis of Assisi Church, Wilsonville, Oregon.
System Requirements
Installed size (unless otherwise indicated): Approximately 428.375 KB. iPhone, iPad, and iPod touch Requires iPhone, iPod touch, or iPad running iOS 5.0 or later. Download size: 428.375 KB. Android Requires Android OS 2.2 or later. Download size: 428.375 KB. Windows Phone Requires Windows Phone 7.5 or later. Download size: 428.375 KB. Windows Store Download size: 428.375 KB. Windows PC Requires Windows 2000, XP, Vista, Windows 7, or later. Download size: 734.625 KB. Mac OS X Download size: 428.375 KB. Windows Mobile Requires Pocket PC / Windows Mobile version 6.5 or earlier. Download size: 420.375 KB.
Find us on Facebook

Insider Info

Devoted Laridian fans watch our blog for the latest news, including comments on as-yet-unreleased and unannounced products.

Facebook Fans and our Twitter Followers get notified of all special offers and sometimes get special special offers just for them.

We post short instructional videos on our youtube channel.

There's detailed information about PocketBible for Android on Google+.

We don't keep lists of potential beta testers. Just watch the blog.

The Fine Print

Copyright © 2010-2015 by Laridian, Inc. All Rights Reserved.

Laridian, PocketBible, and MyBible are registered trademarks of Laridian, Inc. DailyReader, Memorize!, PrayerPartner, eTract, BookBuilder, VerseLinker, iPocketBible, DocAnalyzer, Change the way you look at the Bible, and The Bible. Anywhere. are trademarks of Laridian, Inc. Other marks are the property of their respective owners.

Products by Platform

Bible Reader Software

BookBuilder Software

Products by Type

Your Account

You are not logged in.
Your IP Address: 54.158.132.141
Site IP Address: 209.18.65.235

Best Ways to Get Help

You can get the fastest help by helping yourself.

Make sure you obtain the PocketBible or other Bible reader program that is required to read the Bibles or books you bought.
Read the confirmation email we send you when you make a purchase
Read the help that's built into each of our products
Look through our Frequently Asked Questions
Submit a Support Ticket
Email us at support@laridian.com

Laridian Associates Program

Associates Program members earn a referral fee for every sale resulting from their links to our site!

Log Into Your Download Account to Join the Associates Program