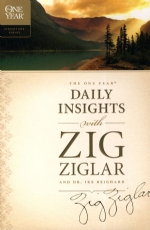 One Year Daily Insights with Zig Ziglar
Available Platforms
Description
A well-known authority on complete and balanced success, Zig Ziglar has authored such best sellers as See You at the Top, Top Performance, Over the Top, and Secrets of Closing the Sale. As popular motivational speaker, Zig Ziglar has spoken on the same stage as Presidents Ford, Reagan, Bush, General Norman Schwarzkopf, Secretary of State Colin Powell, Dr. Norman Vincent Peale, and Paul Harvey. Now, for the first time ever, Zig Ziglar has gathered his insights on what the Bible says about life in the best-selling Daily Insights with Zig Ziglar.
Sample Text
ONE THING
Brethren, I do not count myself to have apprehended; but one thing I do, forgetting those things which are behind and reaching forward to those things which are ahead, I press toward the goal for the prize of the upward call of God in Christ Jesus. Philippians 3:13-14
Paul was the greatest leader in the history of the church, but he wasn't cocky. He knew he was still a work in progress. Paul's days were filled with starting churches, managing leaders, and taking the gospel to everyone in the known world, but he reduced his job description to "one thing." We'd interpret his comments in management terms as the rigorous commitment to a singular objective that has two parts: not dwelling on the past, but reaching ahead to achieve the vision of the future.
The past can bog us down in two distinctly different ways: Some of us feel ashamed by failures in our personal lives or in business, and our minds are haunted by those memories. Every decision we make is colored by our grief and the fear that we'll make the same mistake again. Others of us, though, live in past glories. We've enjoyed stunning success, but instead of using our gains as a foundation for future growth, we keep reliving those memories. Living in the past, whether failed or successful, takes our lives out of focus. Paul says, "Forget the past and move on."
In which direction should we move? We should reach forward to fulfill the vision God has for us. Paul encourages us to uncover and embrace a God-sized cause, one that has a positive impact on people and expands His Kingdom. We can have causes like that at work, in our neighborhoods, and at home, as well as at church.
As you begin this New Year, focus on Paul's "one thing."
What are some past failures or successes you need to leave behind?
Is there a God-sized cause that has gripped your heart? Explain your answer.
"The day our memories become larger than our dreams is the day our soul begins to shrink." -IKE REIGHARD
"Discipline yourself to do the things you need to do when you need to do them, and the day will come when you will be able to do the things you want to do when you want to do them." -ZIG ZIGLAR
reading2
WRITE IT DOWN!
The Lord answered me and said: "Write the vision and make it plain on tablets, that he may run who reads it. For the vision is yet for an appointed time; but at the end it will speak, and it will not lie. Though it tarries, wait for it." Habakkuk 2:2-3
Some of us wander from one thing to another our whole lives. We're capable of so much more, but we have never clarified our purpose in life. An out-of-focus purpose can't inspire us, but a crystal-clear lens on God's purpose for us rivets our attention and gives us energy to keep going until we reach our goals. While the prophet Habakkuk was in prayer, God told him to write down the vision He was giving him. In that day, scribes used a stylus to etch words into blocks of clay. It took work, so they thought carefully about what they wanted to write in order to avoid wasting time and tablets.
We need to write our vision down in clear, compelling language so that it grips our hearts. A clearly written vision statement frees us from confusion so that we can "run" instead of wander, stumble, or go backward. A clear vision overcomes inertia and produces the inspiration to run toward our goals.
But the fulfillment of our vision, God tells the prophet, is in His timing, not ours. Seldom does anyone move in a straight line from the conception of a dream to its fulfillment. Far more often, we experience ups and downs, delays, and disappointments. These, though, won't stop us if we keep our eyes on our purpose and on the One who has given it to us.
Do you have a clear, compelling vision statement?
What would it (or does it) mean to you to have one?
"We grow by dreams. All big men are big dreamers. Some of us let dreams die, but others nourish and protect them, nurse them through bad days . . . to the sunshine and light which always comes." -WOODROW WILSON
About the Author(s)
Zig Ziglar is a motivational teacher and trainer who has traveled the world over, delivering his messages of humor, hope, and encouragement. As a talented author and speaker, his international appeal has transcended every color, culture, and career. Recognized by his peers as the quintessential motivational genius of our times, Zig Ziglar's unique delivery style and powerful messages have earned him many honors, and today he is considered one of the most versatile authorities on the science of human potential. Ten of his twenty–eight books have been on the best-seller lists, and his titles have been translated into more than thirty–eight languages and dialects. He is a committed family man, a dedicated patriot, and an active church member. Zig lives in Plano, Texas, with his wife, Jean.
System Requirements
Installed size (unless otherwise indicated): Approximately 432.375 KB. iPhone, iPad, and iPod touch Requires iPhone, iPod touch, or iPad running iOS 5.0 or later. Download size: 432.375 KB. Android Requires Android OS 2.2 or later. Download size: 432.375 KB. Windows Phone Requires Windows Phone 7.5 or later. Download size: 432.375 KB. Windows Store Download size: 432.375 KB. Windows PC Requires Windows 2000, XP, Vista, Windows 7, or later. Download size: 967.375 KB. Mac OS X Download size: 432.375 KB. Windows Mobile Requires Pocket PC / Windows Mobile version 6.5 or earlier. Download size: 538.375 KB.
Find us on Facebook

Insider Info

Devoted Laridian fans watch our blog for the latest news, including comments on as-yet-unreleased and unannounced products.

Facebook Fans and our Twitter Followers get notified of all special offers and sometimes get special special offers just for them.

We post short instructional videos on our youtube channel.

There's detailed information about PocketBible for Android on Google+.

We don't keep lists of potential beta testers. Just watch the blog.

The Fine Print

Copyright © 2010-2015 by Laridian, Inc. All Rights Reserved.

Laridian, PocketBible, and MyBible are registered trademarks of Laridian, Inc. DailyReader, Memorize!, PrayerPartner, eTract, BookBuilder, VerseLinker, iPocketBible, DocAnalyzer, Change the way you look at the Bible, and The Bible. Anywhere. are trademarks of Laridian, Inc. Other marks are the property of their respective owners.

Products by Platform

Bible Reader Software

BookBuilder Software

Products by Type

Your Account

You are not logged in.
Your IP Address: 174.129.95.117
Site IP Address: 209.18.65.235

Best Ways to Get Help

You can get the fastest help by helping yourself.

Make sure you obtain the PocketBible or other Bible reader program that is required to read the Bibles or books you bought.
Read the confirmation email we send you when you make a purchase
Read the help that's built into each of our products
Look through our Frequently Asked Questions
Submit a Support Ticket
Email us at support@laridian.com

Laridian Associates Program

Associates Program members earn a referral fee for every sale resulting from their links to our site!

Log Into Your Download Account to Join the Associates Program