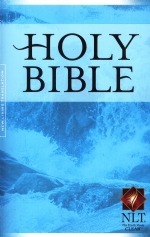 New Living Translation, Second Edition (NLTse)
$9.99
Available Platforms
Description
The Holy Bible New Living Translation, was first published in 1996. It quickly became one of the most popular Bibles in the English-speaking world. While the NLT's influence was rapidly growing, the NLT Bible Translation Committee determined that an additional investment in scholarly review and text refinement could make it even better. So shortly after its initial publication, the committee began an eight-year process with the purpose of increasing the level of the NLT's precision without sacrificing its easy-to-understand quality. This second generation text was completed in 2004 and updated in 2007, and is reflected in this most recent edition of the New Living Translation.
The goal of any Bible translation is to convey the meaning and content of the ancient Hebrew, Aramaic, and Greek texts as accurately as possible to contemporary readers. The challenge for the translators was to create a text that communicates as clearly and powerfully to today's readers as the original texts did to readers and listeners in the ancient biblical world.
This second edition of the NLT is easy to understand, while also accurately communicating the meaning and content of the original biblical texts. The NLTse combines the latest biblical scholarship with a clear, dynamic writing style. It is a general-purpose text especially good for study, devotional reading and to be read aloud in public worship.
Includes the front matter normally found in printed NLT Bibles, along with all the translators' footnotes.
Features
Renders the message of the original texts of Scripture into clear, contemporary English
Translation Method: Balances the concerns of the two most common forms of translation, formal-equivalence (accuracy focus) and dynamic-equivalence (readability focus). Translated as simply and literally as possible when that approach yielded an accurate, clear and natural English text. Rendered the message more dynamically than literally when the literal translation was hard to understand, misleading, or yielded archaic or foreign wording.
Translation based on the following texts:

Masoretic Text of the Hebrew Bible as represented in Biblia Hebraica Stuttgartensia (1977).
Greek New Testament published by the United Bible Societies (UBS, fourth revised edition, 1993)
Novum Testamentum Graece edited by Nestle and Aland (NA, twenty-seventh edition, 1993)

Primary goal of the translation was clarity—to facilitate private reading and understanding, and to ensure excellence for public reading.
Translates terms shrouded in history and culture in ways that can be immediately understood:

Ancient weights, measures and currency values are given in modern English (American) equivalents. Ancient measures and modern metric equivalents are footnoted.
Hebrew dates and times are expanded and interpreted for modern readers.
The meaning of proper names are illuminated in the text or with a textual footnote.
Cultural (i.e. "they beat their breasts" Lk 23:48 is rendered "they went home in deep sorrow") and metaphorical language (i.e. "Your neck is like the tower of David" Song 4:4 is rendered "Your neck is as beautiful as the tower of David") is expanded for the modern reader.
Poetic content is rendered in English poetic form.
Masculine nouns and pronouns used in the original text but meant to refer to all humanity have been updated (i.e. New Testament letters where believers are called "brothers" are translated "brothers and sisters" where the intent was to address all believers—male and female). Note: All masculine nouns and pronouns used to represent God have been maintained without exception.

Alphabetical list of Bible books
Tyndale Bible Verse Finder - topical index to the Bible
Sample Text
Psalm 1:1

Oh, the joys of those who do not
follow the advice of the wicked,
or stand around with sinners,
or join in with mockers.
John 3:16

For God loved the world so much that he gave his one and only Son, so that everyone who believes in him will not perish but have eternal life.
2 Timothy 3:16-17

All Scripture is inspired by God and is useful to teach us what is true and to make us realize what is wrong in our lives. It corrects us when we are wrong and teaches us to do what is right. God uses it to prepare and equip his people to do every good work.
Revelation 10:10

So I took the small scroll from the hand of the angel, and I ate it! It was sweet in my mouth, but when I swallowed it, it turned sour in my stomach.
About the Author(s)
The Bible Translation Committee recruited teams of scholars representing a broad spectrum of denominations, theological perspectives, and backgrounds within the Evangelical community.
System Requirements
Installed size (unless otherwise indicated): Approximately 5.625 MB. iPhone, iPad, and iPod touch Requires iPhone, iPod touch, or iPad running iOS 5.0 or later. Download size: 5.625 MB. Android Requires Android OS 2.2 or later. Download size: 5.625 MB. Windows Phone Requires Windows Phone 7.5 or later. Download size: 5.625 MB. Windows Store Download size: 5.625 MB. Windows PC Requires Windows 2000, XP, Vista, Windows 7, or later. Download size: 4.375 MB. Mac OS X Requires Mac OS X 10.7 or later. Download size: 5.625 MB. Windows Mobile Requires Pocket PC / Windows Mobile version 6.5 or earlier. Download size: 4.125 MB. Palm OS Requires Palm OS 4.0 or later. Download size: 1.125 MB. webOS Requires webOS 1.4.5 or later. Download/Installed size: 4.875 MB.
Find us on Facebook
Insider Info
Devoted Laridian fans watch our blog for the latest news, including comments on as-yet-unreleased and unannounced products.
Facebook Fans and our Twitter Followers get notified of all special offers and sometimes get special special offers just for them.
We post short instructional videos on our youtube channel.
There's detailed information about PocketBible for Android on Google+.
We don't keep lists of potential beta testers. Just watch the blog.
The Fine Print
Copyright © 2010-2015 by Laridian, Inc. All Rights Reserved.
Laridian, PocketBible, and MyBible are registered trademarks of Laridian, Inc. DailyReader, Memorize!, PrayerPartner, eTract, BookBuilder, VerseLinker, iPocketBible, DocAnalyzer, Change the way you look at the Bible, and The Bible. Anywhere. are trademarks of Laridian, Inc. Other marks are the property of their respective owners.
Products by Platform
Bible Reader Software
BookBuilder Software
Products by Type
Your Account
You are not logged in.
Your IP Address: 54.205.157.94
Site IP Address: 209.18.65.235
Best Ways to Get Help
You can get the fastest help by helping yourself.
Make sure you obtain the PocketBible or other Bible reader program that is required to read the Bibles or books you bought.
Read the confirmation email we send you when you make a purchase
Read the help that's built into each of our products
Look through our Frequently Asked Questions
Submit a Support Ticket
Email us at support@laridian.com
Laridian Associates Program
Associates Program members earn a referral fee for every sale resulting from their links to our site!
Log Into Your Download Account to Join the Associates Program