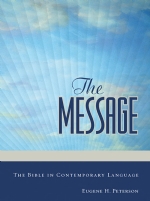 The Message (MSG)
Available Platforms
Description
The Message provides a refreshingly unique Bible-reading experience. Translated directly from the ancient Hebrew and Greek texts into contemporary speech, The Message is designed to open up new understanding and insight as you read Godís Word. With no formal language and no verse numbers, the Scriptures unfold like a gripping novel. Passages youíve read many times before come alive, revealing the vibrant energy and passion of Godís Word.
Features
A paraphrase from the original Hebrew and Greek languages
Written in clear, direct language that brings the Bible to life
Covers all 66 books of the Bible
Introductions for every book of the Bible
Designed to be a reading Bible rather than a study Bible
No verse numbers to interrupt the flow of reading*
Authored by Eugene Peterson
Reviewed by a team of distinguished professors from various seminaries and colleges to ensure that it accurately communicates the original Hebrew and Greek
* Verse numbers can be turned on and off in PocketBible
Sample Text
Psalm 1:1

How well God must like you--
you don't hang out at Sin Saloon,
you don't slink along Dead-End Road,
you don't go to Smart-Mouth College.
John 3:16

This is how much God loved the world: He gave his Son, his one and only Son. And this is why: so that no one need be destroyed; by believing in him, anyone can have a whole and lasting life.
2 Timothy 3:16-17

Every part of Scripture is God-breathed and useful one way or another--showing us truth, exposing our rebellion, correcting our mistakes, training us to live God's way. Through the Word we are put together and shaped up for the tasks God has for us.
Revelation 10:10

I took the little book from the Angel's hand and it was sweet honey in my mouth, but when I swallowed, my stomach curdled.
About the Author(s)
Eugene H. Peterson is a writer, poet and retired pastor. He has authored more than 20 books and is a contributing editor to Leadership. He is Professor Emeritus of Spiritual Theology at Regent College in Vancouver, British Columbia. Eugene also founded Christ our King Presbyterian Church in Bel Air, Maryland, where he ministered for 29 years.
System Requirements
Installed size (unless otherwise indicated): Approximately 5.875 MB. iPhone, iPad, and iPod touch Requires iPhone, iPod touch, or iPad running iOS 5.0 or later. Download size: 5.875 MB. Android Requires Android OS 2.2 or later. Download size: 5.875 MB. Windows Phone Requires Windows Phone 7.5 or later. Download size: 5.875 MB. Windows Store Download size: 5.875 MB. Windows PC Requires Windows 2000, XP, Vista, Windows 7, or later. Download size: 4.625 MB. Mac OS X Download size: 5.875 MB. Windows Mobile Requires Pocket PC / Windows Mobile version 6.5 or earlier. Download size: 4.375 MB. Palm OS Requires Palm OS 4.0 or later. Download size: 1.625 MB. webOS Requires webOS 1.4.5 or later. Download/Installed size: 4.875 MB.
Find us on Facebook

Insider Info

Devoted Laridian fans watch our blog for the latest news, including comments on as-yet-unreleased and unannounced products.

Facebook Fans and our Twitter Followers get notified of all special offers and sometimes get special special offers just for them.

We post short instructional videos on our youtube channel.

There's detailed information about PocketBible for Android on Google+.

We don't keep lists of potential beta testers. Just watch the blog.

The Fine Print

Copyright © 2010-2015 by Laridian, Inc. All Rights Reserved.

Laridian, PocketBible, and MyBible are registered trademarks of Laridian, Inc. DailyReader, Memorize!, PrayerPartner, eTract, BookBuilder, VerseLinker, iPocketBible, DocAnalyzer, Change the way you look at the Bible, and The Bible. Anywhere. are trademarks of Laridian, Inc. Other marks are the property of their respective owners.

Products by Platform

Bible Reader Software

BookBuilder Software

Products by Type

Your Account

You are not logged in.
Your IP Address: 54.87.73.191
Site IP Address: 209.18.65.235

Best Ways to Get Help

You can get the fastest help by helping yourself.

Make sure you obtain the PocketBible or other Bible reader program that is required to read the Bibles or books you bought.
Read the confirmation email we send you when you make a purchase
Read the help that's built into each of our products
Look through our Frequently Asked Questions
Submit a Support Ticket
Email us at support@laridian.com

Laridian Associates Program

Associates Program members earn a referral fee for every sale resulting from their links to our site!

Log Into Your Download Account to Join the Associates Program