$14.99
If you are already a Laridian customer, log in above and we can tell you if you own this product.
This product is also available in the following bundles or collections:
To Purchase This Product
Choose your preferred platform from the list below to add the product to your shopping cart.
When you purchase this product you can install it on any plaform on which it is supported, onto any device you personally own or control. (View our "Buy-It-Once" policy.) However, when purchasing you must choose the initial platform on which you'll be installing the product.
Reviews on Amazon.com

Learn more about this product: Search Amazon.com for print editions.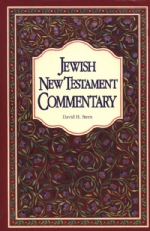 Jewish New Testament Commentary
Available Platforms
Description
In the Jewish New Testament Commentary, Dr. David Stern offers an exciting and original way of understanding the New Testament from a Jewish point of view.
The Torah (Law of Moses)--is it in full force today? Yeshua (Jesus) said, 'Don't think that I have come to abolish the Torah... I have come not to abolish, but to complete.' What did he mean?
Sha'ul (Paul) wrote, 'All Israel will be saved.' Was he speaking of all Jews? Messianic Jews (Jews who believe Yeshua is the Messiah)? The Church? Who is Israel?
Why did Yeshua juxtapose the sayings, 'Do not store up for yourselves wealth here on earth' and 'The eye is the light of the body?'
Dr. David Stern, a Messianic Jew living in Jerusalem, speaks to these and other issues in the Jewish New Testament Commentary.
Drawing on years of research, Dr. Stern relates the New Testament text to the Tanakh (Old Testament), to the historical setting, to rabbinic materials and to Christian theology. He answers questions Jewish people have about Yeshua, the New Testament and Christianity; questions Christians have about Judaism and the Jewish roots of their faith; and questions Messianic Jews have about being both Jewish and Messianic.
He demonstrates that the New Testament upholds Jewish values and verities, such as the oneness of God, the chosennesss of Israel, the sanctity of the Torah, and the importance of works along with faith. He also shows how the New Testament speaks to modern issues like assimilation, intermarriage, missionizing and antisemitism. Finally, in terms of the Greek and Hebrew languages, Judaism and first-century culture, he explains controversial Jewish New Testament renderings.
The Complete Jewish Bible and Jewish New Testament Commentary challenge Christians to rediscover their Jewish connection, and Jews to discover their Jewish Messiah.
Features
The Jewish New Testament Commentary covers the New Testament only and includes:
Historical comments explaining the situation of the writer, original readers and subjects of the passage, often with particular focus on the Jewish background
Linguistic comments explaining points of Greek grammar or the sense of Greek words, and frequently explaining similar points of the Hebrew language, grammar and thoughtforms underlying the Greek text.
Exegetical comments explaining what a passage means. These are sometimes provided because the text is not clear to a modern reader lacking the original context. But often because the text has been misunderstood by Christians or by Jews or by both.
Comments pointing out the writers' Jewish ways of thinking. Since the writers of the New Testament were all Jewish, Dr. Stern points out their rabbinic patterns of discussion and argument.
Parallels in Jewish Literature. New Testament parallels from ancient, medieval and modern Jewish sources are quotes (i.e. Apocrypha, Pseudepigrapha, Talmud, Halakhic Midrashim, Midrash Rabbah)
The Jewish New Testament Commentary is based on the Complete Jewish Bible but can be used with any Bible translation in PocketBible.
About the Author(s)
David H. Stern, born in Los Angeles in 1935, is the great-grandson of two of the city's first twenty Jews. He earned a Ph.D. in economics at Princeton University and was a professor at UCLA. In 1972 he came to faith in Yeshua the Messiah. He then received a Master of Divinity degree at Fuller Theological Seminary, did graduate work at the University of Judaism, and was active in the Messianic Jewish movement. In 1979 the Stern family made aliyah (immigrated to Israel); they now live in Jerusalem. Dr. Stern authored the Messianic Jewish Manifesto. His highly acclaimed English translation, the Jewish New Testament, restores the New Testament's Jewishness. His Jewish New Testament Commentary discusses the many Jewish issues found in the New Testament. His fresh translation, the Complete Jewish Bible, expresses the unity of the Tanakh (Old Testament) and the B'rit Hadashah (New Testament).
System Requirements
Installed size (unless otherwise indicated): Approximately 3.625 MB. iPhone, iPad, and iPod touch Requires iPhone, iPod touch, or iPad running iOS 5.0 or later. Download size: 3.625 MB. Android Requires Android OS 2.2 or later. Download size: 3.625 MB. Windows Phone Requires Windows Phone 7.5 or later. Download size: 3.625 MB. Windows Store Download size: 3.625 MB. Windows PC Requires Windows 2000, XP, Vista, Windows 7, or later. Download size: 2.375 MB. Mac OS X Download size: 3.625 MB. Windows Mobile Requires Pocket PC / Windows Mobile version 6.5 or earlier. Download size: 2.375 MB.
Find us on Facebook

Insider Info

Devoted Laridian fans watch our blog for the latest news, including comments on as-yet-unreleased and unannounced products.

Facebook Fans and our Twitter Followers get notified of all special offers and sometimes get special special offers just for them.

We post short instructional videos on our youtube channel.

There's detailed information about PocketBible for Android on Google+.

We don't keep lists of potential beta testers. Just watch the blog.

The Fine Print

Copyright © 2010-2015 by Laridian, Inc. All Rights Reserved.

Laridian, PocketBible, and MyBible are registered trademarks of Laridian, Inc. DailyReader, Memorize!, PrayerPartner, eTract, BookBuilder, VerseLinker, iPocketBible, DocAnalyzer, Change the way you look at the Bible, and The Bible. Anywhere. are trademarks of Laridian, Inc. Other marks are the property of their respective owners.

Products by Platform

Bible Reader Software

BookBuilder Software

Products by Type

Your Account

You are not logged in.
Your IP Address: 54.227.215.141
Site IP Address: 209.18.65.235

Best Ways to Get Help

You can get the fastest help by helping yourself.

Make sure you obtain the PocketBible or other Bible reader program that is required to read the Bibles or books you bought.
Read the confirmation email we send you when you make a purchase
Read the help that's built into each of our products
Look through our Frequently Asked Questions
Submit a Support Ticket
Email us at support@laridian.com

Laridian Associates Program

Associates Program members earn a referral fee for every sale resulting from their links to our site!

Log Into Your Download Account to Join the Associates Program