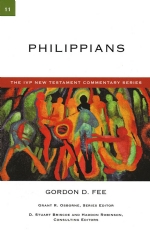 IVP New Testament Commentary: Philippians
Available Platforms
About this Series
Pastors with a passion for sound exposition and scholars with a heart for pastoral leadership have joined forces to produce this exciting commentary series.
Each volume, informed by the best of up-to-date evangelical scholarship, presents passage-by-passage commentary based on the NIV along with background information on authorship, setting, theme and various interpretive issues. Seldom have such readable commentary and reliable research helps been available together! Preachers, teachers, students and other individuals who want to dig deep into the heart of the New Testament will find an indispensable companion in the IVP New Testament Commentary Series.
About this Volume
This one-volume commentary on Philippians can also be purchased as part of a multi-volume set.
Nothing cripples a church's effectiveness like internal strife. In Philippi, Paul addressed a congregation whose private struggles were compounded by opposition and suffering from without. Paul's strategy was to write them a letter of friendship and moral exhortation, reminding them of their "partnership in the gospel," their mutual suffering for the cause of Christ, and their need to "stand firm in one spirit." His approach and counsel can serve us well today.
In this warm, well-written study of Philippians, readers will find an introduction that discusses the letter's occasion and purpose, authorship, and other background information, as well as its important theological themes. Passage-by-passage commentary follows that seeks to explain what the letter means to us today as well as what it meant for its original hearers.
Features
Passage-by-passage exposition of Philippians
Based on the NIV Bible
Includes background information and discussion of critical issues
Focuses on the relevance of Philippians for Christians today
Describes different views on interpreting Philippians
Notes on exegetical issues separated from textual commentary
About the Author(s)
Gordon D. Fee (Ph.D., University of Southern California) was, until his retirement, dean of the faculty and professor of New Testament at Regent College in Vancouver, British Columbia. He has written several books and commentaries, including God's Empowering Presence: The Holy Spirit in the Letters of Paul (Hendrickson) and New Testament Exegesis: A Handbook for Students and Pastors (Westminster/John Knox).
System Requirements
Installed size (unless otherwise indicated): Approximately 412.875 KB. iPhone, iPad, and iPod touch Requires iPhone, iPod touch, or iPad running iOS 5.0 or later. Download size: 412.875 KB. Android Requires Android OS 2.2 or later. Download size: 412.875 KB. Windows Phone Requires Windows Phone 7.5 or later. Download size: 412.875 KB. Windows Store Download size: 412.875 KB. Windows PC Requires Windows 2000, XP, Vista, Windows 7, or later. Download size: 526.125 KB. Mac OS X Download size: 412.875 KB. Windows Mobile Requires Pocket PC / Windows Mobile version 6.5 or earlier. Download size: 327.125 KB. Palm OS Requires Palm OS 5.0 or later. Download size: 471.875 KB.
Find us on Facebook

Insider Info

Devoted Laridian fans watch our blog for the latest news, including comments on as-yet-unreleased and unannounced products.

Facebook Fans and our Twitter Followers get notified of all special offers and sometimes get special special offers just for them.

We post short instructional videos on our youtube channel.

There's detailed information about PocketBible for Android on Google+.

We don't keep lists of potential beta testers. Just watch the blog.

The Fine Print

Copyright © 2010-2015 by Laridian, Inc. All Rights Reserved.

Laridian, PocketBible, and MyBible are registered trademarks of Laridian, Inc. DailyReader, Memorize!, PrayerPartner, eTract, BookBuilder, VerseLinker, iPocketBible, DocAnalyzer, Change the way you look at the Bible, and The Bible. Anywhere. are trademarks of Laridian, Inc. Other marks are the property of their respective owners.

Products by Platform

Bible Reader Software

BookBuilder Software

Products by Type

Your Account

You are not logged in.
Your IP Address: 54.159.161.138
Site IP Address: 209.18.65.235

Best Ways to Get Help

You can get the fastest help by helping yourself.

Make sure you obtain the PocketBible or other Bible reader program that is required to read the Bibles or books you bought.
Read the confirmation email we send you when you make a purchase
Read the help that's built into each of our products
Look through our Frequently Asked Questions
Submit a Support Ticket
Email us at support@laridian.com

Laridian Associates Program

Associates Program members earn a referral fee for every sale resulting from their links to our site!

Log Into Your Download Account to Join the Associates Program