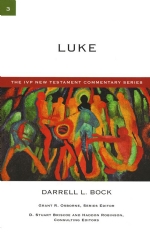 IVP New Testament Commentary: Luke
Available Platforms
About this Series
Pastors with a passion for sound exposition and scholars with a heart for pastoral leadership have joined forces to produce this exciting commentary series.
Each volume, informed by the best of up-to-date evangelical scholarship, presents passage-by-passage commentary based on the NIV along with background information on authorship, setting, theme and various interpretive issues. Seldom have such readable commentary and reliable research helps been available together! Preachers, teachers, students and other individuals who want to dig deep into the heart of the New Testament will find an indispensable companion in the IVP New Testament Commentary Series.
About this Volume
This one-volume commentary on Luke can also be purchased as part of a multi-volume set.
In Luke's vivid narrative, Jesus comes into Galilee proclaiming "good news to the poor . . . freedom for the prisoners and recovery of sight for the blind." More than any other Gospel, the Gospel of Luke shows Jesus' great concern for the downtrodden, the oppressed and the marginalized—including women and children and even those outside the house of Israel.
Darrell Bock's IVP New Testament Commentary shows why Luke's Gospel is "tailor-made" for the world we live in—a world often divided along ethnic, religious, economic and political lines. After all, the Jesus portrayed by Luke is a source of unity for his disciples and for believers from every walk of life. Tax collectors, Roman soldiers, prostitutes, city officials, religious leaders, widows and fishermen were among the diverse group brought together in the early Christian church. "The Gospel is universal in its perspective and cosmic in its scope," Bock writes. "As we look at our modern multicultural world, . . . certainly there is relevance in a Gospel that highlights how men and women of different ethnic origins can be transformed into a unified community."
Along with a passage-by-passage exposition of Luke, Bock offers background information on date, destination, purpose, form and theological themes in the text. His dual focus on understanding what Luke wanted to communicate to his original readers and on discovering how that message is relevant for today's readers will make this commentary an excellent resource for all who study, preach or teach the Scriptures.
Features
Passage-by-passage exposition of the Gospel of Luke
Based on the NIV Bible
Includes background information and discussion of critical issues
Focuses on the relevance of Luke for Christians today
Describes different views of interpreting Luke
Notes on exegetical issues separated from textual commentary
About the Author(s)
Darrell L. Bock (Ph.D., Aberdeen) is research professor of New Testament studies and professor of spiritual development and culture at Dallas Theological Seminary in Dallas, Texas. He has written the monograph Blasphemy and Exaltation in Judaism and the Final Examination of Jesus and volumes on Luke in both the Baker Exegetical Commentary on the New Testament and the IVP New Testament Commentary Series. Bock is a past president of the Evangelical Theological Society. He serves as a corresponding editor for Christianity Today, and he has published articles in Los Angeles Times and the Dallas Morning News.
System Requirements
Installed size (unless otherwise indicated): Approximately 803.625 KB. iPhone, iPad, and iPod touch Requires iPhone, iPod touch, or iPad running iOS 5.0 or later. Download size: 803.625 KB. Android Requires Android OS 2.2 or later. Download size: 803.625 KB. Windows Phone Requires Windows Phone 7.5 or later. Download size: 803.625 KB. Windows Store Download size: 803.625 KB. Windows PC Requires Windows 2000, XP, Vista, Windows 7, or later. Download size: 1.625 MB. Mac OS X Download size: 803.625 KB. Windows Mobile Requires Pocket PC / Windows Mobile version 6.5 or earlier. Download size: 778.125 KB. Palm OS Requires Palm OS 5.0 or later. Download size: 873.375 KB.
Find us on Facebook

Insider Info

Devoted Laridian fans watch our blog for the latest news, including comments on as-yet-unreleased and unannounced products.

Facebook Fans and our Twitter Followers get notified of all special offers and sometimes get special special offers just for them.

We post short instructional videos on our youtube channel.

There's detailed information about PocketBible for Android on Google+.

We don't keep lists of potential beta testers. Just watch the blog.

The Fine Print

Copyright © 2010-2015 by Laridian, Inc. All Rights Reserved.

Laridian, PocketBible, and MyBible are registered trademarks of Laridian, Inc. DailyReader, Memorize!, PrayerPartner, eTract, BookBuilder, VerseLinker, iPocketBible, DocAnalyzer, Change the way you look at the Bible, and The Bible. Anywhere. are trademarks of Laridian, Inc. Other marks are the property of their respective owners.

Products by Platform

Bible Reader Software

BookBuilder Software

Products by Type

Your Account

You are not logged in.
Your IP Address: 54.159.166.21
Site IP Address: 209.18.65.235

Best Ways to Get Help

You can get the fastest help by helping yourself.

Make sure you obtain the PocketBible or other Bible reader program that is required to read the Bibles or books you bought.
Read the confirmation email we send you when you make a purchase
Read the help that's built into each of our products
Look through our Frequently Asked Questions
Submit a Support Ticket
Email us at support@laridian.com

Laridian Associates Program

Associates Program members earn a referral fee for every sale resulting from their links to our site!

Log Into Your Download Account to Join the Associates Program