$19.99
If you are already a Laridian customer, log in above and we can tell you if you own this product.
This product is also available in the following bundles or collections:
To Purchase This Product
Choose your preferred platform from the list below to add the product to your shopping cart.
When you purchase this product you can install it on any plaform on which it is supported, onto any device you personally own or control. (View our "Buy-It-Once" policy.) However, when purchasing you must choose the initial platform on which you'll be installing the product.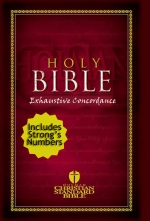 Holman Christian Std Bible Exhaustive Concordance
Available Platforms
Description
The Holman Christian Standard Bible Exhaustive Concordance (HCSBEC) lets you determine what Hebrew or Greek words underlie the English words without actually having to know the original languages!
The Holman Christian Standard Bible is a literal, word-for-word translation from the original languages that has been painstakingly stylized in modern-day English. The result is a text that shows respect for the inerrancy of Scripture--that is clear and understandable without being over-simplified, paraphrased, or held captive to cultural trends. Twenty years in the making, the Holman Christian Standard Bible is the work of 100 scholars collaborating online, in real time, with the benefit of the latest breakthroughs in Bible scholarship.
Over 100 years ago, James Strong created a unique reference book: A list of every word in the Bible, including a list of every occurrence of every word, and the Hebrew, Aramaic, or Greek word from which it was translated in each case. By assigning a number to every original language word, users can quickly find the word in PocketBible Strong's-indexed dictionaries including Vine's Expository Dictionary, Complete Word Study Dictionary, New Strong's Dictionary and Theological Word Book of the Old Testament (each sold separately, HCSBEC does not include a dictionary). The numbers can be turned on and off when viewing the Bible text in PocketBible.
Not sure what you need to do word studies in PocketBible? Read Accomplishing Word Studies in PocketBible.
Features
New translation published in 2009
Precisely translated yet it conveys the meaning of the original Hebrew and Greek with words and grammar that are familiar to and easily understood by today's readers.
Produced with specially customized software that allowed new standards of precision, detail and consistency.
Intended to safeguard the Scriptures from trends toward cultural pluralism, political correctness, and drifting ideology by having a translation controlled by a community of believers.
Members of the translation team represent 17 different Protestant denominations around the world, as well as several non-denominational churches. Each team member personally affirms the inerrancy of Scripture.
Text features:

New Testament Bullet Notes explain important New Testament words or terms. Notes are marked as a hyperlink in the biblical text. Just tap on the hyperlinked word to view the note and use the back arrow to return to your starting point.
Capitalizes names of God and pronouns referring to God
Arranges poetic portions into complete line of thought
Words of Christ in red
Includes translator footnotes and cross-references
HCSB with Strong's numbers allows you to link to definitions in Strong's indexed dictionaries. (dictionaries sold separately)
System Requirements
Installed size (unless otherwise indicated): Approximately 8.875 MB. iPhone, iPad, and iPod touch Requires iPhone, iPod touch, or iPad running iOS 5.0 or later. Download size: 8.875 MB. Android Requires Android OS 2.2 or later. Download size: 8.875 MB. Windows Phone Requires Windows Phone 7.5 or later. Download size: 8.875 MB. Windows Store Download size: 8.875 MB. Windows PC Requires Windows 2000, XP, Vista, Windows 7, or later. Download size: 6.625 MB. Mac OS X Download size: 8.875 MB. Windows Mobile Requires Pocket PC / Windows Mobile version 6.5 or earlier. Download size: 6.125 MB.
Find us on Facebook

Insider Info

Devoted Laridian fans watch our blog for the latest news, including comments on as-yet-unreleased and unannounced products.

Facebook Fans and our Twitter Followers get notified of all special offers and sometimes get special special offers just for them.

We post short instructional videos on our youtube channel.

There's detailed information about PocketBible for Android on Google+.

We don't keep lists of potential beta testers. Just watch the blog.

The Fine Print

Copyright © 2010-2015 by Laridian, Inc. All Rights Reserved.

Laridian, PocketBible, and MyBible are registered trademarks of Laridian, Inc. DailyReader, Memorize!, PrayerPartner, eTract, BookBuilder, VerseLinker, iPocketBible, DocAnalyzer, Change the way you look at the Bible, and The Bible. Anywhere. are trademarks of Laridian, Inc. Other marks are the property of their respective owners.

Products by Platform

Bible Reader Software

BookBuilder Software

Products by Type

Your Account

You are not logged in.
Your IP Address: 54.166.122.88
Site IP Address: 209.18.65.235

Best Ways to Get Help

You can get the fastest help by helping yourself.

Make sure you obtain the PocketBible or other Bible reader program that is required to read the Bibles or books you bought.
Read the confirmation email we send you when you make a purchase
Read the help that's built into each of our products
Look through our Frequently Asked Questions
Submit a Support Ticket
Email us at support@laridian.com

Laridian Associates Program

Associates Program members earn a referral fee for every sale resulting from their links to our site!

Log Into Your Download Account to Join the Associates Program