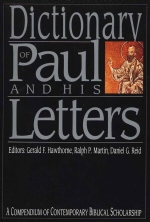 IVP Dictionary of Paul and His Letters
$39.99
Available Platforms
Description
The Dictionary of Paul and His Letters is a one-of-a-kind reference work. This dictionary is designed to bring students, teachers, ministers and laypeople up-to-speed on the established conclusions and significant recent developments in Pauline scholarship.
No other single reference work presents as much information focused exclusively on Pauline theology, literature, background and scholarship. In a field that recently has undergone significant shifts in perspective, the Dictionary of Paul and His Letters offers a summa of Paul and Pauline studies.
In-depth articles focus on individual theological themes (such as law, resurrection and Son of God), broad theological topics (such as Christology, eschatology and the death of Christ), methods of interpretation (such as rhetorical criticism and social-scientific approaches), background topics (such as apocalypticism, Hellenism and Qumran) and various other subjects specifically related to the scholarly study of Pauline theology and literature (such as early catholicism, the center of Paul's theology, and Paul and his interpreters since F. C. Baur). Separate articles are also devoted to each of the Pauline letters to hermeneutics and to preaching Paul today.
What others are saying...

"A mine of information for all students of Paul for many years to come." --N. T. Wright, Bishop of Durham
"The DPL provides an authoritative guide to Paul and his world for all who are interested." --James H. Charlesworth, Princeton Theological Seminary
"In this splendid new reference work the serious student of the Bible will find a comprehensive summary of the best of modern scholarship concerning the life, times and thought of St. Paul..." --W. Ward Gasque, President, Pacific Association for Theological Studies
Features
Over 200 in-depth articles
Bible-encyclopedia-length articles on subjects related to Pauline literature and theology
Contributions from over 100 evangelical scholars from North America, the United Kingdom, Europe, Australia, New Zealand and Asia
Hundreds of cross-references
Extensive bibliographies
Subject index
Pauline Scripture index
Covers topics not found even in multi-volume Bible encyclopedias
Second volume in a landmark Bible reference series that now has more than 100,000 total copies in print
About the Author(s)
Gerald F. Hawthorne (1925-2010) served as a professor of Greek for forty-two years at Wheaton College in Wheaton, Illinois, as well as chairperson of the Institute for Biblical Research, which he founded. He was a member of the Evangelical Theological Society and the Society of Biblical Literature and the author or co-editor of six books and dozens of articles.
Ralph P. Martin (Ph.D.) is retired from his position as distinguished scholar in residence at Fuller Theological Seminary and previously at the Graduate School of Theology of Azusa Pacific University. He was formerly professor of New Testament at Fuller Theological Seminary and associate professor in biblical studies at the University of Sheffield. He is the author of numerous studies and commentaries on the New Testament, including Worship in the Early Church, the volume on Philippians in The Tyndale New Testament Commentary series, and James in the Word Biblical Commentary, for which he also serves as New Testament editor.
Daniel P. Reid (Ph.D., Fuller Theological Seminary) is senior editor for reference and academic books at InterVarsity Press, where he has worked since 1986. He was the developmental editor for IVP's award-winning New Testament dictionaries, and has also written his own academic studies, including God Is a Warrior, co-written with Tremper Longman III (Zondervan). Reid also teaches at the Seattle, Washington extension campus of Fuller Theological Seminary.
System Requirements
Installed size (unless otherwise indicated): Approximately 4.625 MB. iPhone, iPad, and iPod touch Requires iPhone, iPod touch, or iPad running iOS 5.0 or later. Download size: 4.625 MB. Android Requires Android OS 2.2 or later. Download size: 4.625 MB. Windows Phone Requires Windows Phone 7.5 or later. Download size: 4.625 MB. Windows Store Download size: 4.625 MB. Windows PC Requires Windows 2000, XP, Vista, Windows 7, or later. Download size: 4.625 MB. Mac OS X Requires Mac OS X 10.7 or later. Download size: 4.625 MB. Windows Mobile Requires Pocket PC / Windows Mobile version 6.5 or earlier. Download size: 3.625 MB. Palm OS Requires Palm OS 5.0 or later. Download size: 4.125 MB.
Find us on Facebook

Insider Info

Devoted Laridian fans watch our blog for the latest news, including comments on as-yet-unreleased and unannounced products.

Facebook Fans and our Twitter Followers get notified of all special offers and sometimes get special special offers just for them.

We post short instructional videos on our youtube channel.

There's detailed information about PocketBible for Android on Google+.

We don't keep lists of potential beta testers. Just watch the blog.

The Fine Print

Copyright © 2010-2015 by Laridian, Inc. All Rights Reserved.

Laridian, PocketBible, and MyBible are registered trademarks of Laridian, Inc. DailyReader, Memorize!, PrayerPartner, eTract, BookBuilder, VerseLinker, iPocketBible, DocAnalyzer, Change the way you look at the Bible, and The Bible. Anywhere. are trademarks of Laridian, Inc. Other marks are the property of their respective owners.

Products by Platform

Bible Reader Software

BookBuilder Software

Products by Type

Your Account

You are not logged in.
Your IP Address: 54.166.12.41
Site IP Address: 209.18.65.235

Best Ways to Get Help

You can get the fastest help by helping yourself.

Make sure you obtain the PocketBible or other Bible reader program that is required to read the Bibles or books you bought.
Read the confirmation email we send you when you make a purchase
Read the help that's built into each of our products
Look through our Frequently Asked Questions
Submit a Support Ticket
Email us at support@laridian.com

Laridian Associates Program

Associates Program members earn a referral fee for every sale resulting from their links to our site!

Log Into Your Download Account to Join the Associates Program