$14.99
If you are already a Laridian customer, log in above and we can tell you if you own this product.
This product is also available in the following bundles or collections:
To Purchase This Product
Choose your preferred platform from the list below to add the product to your shopping cart.
When you purchase this product you can install it on any plaform on which it is supported, onto any device you personally own or control. (View our "Buy-It-Once" policy.) However, when purchasing you must choose the initial platform on which you'll be installing the product.
Reviews on Amazon.com

Learn more about this product: Search Amazon.com for print editions.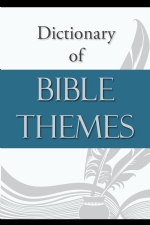 Dictionary of Bible Themes
Available Platforms
Description
Now you can identify and explore the most important topics in Scripture! The Dictionary of Bible Themes leads you directly to the places the Bible talks about God, Jesus Christ, the Holy Spirit, the human race, sin and salvation, the Christian life, the church and the hope of glory--even when the topic word is not used in the passage. With minimal comment or explanation, this Dictionary allows the Bible to speak for itself as key themes are identified and traced throughout the course of Scripture. Rather than approaching it through the view of the commentators, you can see for yourself what the Bible says about these key topics.
The over 2,000 themes detailed in this work cover doctrinal, ethical, historical and cultural subjects. The themes also deal with practical issues of Christian life, making this volume an excellent addition to the libraries of pastors, teachers of the Bible, or anyone who enjoys topical Bible study!
Comparable to the venerable Nave's Topical Bible in scope, the Dictionary of Bible Themes stands apart in its unique, nine-level classification of themes that brings related biblical and theological concepts together. This thematic approach isn't limited to identifying only the Biblical passages containing the key word, but goes far beyond to explore all the basic elements of the theme. It identifies its basic ideas, its presuppositions and its consequences, in order that the theme in all its fullness can be unfolded to the reader. For example, to find every place in the Scriptures that talk about the humanity of Jesus, the Dictionary of Bible Themes would present this topic and lead you to Bible verses that may not use the words "humanity of Jesus" but are relevant to the topic.
The thematic approach of the Dictionary of Bible Themes can be used with any Bible translation and is an excellent reference for those preparing studies or talks on biblical themes, providing reference to the central thematic passages within Scripture. It will enable them to gain an understanding of the overall place of the topic theme within Scripture and to explore the way in which it relates to other themes. It will also be valuable to layman who wish to follow a biblical passage or theme throughout the Bible. The thematic study of Scripture also allows for the true appreciation of the unity of Scripture, following the unfolding of God's redemption throughout the Bible.
Features
Alphabetical List of Themes – complete listing in one single alphabetical order of all the theme titles.
Select cross-references are also provided for ease of use, e.g., at "anxiety" the reader is directed to "worry" and at "Cephas" to "Peter".
Scripture Index of Themes – verses of the Bible are listed and appearing alongside each verse are the themes associated with that particular verse.
Themes cross-refer you to the various parts of Scripture at which each theme occurs and are organized under descriptive headings.
Arranged like a systematic theology
Nine themes are further explained with 1,400 topics and over 16,000 sub-topics with links to over 80,000 cross-references in the Bible.
From the Preface
"The study of Scripture lies at the heart of the Christian faith. It is therefore important that readers of Scripture are given every means of help so that they may get as much benefit and enjoyment as possible out of reading the Bible. The Dictionary of Bible Themes is designed to allow its users to appreciate to the full the unfolding of the unity and richness of Scripture by studying its central themes"
About the Editor(s)
Martin Manser is a professional reference-book editor who since 1980 has compiled and edited Bible reference material and English-language dictionaries. He has been involved for many years in a Baptist church in his home town of Aylesbury, England, and is married with a son and a daughter.
System Requirements
Installed size (unless otherwise indicated): Approximately 13.125 MB. iPhone, iPad, and iPod touch Requires iPhone, iPod touch, or iPad running iOS 5.0 or later. Download size: 13.125 MB. Android Requires Android OS 2.2 or later. Download size: 13.125 MB. Windows Phone Requires Windows Phone 7.5 or later. Download size: 13.125 MB. Windows Store Download size: 13.125 MB. Windows PC Requires Windows 2000, XP, Vista, Windows 7, or later. Download size: 7.875 MB. Mac OS X Download size: 13.125 MB. Windows Mobile Requires Pocket PC / Windows Mobile version 6.5 or earlier. Download size: 7.375 MB. Palm OS Requires Palm OS 4.0 or later. Download size: 7.125 MB.
Find us on Facebook

Insider Info

Devoted Laridian fans watch our blog for the latest news, including comments on as-yet-unreleased and unannounced products.

Facebook Fans and our Twitter Followers get notified of all special offers and sometimes get special special offers just for them.

We post short instructional videos on our youtube channel.

There's detailed information about PocketBible for Android on Google+.

We don't keep lists of potential beta testers. Just watch the blog.

The Fine Print

Copyright © 2010-2015 by Laridian, Inc. All Rights Reserved.

Laridian, PocketBible, and MyBible are registered trademarks of Laridian, Inc. DailyReader, Memorize!, PrayerPartner, eTract, BookBuilder, VerseLinker, iPocketBible, DocAnalyzer, Change the way you look at the Bible, and The Bible. Anywhere. are trademarks of Laridian, Inc. Other marks are the property of their respective owners.

Products by Platform

Bible Reader Software

BookBuilder Software

Products by Type

Your Account

You are not logged in.
Your IP Address: 54.87.129.16
Site IP Address: 209.18.65.235

Best Ways to Get Help

You can get the fastest help by helping yourself.

Make sure you obtain the PocketBible or other Bible reader program that is required to read the Bibles or books you bought.
Read the confirmation email we send you when you make a purchase
Read the help that's built into each of our products
Look through our Frequently Asked Questions
Submit a Support Ticket
Email us at support@laridian.com

Laridian Associates Program

Associates Program members earn a referral fee for every sale resulting from their links to our site!

Log Into Your Download Account to Join the Associates Program