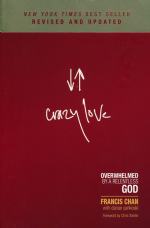 Crazy Love: Overwhelmed By A Relentless God
Available Platforms
Description
God is love. Crazy, relentless, all-powerful love. Have you ever wondered if we're missing it?
It's crazy, if you think about it. The God of the universe -- the Creator of nitrogen and pine needles, galaxies and E-minor -- loves us with a radical, unconditional, self-sacrificing love. And what is our typical response? We go to church, sing songs, and try not to cuss. Whether you've verbalized it yet or not, we all know something's wrong.
Does something deep inside your heart long to break free from the status quo? Are you hungry for an authentic faith that addresses the problems of our world with tangible, even radical, solutions? God is calling you to a passionate love relationship with Himself. Because the answer to religious complacency isn't working harder at a list of do's and don'ts -- it's falling in love with God. And once you encounter His love, as Francis Chan describes it, you will never be the same. Because when you're wildly in love with someone, it changes everything.
In the five years since its release - and with more than 2 million copies sold - the passionate voice and fresh insights in Crazy Love have revolutionized the way the church views God's love and our relationship with Him. In this revised and updated edition, New York Times bestselling author Francis Chan adds new chapters that describe the next step for followers of Christ: How can devoted disciples make new disciples? Chan also shares what he's doing in the next chapter of his life and ministry.
Table of Contents
Stop Praying
You Might Not Finish This Chapter
Crazy Love
Profile of the Lukewarm
Serving Leftovers to a Holy God
When You're in Love
Your Best Life...Later
Profile of the Obsessed
Who Really Lives That Way?
The Crux of the Matter
A Lot Should Change in Five Years
A Conversation with Francis Chan
About the Author(s)
Francis Chan is the best-selling author of Crazy Love and Forgotten God and the host of theBASIC.series. He has also written the children's books Halfway Herbert, The Big Red Tractor and the Little Village and Ronnie Wilson's Gift. Francis is the founding pastor of Cornerstone Church in Simi Valley, California, and is the founder of Eternity Bible College. He also sits on the board of directors of Children's Hunger Fund and World Impact. Francis lives in California with his wife, Lisa, and their four children.
System Requirements
Installed size (unless otherwise indicated): Approximately 1.375 MB. iPhone, iPad, and iPod touch Requires iPhone, iPod touch, or iPad running iOS 5.0 or later. Download size: 1.375 MB. Android Requires Android OS 2.2 or later. Download size: 1.375 MB. Windows Phone Requires Windows Phone 7.5 or later. Download size: 1.375 MB. Windows Store Download size: 1.375 MB. Windows PC Requires Windows 2000, XP, Vista, Windows 7, or later. Download size: 1.625 MB. Mac OS X Download size: 1.375 MB. Windows Mobile Requires Pocket PC / Windows Mobile version 6.5 or earlier. Download size: 465.375 KB. Palm OS Requires Palm OS 5.0 or later. Download size: 523.375 KB.
Find us on Facebook

Insider Info

Devoted Laridian fans watch our blog for the latest news, including comments on as-yet-unreleased and unannounced products.

Facebook Fans and our Twitter Followers get notified of all special offers and sometimes get special special offers just for them.

We post short instructional videos on our youtube channel.

There's detailed information about PocketBible for Android on Google+.

We don't keep lists of potential beta testers. Just watch the blog.

The Fine Print

Copyright © 2010-2015 by Laridian, Inc. All Rights Reserved.

Laridian, PocketBible, and MyBible are registered trademarks of Laridian, Inc. DailyReader, Memorize!, PrayerPartner, eTract, BookBuilder, VerseLinker, iPocketBible, DocAnalyzer, Change the way you look at the Bible, and The Bible. Anywhere. are trademarks of Laridian, Inc. Other marks are the property of their respective owners.

Products by Platform

Bible Reader Software

BookBuilder Software

Products by Type

Your Account

You are not logged in.
Your IP Address: 54.159.172.209
Site IP Address: 209.18.65.235

Best Ways to Get Help

You can get the fastest help by helping yourself.

Make sure you obtain the PocketBible or other Bible reader program that is required to read the Bibles or books you bought.
Read the confirmation email we send you when you make a purchase
Read the help that's built into each of our products
Look through our Frequently Asked Questions
Submit a Support Ticket
Email us at support@laridian.com

Laridian Associates Program

Associates Program members earn a referral fee for every sale resulting from their links to our site!

Log Into Your Download Account to Join the Associates Program