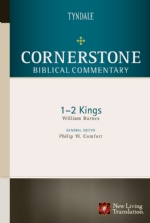 Cornerstone Biblical Commentary - 1-2 Kings
Available Platforms
Description
Cornerstone Biblical Commentary, Volume 4b: 1 and 2 Kings
About this Series
The Cornerstone Biblical Commentary series provides up-to-date, evangelical scholarship on the Old and New Testaments. Each volume is designed to equip pastors and Christian leaders with exegetical and theological knowledge to better understand and apply God's Word by presenting the message of each passage as well as an overview of other issues surrounding the text. The commentary series has been structured to help readers understand the meaning of Scripture, passage-by-passage, through the entire Bible. While accessible to all, the discussions are fairly high-level in terms of scriptural interpretation.
This series is the product of nearly 40 scholars, many of whom participated in the creation of the NLT. The contributors are well-known and represent a wide spectrum of theological positions within the evangelical community. The commentary is based on the NLT Bible text (sold separately) but can be used with any Bible translation in PocketBible.
"An enormously helpful series for the layperson and pastor alike because it centers on the theological message of each book and ties it directly to the text. This approach has been needed for some time and will be an invaluable supplement to other commentary series." - Dr. Grant Osborne (Professor of New Testament at Trinity Evangelical Divinity School)
"A treasure house of insight into the biblical text. Written by some of the best scholars working today, it is an essential tool for pastors, students, church leaders, and lay people who want to understand the text and know how it relates to our lives today. Like the NLT text it uses as its base, this commentary series is extremely readable." - Tremper Longman III (Professor of Old Testament at Westminster Theological Seminary)
About the Author(s)
William Barnes (ThD, Harvard Divinity School) has worked extensively in the Historical books of the OT, published several commentaries and scholarly articles, and is a contributor to Biblica: The Bible Atlas. His interests include OT history and chronology as well as narrative and poetic structure and sequencing in the Hebrew Bible and the NT. He served as a member of the NLT Translation Team for 1–2 Kings.
System Requirements
Installed size (unless otherwise indicated): Approximately 1.875 MB. iPhone, iPad, and iPod touch Requires iPhone, iPod touch, or iPad running iOS 5.0 or later. Download size: 1.875 MB. Android Requires Android OS 2.2 or later. Download size: 1.875 MB. Windows Phone Requires Windows Phone 7.5 or later. Download size: 1.875 MB. Windows Store Download size: 1.875 MB. Windows PC Requires Windows 2000, XP, Vista, Windows 7, or later. Download size: 2.875 MB. Mac OS X Download size: 1.875 MB. Windows Mobile Requires Pocket PC / Windows Mobile version 6.5 or earlier. Download size: 1.125 MB.
Find us on Facebook

Insider Info

Devoted Laridian fans watch our blog for the latest news, including comments on as-yet-unreleased and unannounced products.

Facebook Fans and our Twitter Followers get notified of all special offers and sometimes get special special offers just for them.

We post short instructional videos on our youtube channel.

There's detailed information about PocketBible for Android on Google+.

We don't keep lists of potential beta testers. Just watch the blog.

The Fine Print

Copyright © 2010-2015 by Laridian, Inc. All Rights Reserved.

Laridian, PocketBible, and MyBible are registered trademarks of Laridian, Inc. DailyReader, Memorize!, PrayerPartner, eTract, BookBuilder, VerseLinker, iPocketBible, DocAnalyzer, Change the way you look at the Bible, and The Bible. Anywhere. are trademarks of Laridian, Inc. Other marks are the property of their respective owners.

Products by Platform

Bible Reader Software

BookBuilder Software

Products by Type

Your Account

You are not logged in.
Your IP Address: 54.163.158.99
Site IP Address: 209.18.65.235

Best Ways to Get Help

You can get the fastest help by helping yourself.

Make sure you obtain the PocketBible or other Bible reader program that is required to read the Bibles or books you bought.
Read the confirmation email we send you when you make a purchase
Read the help that's built into each of our products
Look through our Frequently Asked Questions
Submit a Support Ticket
Email us at support@laridian.com

Laridian Associates Program

Associates Program members earn a referral fee for every sale resulting from their links to our site!

Log Into Your Download Account to Join the Associates Program