Bundle! $249.99
If you are already a Laridian customer, log in above and we can tell you if you own this product.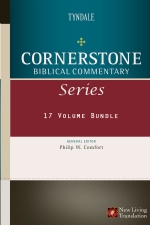 Cornerstone Biblical Commentary Series
Bundle! $249.99
Description
When completed, the Cornerstone Biblical Commentary Series will be published in 20 volumes covering the entire Bible. This is a bundle of the first 17 volumes. The final 3 volumes will be offered as they are made available from the publisher (Tyndale) until the series is complete.
About this Series
The Cornerstone Biblical Commentary series provides up-to-date, evangelical scholarship on the Old and New Testaments. Each volume is designed to equip pastors and Christian leaders with exegetical and theological knowledge to better understand and apply God's Word by presenting the message of each passage as well as an overview of other issues surrounding the text. The commentary series has been structured to help readers understand the meaning of Scripture, passage-by-passage, through the entire Bible. While accessible to all, the discussions are fairly high-level in terms of scriptural interpretation.
This series is the product of nearly 40 scholars, many of whom participated in the creation of the NLT. The contributors are well-known and represent a wide spectrum of theological positions within the evangelical community. The commentary is based on the NLT Bible text (sold separately) but can be used with any Bible translation in PocketBible.
Bundle Contents
About the Editor(s)
Philip W. Comfort, (General Editor) D. Litt. et Phil., is senior editor of Bible reference at Tyndale House Publishers and adjunct professor of Religion at Coastal Carolina University. His works include Early Manuscripts and Modern Translations of the New Testament, The Text of the Earliest New Testament Greek Manuscripts, and Encountering the Manuscripts. He has authored two commentaries on John and three volumes of poetry. He serves as the coordinating New Testament editor for the New Living Translation, and he is the General Editor for the Cornerstone Biblical Commentary series.
Find us on Facebook

Insider Info

Devoted Laridian fans watch our blog for the latest news, including comments on as-yet-unreleased and unannounced products.

Facebook Fans and our Twitter Followers get notified of all special offers and sometimes get special special offers just for them.

We post short instructional videos on our youtube channel.

There's detailed information about PocketBible for Android on Google+.

We don't keep lists of potential beta testers. Just watch the blog.

The Fine Print

Copyright © 2010-2015 by Laridian, Inc. All Rights Reserved.

Laridian, PocketBible, and MyBible are registered trademarks of Laridian, Inc. DailyReader, Memorize!, PrayerPartner, eTract, BookBuilder, VerseLinker, iPocketBible, DocAnalyzer, Change the way you look at the Bible, and The Bible. Anywhere. are trademarks of Laridian, Inc. Other marks are the property of their respective owners.

Products by Platform

Bible Reader Software

BookBuilder Software

Products by Type

Your Account

You are not logged in.
Your IP Address: 54.166.12.41
Site IP Address: 209.18.65.235

Best Ways to Get Help

You can get the fastest help by helping yourself.

Make sure you obtain the PocketBible or other Bible reader program that is required to read the Bibles or books you bought.
Read the confirmation email we send you when you make a purchase
Read the help that's built into each of our products
Look through our Frequently Asked Questions
Submit a Support Ticket
Email us at support@laridian.com

Laridian Associates Program

Associates Program members earn a referral fee for every sale resulting from their links to our site!

Log Into Your Download Account to Join the Associates Program