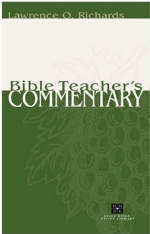 Bible Teacher's Commentary
Available Platforms
Description
Do you teach children, teens or adults--in church or home Bible studies or camps and retreats?

Do you want to teach Bible truths more effectively to your own children or grandchildren?

This Bible Teachers's Commentary is for you!
The Bible Teacher's Commentary will not only increase your understanding, it will also help you make the critical transition from learning about the Bible to communicating Bible truths to others. Grasp how the whole Bible fits together, how each part fits into and contributes to the whole, how to apply specific truths to your life--and the lives of your students. Includes 172 carefully crafted studies with complete lesson plans to help you get children, teens and adults motivated and involved in Bible study.
The Bible Teacher's Commentary answers most questions a teacher might ask:
What does this passage teach?
How can I make this truth plain?
What is the best way to help my students apply this teaching?
What is God saying to me?
How does the passage or story I'm about to teach fit with what comes before and after it?
Where can I find other passages that develop this theme?
What can I do to get my class interested and involved?
How can I help my students really understand?
The Teacher's Commentary is specifically designed for teachers of children as well as teachers of youth and adults, packed with "how to teach it" ideas, and with insights into how the Scriptures touch the lives of people today. This is a commentary on the whole Bible that you will want to read for your personal enrichment and use every time you prepare to teach God's Word.
Features
Useful for teaching the Bible to children, teens and adults
Covers the entire Bible in 172 "teachable" sections
Provides a complete teaching plan for each unit
Includes tips for motivating and involving students
Defines Bible words
Explains Bible events and locates them on maps
Helps you help students apply the Bible to their lives
About the Author(s)
Lawrence O. Richards hold a B.A. in philosophy from the University of Michigan, a Th.M. in Christian education from Dallas Theological Seminary, and a Ph.D. in religious education and social psychology from Garrett Biblical Seminary and Northwestern University jointly.
Dr. Larry Richards has taught in the Wheaton College Graduate School, served as a church minister of Christian education, and taught courses at various schools in the United States and overseas. He has developed Sunday school programs, conducted seminars and workshops, and Internet curriculum for Sunday school and home school.
He has written over 200 books, including Christian education texts, theological works, Bible dictionaries, handbooks, encyclopedias, and commentaries; he has also written a number of devotional and enrichment books, as well as several specialty and study bibles.
System Requirements
Installed size (unless otherwise indicated): Approximately 20.375 MB. iPhone, iPad, and iPod touch Requires iPhone, iPod touch, or iPad running iOS 5.0 or later. Download size: 20.375 MB. Android Requires Android OS 2.2 or later. Download size: 20.375 MB. Windows Phone Requires Windows Phone 7.5 or later. Download size: 20.375 MB. Windows Store Download size: 20.375 MB. Windows PC Requires Windows 2000, XP, Vista, Windows 7, or later. Download size: 4.375 MB. Mac OS X Download size: 20.375 MB. Windows Mobile Requires Pocket PC / Windows Mobile version 6.5 or earlier. Download size: 3.125 MB. Palm OS Requires Palm OS 4.0 or later. Download size: 3.625 MB.
Find us on Facebook

Insider Info

Devoted Laridian fans watch our blog for the latest news, including comments on as-yet-unreleased and unannounced products.

Facebook Fans and our Twitter Followers get notified of all special offers and sometimes get special special offers just for them.

We post short instructional videos on our youtube channel.

There's detailed information about PocketBible for Android on Google+.

We don't keep lists of potential beta testers. Just watch the blog.

The Fine Print

Copyright © 2010-2015 by Laridian, Inc. All Rights Reserved.

Laridian, PocketBible, and MyBible are registered trademarks of Laridian, Inc. DailyReader, Memorize!, PrayerPartner, eTract, BookBuilder, VerseLinker, iPocketBible, DocAnalyzer, Change the way you look at the Bible, and The Bible. Anywhere. are trademarks of Laridian, Inc. Other marks are the property of their respective owners.

Products by Platform

Bible Reader Software

BookBuilder Software

Products by Type

Your Account

You are not logged in.
Your IP Address: 54.161.195.4
Site IP Address: 209.18.65.235

Best Ways to Get Help

You can get the fastest help by helping yourself.

Make sure you obtain the PocketBible or other Bible reader program that is required to read the Bibles or books you bought.
Read the confirmation email we send you when you make a purchase
Read the help that's built into each of our products
Look through our Frequently Asked Questions
Submit a Support Ticket
Email us at support@laridian.com

Laridian Associates Program

Associates Program members earn a referral fee for every sale resulting from their links to our site!

Log Into Your Download Account to Join the Associates Program