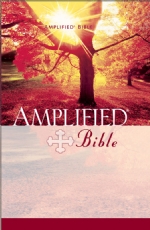 Amplified Bible (AMP)
$14.99
Available Platforms
Description
The Amplified Bible is a translation that, by using synonyms and definitions, both explains and expands the meaning of words in the text. It does this by placing amplification in parentheses and brackets after key words or phrases. This unique system of translation allows you to more completely grasp the meaning of the words as they were understood in the original languages. Through amplification, you will gain a better understanding of what the Hebrew and Greek listener instinctively understood (as a matter of course).
Take for example, the Greek word pisteuo, which the vast majority of versions render as "believe." That simple translation, however, hardly does justice to the many meanings contained in the Greek pisteuo: "to adhere to, cleave to; to trust to have have faith in; to rely on, to depend on." Notice the subtle shades of meaning which are unlocked in John 11:25 by the Amplified translation:
"Jesus said to her, I am [Myself] the Resurrection and the Life. Whoever believes in (adheres to, trusts in, and relies on) Me, although he may die, yet he shall live."
Features
Features a unique system of brackets, parentheses and italics to define and expand key words and phrases in the Bible text

Parentheses "()" provide additional phases of meaning from the original word
Brackets "[ ]" indicate clarifying words or comments not actually expressed in the original text
Italics highlight passages, conjunctions (i.e "and") and other words not in the original text
Capitals show names and personal pronouns referring to the Deity. (NOTE: Words of Christ are NOT in red in keeping with printed editions).
Footnotes (over 2500) provide concise historical and archaelogical information and devotional insights, plus references to select sources and authors. Just tap on the footnote indicator to instantly view the footnote.
Cross-references indicate related passages, fulfillment of prophecy, etc. Just tap on the verse reference to view the related verse and use the "back" option to return to the original verse.

A translation from the accepted Hebrew, Aramic, and Greek manuscripts into literary English, the following were used as a basis for translation:

American Standard Version 1901
Rudolph Kittel's Biblia Hebraica
Greek text of Westcott and Hort
23rd edition of the Nestle Greek New Testament
The best Hebrew and Greek lexicons available at the time
Cognate languages, the Dead Sea Scrolls and other Greek works were also consulted
The Septuagint and other versions were compared for interpretation of the textual differences

Based on the extensive research work of Dr. Frances Siewart and reviewed by a committee of translation experts for accuracy
Free of personal interpretation and independent of denominational prejudice
Sample Text
Psalm 1:1

BLESSED (HAPPY, fortunate, prosperous, and enviable) is the man who walks and lives not in the counsel of the ungodly [following their advice, their plans and purposes], nor stands [submissive and inactive] in the path where sinners walk, nor sits down [to relax and rest] where the scornful [and the mockers] gather.
John 3:16

For God so greatly loved and dearly prized the world that He [even] gave up His only begotten (unique) Son, so that whoever believes in (trusts in, clings to, relies on) Him shall not perish (come to destruction, be lost) but have eternal (everlasting) life.
2 Timothy 3:16-17

Every Scripture is God-breathed (given by His inspiration) and profitable for instruction, for reproof, and conviction of sin, for correction of error and discipline in obedience, [and] for training in righteousness (in holy living, in conformity to God's will in thought, purpose, and action), So that the man of God may be complete and proficient, well fitted and thoroughly equipped for every good work.
Revelation 10:10

So I took the little book from the angel's hand and ate and swallowed it; it was as sweet as honey in my mouth, but once I swallowed it, my stomach was made embittered.
System Requirements
Installed size (unless otherwise indicated): Approximately 5.875 MB. iPhone, iPad, and iPod touch Requires iPhone, iPod touch, or iPad running iOS 5.0 or later. Download size: 5.875 MB. Android Requires Android OS 2.2 or later. Download size: 5.875 MB. Windows Phone Requires Windows Phone 7.5 or later. Download size: 5.875 MB. Windows Store Download size: 5.875 MB. Windows PC Requires Windows 2000, XP, Vista, Windows 7, or later. Download size: 4.875 MB. Mac OS X Requires Mac OS X 10.7 or later. Download size: 5.875 MB. Windows Mobile Requires Pocket PC / Windows Mobile version 6.5 or earlier. Download size: 4.375 MB. Palm OS Requires Palm OS 4.0 or later. Download size: 2.875 MB. webOS Requires webOS 1.4.5 or later. Download/Installed size: 4.875 MB.
Find us on Facebook

Insider Info

Devoted Laridian fans watch our blog for the latest news, including comments on as-yet-unreleased and unannounced products.

Facebook Fans and our Twitter Followers get notified of all special offers and sometimes get special special offers just for them.

We post short instructional videos on our youtube channel.

There's detailed information about PocketBible for Android on Google+.

We don't keep lists of potential beta testers. Just watch the blog.

The Fine Print

Copyright © 2010-2015 by Laridian, Inc. All Rights Reserved.

Laridian, PocketBible, and MyBible are registered trademarks of Laridian, Inc. DailyReader, Memorize!, PrayerPartner, eTract, BookBuilder, VerseLinker, iPocketBible, DocAnalyzer, Change the way you look at the Bible, and The Bible. Anywhere. are trademarks of Laridian, Inc. Other marks are the property of their respective owners.

Products by Platform

Bible Reader Software

BookBuilder Software

Products by Type

Your Account

You are not logged in.
Your IP Address: 54.145.231.20
Site IP Address: 209.18.65.235

Best Ways to Get Help

You can get the fastest help by helping yourself.

Make sure you obtain the PocketBible or other Bible reader program that is required to read the Bibles or books you bought.
Read the confirmation email we send you when you make a purchase
Read the help that's built into each of our products
Look through our Frequently Asked Questions
Submit a Support Ticket
Email us at support@laridian.com

Laridian Associates Program

Associates Program members earn a referral fee for every sale resulting from their links to our site!

Log Into Your Download Account to Join the Associates Program